| | |
| --- | --- |
| Posted on January 10, 2015 at 11:05 PM | |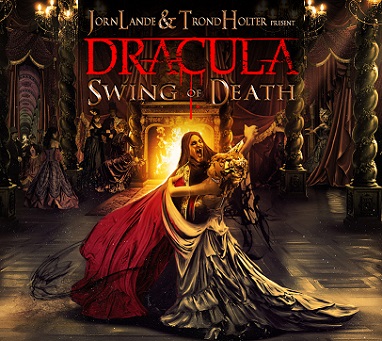 Jorn Lande & Trond Holter present Dracula - Swing Of Death
Written by The Rock Man
It never ceases to amaze me that year after year there are some albums that come out with all the hype in the universe and let you down terribly, and then there are those that you do not give a second thought to that upon hearing them blow you away. This tends to happen to me more times than I would like to admit. And so it was when I heard about the new Jorn Lande project with Wig Wam guitarist Teeny aka Trond Holter. As I have previously mentioned, sometimes when you are listening to so much music the occasional artist or albums will fall through the cracks and it is not until further down the line that they come into focus for you. This is the case for me with Jorn. I have known about him for some time but never found the right opportunity to explore his music, there was always something else more important going on.
So what has changed you may ask. Well, recently I found myself in the position of having some free time, not a lot of other releases demanding my attention and a copy of the new Jorn Lande and Trond Holter presents Dracula – Swing Of Death album at my disposal. To be fair I really went into this not expecting a great deal, if anything at all, and this album seriously knocked me on my ass.
Swing Of Death is a rock opera and one of the better ones for some time. Naturally the title gives the story away, this is about Dracula and is just another interpretation in a long line of various tales told since Bram Stoker's original version in 1897. Jorn Lande plays the role of Vlad the III, Prince of Wallachia, also known as Vlad The Impaler and more popularly as Count Dracula. He is supported throughout the record by Norwegian singer Lena Floitmoen as the love interest Mina/Lucy from the original story. The beauty of this rock opera is that it makes its point quickly and does not get bogged down with intros or unnecessary musical parts. The focus of this Dracula story is the continuing struggle within as he remembers life and love before selling his soul to the Devil and becoming a vampire. Adding to the dynamic of the story is the pursuit of Lucy who reminds him of his first true love Mina.
The album opens to the sounds of crashing waves, thunder, bells and 15th century classical guitar on the track Hands Of Your God. This instantly takes you back in time and sets the tone for what is to unfold. Jorn's David Coverdale-ish style voice slices through the music as he introduced us to his Dracula and declares "I promise you a genocide/A dawn of death and fraud/I will paint the world with the blood/From the hands of your God". Walking On Water is a genuine hard rocker with tons of melody through the chorus, while the title track is quite unique starting off with an old fashioned 1920s piano swing feel that morphs into a modern rock tune.
We are introduced to Lena Floitmoen for the first time on Save Me and River Of Tears and her inclusion really adds something special to the rest of the album. Her performances are breath taking and bring light and innocence to the story balancing out Jorn's darkness. Into The Dark is the album's standout track for me. The song features this fantastic meaty, melodic, chugging riffage which is gripping and refuses to let go. High praise has to go to Holter for his work on this track. In addition he deserves the same level of kudos for True Love Through Blood which is the albums lone instrumental. I have heard a few instrumentals in my time and this by far is one of the more entertaining ones.
Musically the record is a melting pot of various guitars styles, orchestral pieces, piano, pan flutes, drums, bass and a variety of sound effects. All round this is a most enjoyable listen with hypnotic vocal performances, masterful musicianship and a highly entertaining storyline. Lose yourself in the world of Dracula … if you dare.
Categories: Album Reviews