| | |
| --- | --- |
| Posted on January 10, 2015 at 7:30 PM | |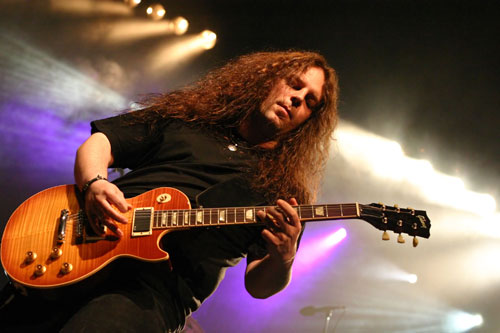 Interview with Marcus Siepen
By Dave Smiles
Marcus Siepen has a lot to be proud of. His band Blind Guardian are about to take their sound to grand new heights with the upcoming release of their tenth studio album Beyond The Red Mirror. An album containing two orchestras, three choirs and a metal band still at the top of their game after a career spanning thirty years. Siepen took some time to answer some questions for Full Throttle Rock. It was fascinating to hear a musician talking about bringing metal, orchestra and choir together during the writing, recording and mixing processes for the album. It was also good to hear how he's still discovering new music and striving to be a better performer.
First of all congratulation of the upcoming release of Blind Guardian's tenth studio album.
Thank you very much. Have you had a listen to it yet?
Yeah, I had a listen to it today, it's really good! It sounds like it was a really huge project to undertake this time around. Can you tell you tell us a bit about what the fans can expect from this album?
Yeah, it's definitely the biggest thing we've done so far. It had all the typical Blind Guardian elements you know, it has the old school speed thrash metal thing going on, it has the tempo stuff, epic stuff, progressive stuff. It's a bit of a mix of everything we've done so far but obviously we wanted to do some new things as well, we wanted to take it to the next level. With the last album we had the chance to work with a real orchestra for the first time. It was certainly something that we liked a lot and we wanted to dive into further so on this album we worked with two orchestras. (Laughs) We also reduced those… lets call them medieval folk elements and went with more for a kind of futuristic soundtrack approach because I can kind of imagine this orchestra playing for a movie for example, it has that soundtrack feeling. We worked with big choirs for the first time. Obviously choirs are nothing new to Blind Guardian but normally we have what we call the choir company which is a bunch of friends of ours that sing all the backing stuff and you know shit is supposed to be bigger when you double or triple it whatever. But we wanted to achieve a certain size from the choir that you can't achieve like this because at some point when you just keep doubling things you get space cancelation and it just doesn't sound big anymore. So we hired two big choirs and the intro of the first song, The Ninth Wave shows what direction we're going in, it has this sort of soundtrack feeling with the choir getting bigger and bigger and then the orchestra pops in and then the metal band pops in… its definitely the size and the dimension that we've never had before and we're very happy. Another thing that we tried for the first time is working with down tuned guitars on a couple of songs, but not for all the songs. We worked with these to get the kind of… death metal tuning, I don't know B flat, whatever. It offers up quite a lot of opportunities, obviously it gives Hansi a different range to sing to and we also avoid some problems in mixing cause, you know, normally the guitars occupy the same kind of frequencies like a big part of the orchestra, strings and stuff like that, and you get into a struggle when it comes to mixing everything and by shifting the guitars to different frequency range you can open up different things with the mix and it makes things easier and it sounds different, a new approach, inspiration. So, there are a lot of new things going on, on that album.
Is it hard to bring orchestra, choir and metal together into one coherent piece?
It can be hard because you have to pay attention to certain things or it can sound like it's not needed, otherwise, if you just compose a regular metal song and tell an orchestra, 'ok play along to it', it won't sound right. Everything has to be taken care of while writing because you have to adjust guitar riffs… you have to keep in mind that whatever the guitars do there will also be an orchestra doing something else. Everything has to fit together so it's pretty tricky from time to time and you have to pay attention to a lot of things to make it work but it's worth the hassle because the results just sound great in our opinion.
Where did the idea come from to revisit the story from Imaginations From The Other Side?
Actually that's something that happened along the way. It wasn't something planned from the beginning. It wasn't planned to become a concept album or anything in lyrical direction. When we start writing, the lyrics don't matter in the beginning, you know. Hansi really sings just whatever comes to his mind. The only thing that matters at that point are the melody lines, are the rhythmic of the words that you use and once the song itself is finished then you start writing the actually lyrics and at some point he just came up with the idea and presented this kind of concept to us and we loved it, you know, the idea that it linked to Imaginations, we liked it, and the story set was very cool so it just made sense. But as I said it was not planned right from the beginning. It wasn't something where we were sitting down and thought okay we have to do another concept album. It just happened along the way.
Are there any tracks on the album you're particularly proud of and are looking forward to performing live?
Um, I don't know yet which songs we can perform live. We talked about the set list, we picked like 38, 40 songs from the old albums that we are preparing at the moment. There is some stuff we have to re-learn because we just didn't play it in such a long time, we forgot how to play it. That's the typical thing that happens so we're relearning the old stuff, and we're talking about what songs we would like to do from the new album and you have to rearrange them to work in the live environment. It's a typical thing because on the album, for example talking about guitars there are more than just two guitars on the album and on stage there's just André and me so on stage there are only two guitars. So the typical thing we have to do after an album production is we have to rearrange the songs for the stage. We have to see, okay what guitar parts are the main ones that have to be there? How can we combine certain things? How can we arrange them? And all that will happen in January, February when we at least start rehearsal for the tour. So I don't know yet which songs will be played. It's too early to really say this is the core song that has to be done. There's one song that is the most special for me at the moment cause I just like it so much is, that's Sacred Mind, which I just love the way it builds up, it starts like a kind of semi-ballad and just after one minute it takes off, speed guitar, faster, thrashier, I just like how it builds up. So that's one that I can perfectly imagine on stage. Let's see, we have to start rehearsing, then figure out which songs work live and how we can present them.
What's the best thing about being able to perform your music in front of a live audience?
The feedback that you get from people, you know, that's actually the absolute highlight for me about being a musician because it's great to be in the studio, it's great to compose, record and see how the songs grow, but the absolute highlight is being on stage. You start to play and a couple of thousand people go nuts. They start singing, cheering, applauding, whatever, crowd surfing, stage diving, whatever they want to do, that's the absolute highlight. When you get feedback, when you get reaction to our music, to whatever we might be doing on stage, that's what I envision, that's big.
That would be a great feeling. How do you feel your guitar playing has changed over the years?
I hope it got better. (Laughs) It's actually, for me, the approach didn't really change. I'm not a big fan of brutal guitars so this distribution is a kind of natural thing in Blind Guardian. I love playing rhythm guitar. If you give me a choice of playing either lead or rhythm I would pick rhythm. And I'm lazy, and it's hard to be a lead guitar player so therefore it's perfectly fine. So my approach is always, lay a foundation for the song, be as tight as possible, build huge chords, intonation. So that didn't really change. Just yesterday I've been working on a very old song that we might play on the next tour and listening to that one, yeah, I think my playing improved. You know, over time it got better. (Laughs) It was funny to listen to some very old Blind Guardian songs, and as I said we are always trying to be better on our instruments. You know, timing wise, but obviously timing's not everything, you know, the feel that you put into something, phrasing, we're working on all this constantly. If you're not sitting down at home, grabbing a guitar and practising certain techniques. Playing is a form of practising as well. Just grab your guitar and play something. Play along to something that you listen to on a CD, or just jamming. All of this is kind of improving yourself as a musician. And as I said, I hope I got better.
When you started in Blind Guardian almost thirty years ago, did you ever think you'd still be doing this in 2014?
That was our aim, let's put it like that. Obviously we had no idea if it would work. We were pretty self-confident back then when we did the very first album back in 87; we were just not sure how many millions of albums we would sell with that one, you know? (Laughs) But we were convinced it would be the biggest thing in rock history. We were self-confident because we knew what we were willing to put into our music, we knew we were willing to give everything, to work as hard as we could possibly work on new stuff and we were convinced that this would take us somewhere. That attitude never changed, and I think that's why we progressed as a band and got better. Obviously there were musical changes over the years and they were intended because you don't want to still play the same stuff like thirty years ago. It would be pretty boring. That was the aim. Always try to do the best thing we can possibly do at that point in time. Try to improve, try to become better and better as musicians, as songwriters. Yeah, I think back then we were aiming at this, you know, a long career.
Who are some of the bands who have influenced you, and are there any new bands that stand out for you?
Queen, obviously has been always an influence on us. You know all their choir, the guitar harmony arrangements and all that stuff it has had a big impact on us. Metallica, all those big bands from the eighties, early Maiden for sure has been an influence. There's good new stuff as well, a band that I discovered a couple of years ago, Mastodon when they did the album Crack The Sky that completely blew me away and also The Hunter and the new one (Once More 'Round The Sun), brilliant stuff. There's a band called Powerwolf, German band that I'm friends with now that I discovered actually on the last tour we played some festivals together and I saw them live and I was like 'what the hell is this?' I got their album, I loved it. Just being there, I saw their show. There's so much good stuff out there. I just got the latest Queen album, which actually is double live CD from 73, with a gig from the Queen tour which is so amazing. You know back then, they play all the old stuff, this was before Bohemian Rhapsody and all those songs, which are great as well, but I've always been a fan of the first couple of Queen albums. Stuff like Ogre Battle and Fairy Feller's Master-Stroke and those sort of things and they're playing them all on those CDs and they're SO heavy. You know, back then they were pure hard rock. That album is on pure heavy rotation on my phone at the moment, so yeah, there's great stuff out there.
Just in closing, any plans to tour Australia in the near future?
Yes! Actually our booker is working on this at the moment. There are no fixed dates, yet. But the plan is to be back in Australia sometime around September, October. So as soon as the dates are available we'll publish them on the webpage, so to all the fans - keep an eye on our website. We'll be back next year. (2015)
Thank you very much for doing this interview, good luck for the future and congratulations on the tenth studio album.
Thank you very much, and hope to see you at the end of next year.
For more information about Blind Guardian visit the band's official website at www.blind-guardian.com
Blind Guardian – Beyond The Red Mirror is available on Nuclear Blast Records.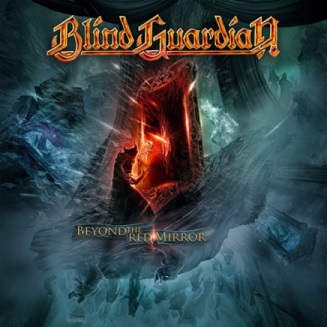 Categories: Interviews