| | |
| --- | --- |
| Posted on October 26, 2014 at 11:40 PM | |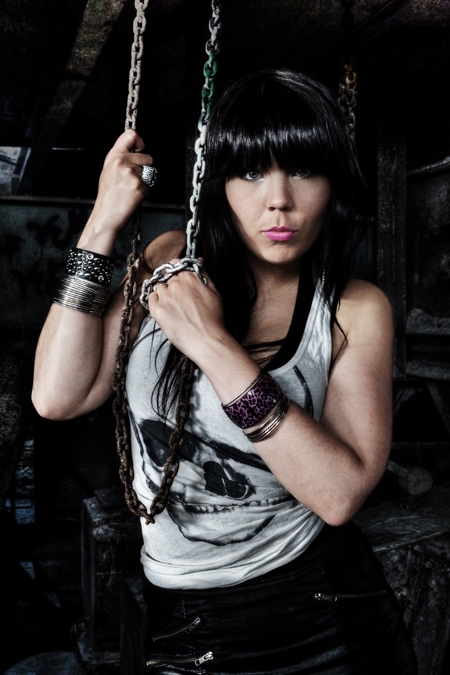 Something really special is happening in Sweden. Lately the region has seen an emergence of high quality hard rock acts with a strong embrace for 1980s American style rock. In fact some of these bands sound more American than the Americans do right now. Artists such as Crazy Lixx, H.E.A.T., Adrenaline Rush and the like are taking the hard rock world back to a simpler time when rock and roll was fun. Joining them on this crazy ride back in time are compatriots Vanity BLVD with their latest album Wicked Temptation. These guys can seriously rock and are ferociously led by frontwoman Anna Savage. I caught up with Anna to discuss the history of the band, the effects of downloading in the music industry and the latest album Wicked Temptation.
Rock Man: It has been a long time since I have been impressed by a young band but I have to congratulate you on what you have achieved so far. You must be very pleased with where the band is at the moment.
Anna Savage: First of all thank you so much for that awesome compliment. We have worked so hard to get where we are today, and yes, we are very pleased but not satisfied. We always try to push ourselves more and we truly love what we do. So I'm enjoying every moment of success.
RM: For those not quite up to speed with Vanity BLVD, can you tell me about the formation and early years of the band?
AS: Oh my, it is a long story. Well I first started the band back in 2005 with a girl on bass called Roxy. Then I heard her brother play guitar and I thought like, we got to have him in this band. So we kind of stole him from another band he was playing in, and the drummer from that band joined us as well. With this setting we played for about 2-3 years. We released our first record Rock N' Roll Overdose with this setting. After the recording of that album Roxy decided to leave the band. No hard feelings though, she had other plans in life. After that we kind of tried out a lot of different bass players, but none really fitted us. The drummer decided to move to Scotland and me and Traci (guitarist) kind of lost the fun in playing, since there was so much trouble with the members. We took a break for about 1 year almost, and then we talked to each other and we both agreed on how much we missed writing and playing. So we said to each other, let's give it one more shot, there has got to be some people out there who are suitable for this band. After awhile we did find our rock souls in Pete Ash (bass player) and Gebb (drummer) and it just felt so right, it was love at first sight. So we couldn't be happier with this "new" Vanity family. We have played together for about 4 years now.
RM: As for yourself, who are some of the artists that have influenced your career?
AS: I absolutely have to say David Coverdale from Whitesnake, I'm a huge fan of his voice and songwriting. I was once described as the female version of David Coverdale in a review. I still live on that one [laughs]. I also love Lita Ford and Ann Wilson. There are many great artists and songwriters, but if I had to name just some these are the biggest influences for me.
RM: Congratulations on the release of your new album Wicked Temptation. I seriously can't put the album down, you must be very happy with how this album turned out.
AS: Thank you so much! Ya, we really put our heart and souls into this album. So there is a lot of sweat, laughter and even tears connected to this recording. We sat along with the producer and had a lot to say about the recording. At first we decided to have 10 songs on the album, and then in the studio the song Dirty Action just came from nowhere so we decided to have that one on as well. We wanted the album to sound a bit dark and mysterious and with an extra punch to it. If you listen to our first album you can hear that it has another vibe to it. I love our first album but it was more "light" than this one. In Wicked Temptation we´re truly ripping out our heart and soul and putting it on a record if you know what I mean [laughs].
RM: It has been a long time between albums for you, Rock N' Roll Overdose was released in 2008. Why such a long gap between records?
AS: It was just because the problems with finding members that wanted the same thing as me and Traci. It was so hard to find dedicated, talented, nice-to-work-with musicians so sadly It took toooo long. But now we´re back!
RM: So far what has been the general feedback to Wicked Temptation?
AS: We have got a lot of great reviews on the album from a lot of different places in the world. Not one bad actually. Or I haven't found it yet [laughs]. The funny thing is that everybody has their special song that they love on the album. Usually you have like one or two hits, but I can't really say which one is our hit because every damn song on the album has got praise, so that makes me really happy.
RM: Was Wicked Temptation an easy album to write and record or did it present you with any challenges?
AS: It was easy in the way that we knew how we wanted it to sound and some songs just came to us. But it is always hard when you are your own worst critic. You always push yourself thinking you can do better, so at some point at least, I had to stop myself and look at the work I've done and say, 'hey this is more then good enough'. Sometimes you just add too much and the soul of the song just gets lost in a big mess, but I think we captured this album just the way we wanted it. I am more than happy about how it turned out. You always have your vision before the recording, and man it just got better than my vision. We got some really cool ideas in the studio as well so some of the songs just got bigger and better than I first expected. For example Hot Teaser, at first I thought 'Well this song is alright', then I got some really cool ideas in the studio and the song became one of my favourites.
RM: English is your second language, is the process of translating you ideas from Swedish into English a difficult one?
AS: Yes, it is difficult sometimes, but I think it is even more difficult to write in Swedish because I just think the lyrics gets too cheesy, you know? English is much cooler and you get away with so much more. I think it is way easier to express myself in English even though sometimes I mess up the words and the meanings, but hey I'm only human right [laughs].
RM: When you are writing a song or an album what are the sorts of themes or topics that influence you the most?
AS: I am very much influenced by my surrounding. Whether it is from my own life or just someone I observe on the train. I love to watch people and analyse there behaviour. Some lyrics are very personal but I think most people can see themselves in my lyrics as well. Wicked Temptation is mostly about rising up again after the fall of being hurt. It is about betrayal, deceits, depression, grief, hope and even happiness. I just wanted to do a conclusion to all the people that have broken me down, and a big finger to the ones who try to control others. In the song Had Enough I tried to illustrate the feeling of a soul that dies and then just rises up and strikes back more powerful than ever.
RM: There are so many outstanding tracks on this record but I want to touch on a couple and I will start with Do Or Die which is a fire cracker of a song. What has been the response to that track?
AS: It was the first song we released from the album and people just love it. It has got a killer chorus and at the concerts this is the song that most people sing along to, so I mean there is no doubt that this is one of the hits from this album.
RM: Miss Dangerous is another highlight on this record and also has a great video to accompany it. What are your thoughts on that one?
AS: I just love the cockiness on this song. It is about exploring life and don't let anyone stand in your way of what you want to do. People seem to be afraid of strong women, I get that a lot [laughs] so I thought it might be funny to call it Miss Dangerous, even though the song is just about enjoying and living your life to the maximum.
RM: Was the video for Miss Dangerous a fun video to make and do you enjoy the process of making music videos?
AS: I wish we had more budget to make the video but it turned out great anyway. We recorded it in our rehearsal place and just brought beers to our friends who were kind enough to rock and drink all afternoon [laughs]. But I like the dirty atmosphere on it, the video was perfect for that song.
RM: Scream Out is another standout track. Can you tell me about the lyrical sentiment of that song?
AS: Well, It is about a drug addict who has just had enough of that life. No, not about me [laughs]. I think the most important line in this song is "Too late to see I didn't need it/Blindfolded I crawled miss leaded/I was aching/But I couldn't feel a thing" that says it all to me. It is like you are too sedated to understand that you are going down the wrong path.
RM: Are there any songs on Wicked Temptation that you are particularly proud of?
AS: I love Had Enough, and I think it is an amazing song. It has just got all of the element that I think a song should have. My second favourite is Thrills In The Night. I just love the magic that this song has. I see this man before me turning into a werewolf and release his inner beast. That is the whole essence of the song. You have so much hunger for something that you simple cannot lock it in, you just have to let it out.
RM: You are blessed to have the talented Traci Trexx on guitar. Can you tell me about what qualities he brings to the band?
AS: Traci and I are the original members of the band, even though it feels like Pete and Gebb have been with us from the start. Traci has been given a gift. He plays guitar like no one else. Of course there are plenty of talented guitar players but he can really write guitar riffs that speaks for themselves and you just want to sing along to his guitar riffs, you know? We often fight on small stupid things he and I, but when It comes to music, we just get each other totally. We have the same vision of how we want to sound.
RM: I often ask the older generation of bands I speak to on their thoughts about downloading and the effects it has had on their career. I would imagine being a younger band your thoughts on that may be different to someone that has been around for 40 years?
AS: I think it is alright because I want to spread our music all over and make it easy for people to hear us, so that they will come to our shows. But of course I would love to get paid for my work and I totally understand why some artists think its crap with free downloading, but I'm used to it so I just see it as a promotion to get people to our shows.
RM: There appears to be a lot of bands coming out of Sweden over the past several years that have really embraced that 1980s American sound. Do you have any thoughts on why so much great music is coming out of Sweden?
AS: We get a lot of funding from the local authority here in Sweden. It helps us with the rent of the rehearsal place and such so it is kind of easy playing in a band. So that is why there are a lot of bands here I think. And maybe we inspire each other.
RM: Once again, congratulations on the release of Wicked Temptation. On behalf of everyone here at Full Throttle Rock I would like to wish you and the band many years of continued success.
AS: Thank you so much! Means the world to us!
For more information about the band visit the official website at www.vanityblvd.com
Vanity BLVD – Wicked Temptation is available on Noise Head Records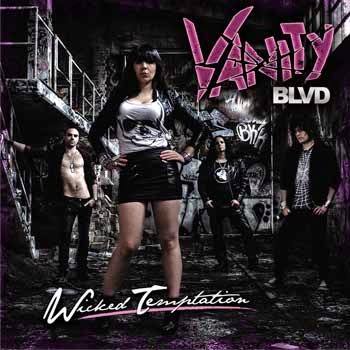 Categories: Interviews