| | |
| --- | --- |
| Posted on September 30, 2014 at 8:05 PM | |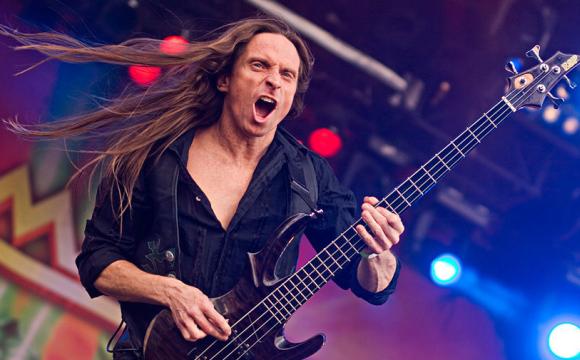 Gamma Ray are back on tour following the release of their eleventh album, 'Empire Of The Undead' which may be described as one of the band's best albums to date. Power metal does not get better than this. Nicky Zardis caught up with Gamma Ray bassist Dirk Schlächter to discuss the new album and find out how the tour is going so far.
How is the tour going so far? I understand the band is on a break at the moment.
It's a big break. We had some festivals during the summer and now there are just two more shows coming up. There are more plans for next year, we could be playing 70000TONS OF METAL, you know, the Cruise Ship.
Yes, I've heard of it. It looks like a good festival.
Yes, but we are not sure yet (whether we will play that festival), the agency was talking about it. If it happens, we are going to continue touring South America and maybe do some shows in the USA and Canada.
How does playing 70000TONS OF METAL compare to other festivals? It must have been different, since it was on a ship.
Yes, of course it is different. You are together with all the fans, all the time. There is no real backstage/artist area.
So you get to meet all the fans?
Yes. Before the first 70000TONS, there was this drama, how is this going to work, there is no escape! But actually, it turned out to be really cool. All the fans were really relaxed because they knew they had a couple of days to get you. So everything is really easy and relaxed. Nothing bad happened on that ship.
So no drunk person fell overboard?
No, that's what everyone was expecting actually. You know, a cruising ship full of metalheads, over 40 bands. That is the first thing you expect, someone will go overboard. And it didn't happen.
I understand the band also played Summer Breeze festival. How was that?
It was raining a little but it stopped in time so we could play. It was good. Summer Breeze festival is a real nice festival. The atmosphere (is good). It's a big festival, not as big as Wacken. It's like half of Wacken and people are really nice there.
How does it compare to festivals like Wacken?
There's not as many people from around the world (as there is at Wacken). How can you compare it to other festivals? We had a festival in Spain some weeks before that and the weather was much better so fans were a little bit more alright but actually you can't say that. The festivals differ in the size but in the sense of the audience it's the same, it's the same thing.
The weather does make some difference to a festival doesn't it?
We have played during the day time in the rain and we have managed to get a good atmosphere. (People) have a party, when everything is muddy and wet. That always gives us a good feeling, (when) the people are having a party anyway.
I understand Gamma Ray had to cancel its show in Sweden in Malmo because Kai Hanson's voice was in a bad condition in April.
On the European Tour in March and April, it was a real disaster with his voice. On that tour he had problems with his voice and lungs. He had a little infection and he had to take antibiotics and steroids. He was continuing with the shows and of course normally you need to take a break. We continued with the tour, with other singers, the guy from Rhapsody and a singer that I know from South Germany that helped us out with some shows so that we could finish the tour but that show in Malmo was impossible to do, the replacement singer was doing a show with his own band the next day and he could not cancel that. We need to think about tour planning in the future, so it's a little bit easier. (We need) more off days, not too many shows in a row. It is difficult, he (Kai) is not getting younger.
How is Kai's voice doing now?
He is doing pretty good now but it took quite a while till it was really sounding (right). He said his voice changed in the last year, so his sound changed. Right now he is doing really fine, he is on the road with Unisonic. They start another part of their tour tomorrow in Bremen. Right now they are rehearsing and it's easier for Kai because he doesn't need to sing or only for some parts.
Congratulations on the success of your latest album 'Empire Of The Undead', voted album of the month by RockHard and MetalHammer for April 2014. I thoroughly enjoyed listening to the album, which I think is packed with fantastic tracks. Which track on the album are you most proud of? Which track was the hardest to put together?
The production of 'Hellbent'. It was created from this basic, easy, guitar riff. We really tried (hard) with it in the production in the studio. There are some songs that Kai recorded alone because we lost our studio from the fire. After that I was recording in another studio and Kai was singing at home. He recorded most of it at home and he came round with the tracks and we said well maybe he should add here to this track or something. Some songs were recorded in the old studio. There we were working together, together on the vocal lines and you can really, I mean I can really hear the work we did on that. Especially 'Hellbent', (was a result of) good work together, Kai and me, doing all the work on the vocal lines and harmonies. The result is this fresh, early Helloween years (style). For me, I compare this song to 'Ride The Sky'. It's a new 'Ride The Sky', it's a modern 'Ride The Sky'. The vocal arrangement was really nice. The song is so round, so well done in the arrangement that I'm really proud of it.
'Empire Of The Undead' has a heavier sound to Gamma Ray's previous album. I note from the band's recent interviews that this was done on purpose, partly because the band did not want to soften its sound like some other older bands have.
It's not like that. As a heavy metal band, of course, you don't want to sound soft. We were thinking about not doing too much production in the recording so we did all the songs, the arrangements were done by all the band together, in the rehearsal room. We really checked that all the riffs and the arrangement of the songs were strong enough to really bring the energy, just with the four of us playing the songs without a big studio production, huge drum sound keyboards on top and choirs and all that shit, you know? In the rehearsal room we said this is how we are going to record it and that we might add bits and maybe more (for example) power or whatever.
 What are Gamma Ray's biggest influences?
Kai's especially and my main influences are definitely Judas Priest and Iron Maiden and there are others. From the typical metal, from that time we grew up, we also were listening to Slade and Queen of course. That's what we were listening to when we were kids, you know and of course you get influences, you get things, they mark your brain. There were more bands I was listening to when I was young, of course, a lot (of bands). But the biggest influence is of course Priest and Maiden.
Is the band's aim to continue appealing to younger fans?
We don't think too much about this. After we did the tour, we realised we still have a lot of young people at our shows and of course, we like that but actually, we don't think too much about it when we're doing the recordings and the production. When we are doing the production, we don't think, ah if we put this here now or that effect on that then these people, the younger ones might like this more or the older fans might like this. Of course, we make jokes about that, you know, if you have a typical, old blackish, old speed melodic style, we make a joke, ah this, the Japanese fans are going to like this! And we laugh about it because we know, but actually, we don't think too much, we need to do more like this or like that, we are so much into the song and trying to do the best for the song and then we'll see, who likes it and who doesn't, you know, of course, we play around, with the different things you can do in the studio, we try some things but that's the point, you can do this but as long as the song has the basis and works, you can do anything with it, in the production and make a different version of it, you can do a remix of it. We can do things like this as well but if it's too far from the basis, then we don't do it.
Do you think the fact that the metal genre is still predominantly underground and largely underexposed motivates bands to work harder to get noticed?
Well there are so many people saying this and that. (That) it has gone down, (that) it is still alive, or whatever they say. Festivals are still growing where only metal bands are playing, so it can't be that underground somehow. To measure this by album sales is really impossible because album sales are shitty anyway since ten years (ago). Somehow it is well known, everybody knows what heavy metal is, this this heavy sounding music, they know. But of course, if I ask anyone on the street, do you know Gamma Ray? And they say a metal band. They know what metal is and they have heard of Metallica but maybe they don't know what Gamma Ray is. It is hard to describe the status of, or the level of metal. Somehow it's big, somehow it's not. Somehow it's still underground.
I notice that the Gamma Ray's tour has been pretty comprehensive and the band has been to cities like Athens, which other bands often neglect to attend. I think it is commendable. Does the band make a conscious effort to satisfy as many of its fans as possible?
We would like to play everywhere. The problem is that the whole touring business is over stressed by too many bands, playing too often and so, on (our) European tour, there is always include some shows (in cities) which we would not go to separately because we might lose money even just playing there, so we include (them) to make the whole thing (tour) round and also to be there for the fans and to keep the base of everything and it's really difficult because we have on our guest book, always people from everywhere saying come to here, come to my country but it's not that easy. It's really difficult, it's more difficult than it was ten years before or even fifteen years ago. It's really different, it's different how we are touring, we are sharing the bus with another band, we are sharing this and that and we are trying to make everything possible and that's why we can't include (everywhere). We were pretty close to not going to Greece but finally it happened.
Why did the Greece show nearly not happen?
The economy is really bad there, it does not make sense. There might be a lot of fans but they can't even afford a cheap ticket. We try to keep it at a good level but of course everything needs to be paid. It's not about making money, it's about paying for things, the bus and the production and the people who work for you.
How did the show in Greece go? Did it go quite well?
It went quite well but it did as expected. It did quite well for everybody, it was okay but there weren't that many people there, the shows were nice and the people liked it.
Did you get to see any of Greece whilst you were there?
This time not really, the area around (where the show was) and the bar area.
Is going on tour as fun now as it was when you started?
We're not that young anymore. You need to be in a really good condition to not get sick when you are off on a bus for five weeks, living on a bus. Anyone gets anything, everybody gets it and I think when we were younger, we could take this more. Nowadays we have to be really careful with everything. Actually most touring buses they have a climate inside which is not really the best, they have some years on the road already, they have air condition that has not been cleaned (for a while). I really enjoy being on the road but it is really necessary to have kind of a break. Normally we do it like this, we have three or a maximum four weeks, then we have two weeks break at home, then we do another three to four weeks. With Helloween, last year, we did eight weeks in a row. This year we have done five weeks in a row, which Kai's voice was not able to do. Maybe he could have done it 20 years ago, but not now. Nowadays we might be a little bit more careful with everything, with ourselves. After the show you drink a cup of tea and go to bed. And even if you do this, you (can still get) sick on tour.
What do you guys eat while you are on tour? Do you eat healthy?
I do actually, extremely. I try to stay away from too much fast food.
Which country did you enjoy playing at the most?
In Europe it may be Spain. Maybe because I speak Spanish and can talk in Spanish.
How is it performing to your home audience compared to other audience?
A lot of people get more nervous when they are playing to their home audience. I don't care too much about this, the Hamburg show on this tour was really brilliant and we were good because everyone took a bit more care maybe and in Hamburg. The people in Germany are stuffed and satisfied, every day you can go watch a band somewhere, it's hard to impress (them). You can see this (has) affected even more countries, maybe 20 years ago in Spain, they were going crazy, they would be freaking out, completely going wild during your show and now they are not like that anymore. Now you do a tour and you play three shows in Spain, everybody is the same. In Hamburg, every day, there is a band somewhere. People are stuffed. They've seen a lot of stage sets. It's hard to impress with that. The only way to do it is with the music. Good thing is with Gamma Ray's music, it is so energetic, so powerful, (it) has some kind of positive energy. If people come to see you and want to listen to this music, then you get this energy flow going from the stage to the people and then coming back, it's worth more than a great light show or stage set or whatever. You need to deliver the minimum of that as well.
Finally, have you been on any holidays this year?
Yes, I have this year. I was in Mexico. I have some friends over there and my wife is Mexican. We visited some friends, so we didn't go to a typical hotel. My Mother-in-law is living in Mexico City and we have some friends in Cancun, so we spent time there.
Thanks a lot for doing the interview. Good luck with the tour and thanks for your time.
For more information about Gamma Ray visit the official website at www.gammaray.org/
Gamma Ray – Empire Of The Undead is available on earMUSIC.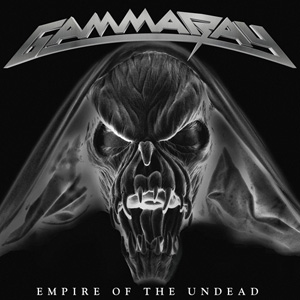 Categories: Interviews