| | |
| --- | --- |
| Posted on September 22, 2014 at 10:40 PM | |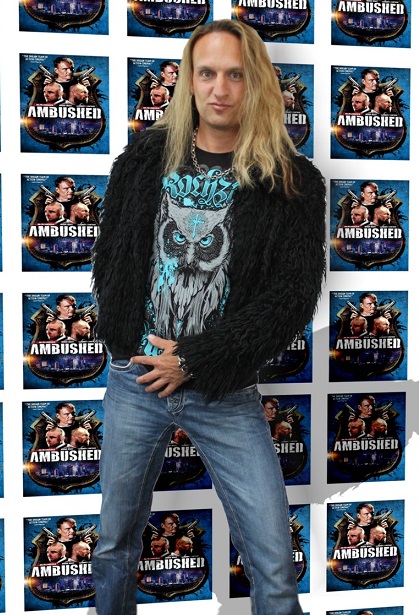 It is funny, I protest a lot about the internet and how various aspects of the internet are slowly killing the music industry, yet it is through the internet that Julian Angel's Beautiful Beast came to my attention. Without the net I would never have heard about them and missed out on something very special. You see, Julian Angel is just as obsessed with 1980s style hard rock and metal as I am and his albums Adult Oriented Candy (2011) and California Suntan (2012) are a true testament to that. After a short break Beautiful Beast are back with a new album Kick Down The Barricades which takes their love of all thing hair metal a step further. To discuss the new album, the state of the music business and some of his other side projects I caught up with Julian Angel for an enjoyable chat.
Rock Man: Congratulations on the release of the new album Kick Down The Barricades. You must be very pleased with the final product?
Julian Angel: Thank you, Rock Man. Well, as every other band would say, it is our best so far (laughs). Our sound has become a bit tougher. We have left all the keyboards out this time, so we sound more like Skid Row than Bon Jovi. I just didn't like keyboards at the time we recorded the album. Next time we might use some more again.
RM: How many tracks were written for this album and how difficult was it cutting it back to the 10 that ended up on the record?
JA: I definitley only record the songs that also make it onto the record. I feel quite early in the songwriting and recording process whether a song will meet my expectations and then I either continue or drop it. On the previous Beautiful Beast album California Suntan I had recorded two more songs that sounded cool by themselves but didn't match the sound of the overall album, so we gave them away as bonus tracks for die-hards. But for Kick Down The Barricades I have only written these ten. I also like albums with just ten songs. It is pretty eighties.
RM: The first single and video from the album is Bad Boys Never Dance. What has been the initial response to that track?
JA: The response has been really great. We released Bad Boys Never Dance and the video in advance, so the Hair fans were happy about a little treat up front. Besides that, I think the song contains so much that the eighties have been known for and it was a great leader to set the pace for the following album.
RM: Tell me about the music video for that track. Was that a fun experience and how long did it take you to shoot it?
JA: The fun experience for us was that we could forget the low budget we had (laughs). We shot it all in a day. It was actually the last sunny day in Germany, early September 2013. I always keep that eye on the money, so we could not blow out more bucks just for fun. Fortunately fans in that gernre don't expect you to shoot videos worth six figures anymore, because they are well aware of what is going on.
RM: Like your last album California Suntan this new album has very strong 1980s elements to it and that is very consistent throughout. You are obviously very comfortable with that style aren't you?
JA: You can excel if you do what you love. I love this type of music and so it comes to me naturally and easily. I also do my best not to sound modern. I like it best when it sounds just the way it used to sound in the eighties.
RM: Can you tell me about the lyrical sentiment of the title track Kick Down The Barricades?
JA: Well, forget the rules. Most of the rules we are faced with today, be it the law or some unwritten social standards are totally unnecessary. We are humans, we have a brain, we should be able to take care of ourselves. I don't need a government to tell me what is good for me – especially if it isn't. Live your life and do whatever you want as long as it doesn't hurt others.
RM: In my opinion there are two tracks on the album that could have been on a Poison record. Unsexy and Shake Me Back Home have a very strong Poison vibe and attitude about them, was that intentional or did that just happen that way?
JA: Poison definitely had an influence on me. I didn't push into that direction, it came naturally once again. As for Shake Me Back Home I simply wanted to record one of those semi-acoustic songs with a slight western feel. It's funny you compare it to Poison. Most critics thought I was copying Roxy Blue (laughs).
RM: Which songs on this new album are you most proud of?
JA: It is hard for me to point out favorites. I like them all on one side, on the other side I am always happy once an album is finished and I don't have to listen to these songs for a while (laughs). Mixing all ten songs can really drive you insane. But I think I really love Shake Me Back Home for what I have described in my previous answer, Big Stuff because it is a tough piece of stripper rock with huge choirs and Can't Stand The Fiction for its well-balanced combination of Hard Rock and catchy melodies.
RM: There have been a lot of artists recently suggesting that the hard rock/metal music scene is dead and that there is no value in bands making full length albums anymore. What is your opinion?
JA: I don't feel it is dead. Not at all. It has grown smaller, okay. But most of the hard rock and metal fans in general are way over 30 or even 40 years old today. They have grown up with tangible full-length albums and still appreciate that today. 90 percent of all my music sales are physical album sales and most rock bands I know report similar figures. I even know Hip Hop acts that ship buckets full of pre-ordered CDs to their fans. Even Vinyl sales have increased by 40 percent, so I don't know what everyone is talking about.
RM: Tell me about the inclusion of drummer Ramy Ali and bassist Frank McDouglas. What do they bring to the band and how do they change the way you go about writing your music now?
JA: Frank and I have been playing music together for about 15 years. We have a similar vision and excellent understanding. Ramy is the drummer for hire and doesn't live too far. Besides, he is a great guy with a good heart and a truly professional approach.
RM: Will the band have the opportunity to play some shows to support the new album and if so what can audiences expect?
JA: Audiences could expect lots of action on stage. None of us is a stare-at-your-fingers guy. Unfortunately we don't have a chance to play live. These days musicians have to be involved in three, four or even more projects to make ends meet, and this makes it difficult to impossible to get the band together for a string of shows. Probably unpaid ones.
RM: I know you have some other projects that you are passionate about like your music business conference MusicBiz Madness. How are things with that at the moment?
JA: MusicBiz Madness is a conference I have set up for independent musicians. I have invited a number of renowned speakers like major A&Rs, promoters, Bernhard Weiss from Axxis held a lecture last year, to bring light into subjects such as promotion, marketing, labels, legal issues etc. It is a big challenge because over here in Germany too many musicians still believe in doing a little facebook to make it.
RM: In the CD booklet there is the following statement – "Animals, have hearts, souls and feelings. Please treat them right. Fight abuse". Is animal protection a big passion of yours?
JA: Not really a passion, but more of an obligation. You know, I even carry a pair of gloves in my car to carry hedgehogs off the street (laughs). Animals may not develop smartphone apps or contribute to our pension funds, but if you hurt them they will feel it and that's enough of a reason not to cause them any pain, neither physically nor mentally.
RM: On behalf of everyone here at Full Throttle Rock congratulations on the release of Kick Down The Barricades. All the very best for the album and your continued success.
JA: On behalf of myself big thanks to you and those crazy readers who just ended up here at the very bottom of this interview. Thanks for your time and enthusiasm. Once the music business smoke will have cleared at the end of October I will have time to record new songs. So, please stay tuned and visit Beautiful Beast at www.beautifulbeastrock.com or even sign up for my Hair Metal Newsletter at www.beautifulbeastrock.com/new.html, free mp3 included. Oh, and kick down the barricades.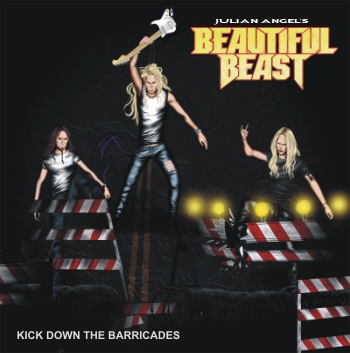 Categories: Interviews