| | |
| --- | --- |
| Posted on July 29, 2014 at 1:25 AM | |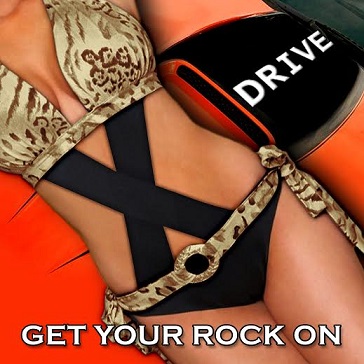 X-Drive – Get Your Rock On
Written by Juliano Mallon
The reunion of seasoned musicians is no guarantee of a good album or, in some cases, not even quality. The formula isn't new and has proven its irregularity. However, when it works, we're blessed with awesome works and that's exactly what you get with "Get Your Rock On", the debut album by X-Drive.
Comprised of vocalist Keith St. John (formerly with Montorse), bassist James Lomenzo (formerly with White Lion, among many others), drummer Fred Fischer (formerly with Midline) and newcomer Jeremy Brunner on guitars, the band delivers "in-your-face", guitar-centered rock 'n' roll, with highly consistent songs and killer performances by St. John.
The album has a certain 70's vibe, perfectly balanced with a contemporary sound. The result is very, very efficient. And that's not difficult to notice when you listen to "Love's A Bitch", "Get Your Rock On" and "Steppin' On The Block", the powerful rockin' trio that opens the album and that paints a pretty good cenario about what's in store for you.
And there's more... a lot more!
"Baby Bye Bye" is a great ballad, with an intimist arrangement and a powerful chorus, fueled by the soaring vocals of St. John. The catchy "California" is the first single off the album and is a great song, showing a well-crafted, radio-oriented song. But songs like "Turn Down The Noize" (yes, with a Z), "Rattlesnake Eyes", "Just Can't Say" and "Love Braeks The Fool" are purê bliss for the old-school rock enthusiasts, but they have punch enough to convince rookies as well.
And if that wasn't enough for you, pay attention to "Fly Beyond The Angels", a beautiful ballad, and the awesome "Change Of Heart", an acoustic song that will surprise you, believe me. The first time I listened to the album, I put it on repeat.
With this being said, I can only strongly recommend "Get Your Rock On". A strong, solid effort that will surely blow your mind and puts X-Drive as one of the best new acts in 2014.
Categories: Album Reviews