| | |
| --- | --- |
| Posted on July 29, 2014 at 1:05 AM | |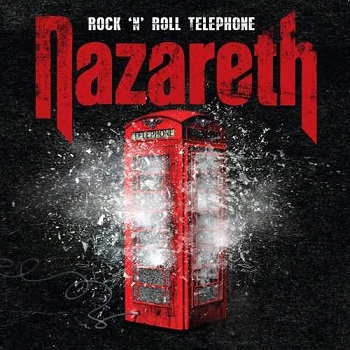 Nazareth - Rock 'n' Roll Telephone
Written by Antony Scholefield
Dan McCafferty announced last year that Nazareth's 23rd studio album would be his last. You really can't blame him after he's led the Scottish rockers for 46 years. If he were an Australian working an ordinary job, he'd be lined up for nearly a year of fully-paid long-service leave.
The album, Rock 'n' Roll Telephone, landed in June - a 40-60 split between ballads and old-school rockers. Everything's held together by the spacious production style, which highlights the funky basslines and McCafferty's wheezy vocals.
Opener 'Boom Bang Bang' fits neatly in this groove, with complex guitar riffs that chatter in the background but never dominate. Lyrically, it works the big themes of rock and roll. "If we're gonna be damned," McCafferty sneers, "Might as well have a little contraband."
The record's X-factor arrives early, as an acoustic-led track called 'Back 2B4'. It's deceptively groovy and summery, and McCafferty still hits the high notes for which he's famous. It also features the telling line, "Yesterday's gone, all you feel is another day older."
Throughout the album, Nazareth keep returning to the ideas of being damned, moving on, and getting old. Consciously or subconsciously, they obviously knew about McCafferty's imminent departure. "Sometimes it's a fight," he rasps in 'One Set Of Bones'. Sadly, in that song it sounds true, with McCafferty failing to hold his falsettos.
The septuagenarian does fall short occasionally. The title track features the line "My hair is all frizz", which sounds more old-man grumble than rock-and-roll vice. I also think a song called 'Punch A Hole In The Sky' need to work on an epic scale, whereas the low-tuned guitars keep this one firmly grounded.
Ignore these blips, however, and the album still works as McCafferty's last dance, rolling home on a stunning five-song run. Don't let the hip hop-inspired opening of 'Long Long Time' trick you. It's actually a five-star ballad, although I suppose "I'll be loving you a long, long time" could be a double entendre. Still, the sweet little guitar riff makes this unlikely.
Follow-up 'The Right Time' is a feel-good number for all the rock and roll battlers. Tear-shedding done, Nazareth split the album open with 'Not Today'. The song's opening riff has pure hells-yeah factor, as does McCafferty's war-cry: "I can still bring the thunder." Here it's true, and it continues into the bouncing, razor-sharp 'Speakeasy'
Telephone finishes on the high-powered 'God Of The Mountain', with its crackling solo and a roaring crowd in the background. It's how I'm remembered McCafferty-era Nazareth. Whatever the album's ups and downs, you'll still leave with a good feeling and a stupid happy grin. Stand up and give McCafferty a salute. After 46 years, he deserves it.
Categories: Album Reviews