| | |
| --- | --- |
| Posted on May 8, 2014 at 8:55 PM | |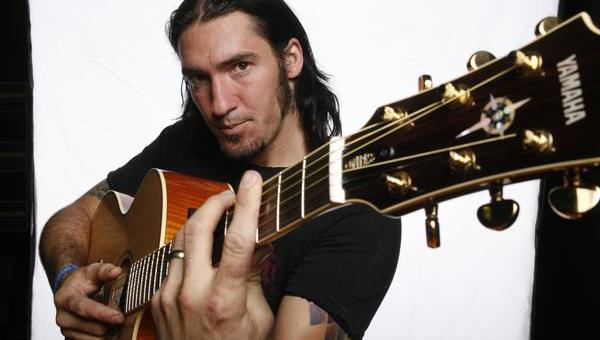 By the late 1990s the metal scene worldwide was in a bit of a mess. The grunge movement was a dominating force, and I heard more and more bands I had grown up listening to stray from their working formulas to try and compete with the Soundgardens and Nivanas of the world by releasing experimental albums. Eventually a new breed of metal bands emerged to desperately resuscitate what some were calling the death of metal. One of those bands was Atlanta, Georgia's Sevendust and they brought with them a new vibe and energetic edge that would breathe life back into the world of metal music. Albums such as Sevendust, Home and Animosity are regarded as iconic albums amongst followers of the genre. Their latest effort Time Travelers & Bonfires sees the band adopt a more mellow approach as it presents six classic tracks and six new ones in an acoustic setting. To discuss the band's new album, their history and their future I spoke to guitarist and songwriter Clint Lowery.
Rock Man: Congratulations on the success of the band over the past 17 years. The new album is Time Travelers & Bonfires you must be very proud of this album?
Clint Lowery: Yeah man absolutely. Like you said 17 years, just being around that long and being that relevant to our fans and still being able to make a living out of this is a blessing to all of us. To have this record and show a different side of the band is a special thing for us and we are very appreciative.
RM: The album cracked the Top 20 on the Billboard 200 Album Chart in its first week. That must be very satisfying?
CL: Yeah, you know, it is cool to have a chart placement of course but that is never our goal. I mean, obviously our goal is to make a living out of this and create music, you know, it is a great job to have there is no question. But the chart thing is cool, it is always a cool thing to talk about for a week and then it is back to business for us. It is back to touring and connecting with our fans and that is what we get excited about, just the response from the fans and the chart position kind of reflects that I guess, so it is exciting depending on how you look at it.
RM: So what sort of feedback are you receiving from fans and critic about Time Travelers & Bonfires?
CL: So far it has been really good. I think the people that like the heavier side of our band remain quiet once you do stuff like this [laughs] you know, we may lose a fan or two to it because there is a lot of fans who have been loyal to our heavier sound. But I think everyone is kind of open-minded, they understand what we are doing with this, people are showing up and it has been great. If they are not happy with it, the ones who are not happy about it have been pretty quiet. The response has been great so far.
RM: This is an album of acoustic material, some might say you have already done that on Southside Double - Wide: Acoustic Live. So how does this new record differ from the previous acoustic album?
CL: Well the big difference there is six new complete songs, acoustic songs. I think that Southside Double - Wide: Acoustic Live was a completely live DVD, just us doing versions of our heavier songs, just acoustically. This is an actual recording, we named it Time Travelers & Bonfires because Time Travelers is kind of a description of the older songs redone, kind of going back in time and reliving those songs and then the Bonfires is the newer songs. So I mean, the new material is really what separates it and the fact that it is a studio record as opposed to a live one.
RM: I am very impressed with some of the new arrangements of some of the songs from your back catalogue. Can you tell me about the process to select those tracks?
CL: We knew it was going to be nerve wracking picking through 130/140 songs, so we did a poll on Facebook and told the fans to kind of pick three songs they would like us to re-do and with that we had compiled a list of 20 songs. We kind of looked at it while we were in the studio and tried some of the top three we picked from and we were trying a few other ones, I mean every song we did was on the list but some of them translate better than others. There are some that are super heavy and just do not really make sense to do acoustically but that was the most, I guess, mentally exhausting part, just determining which songs we were going to do. But letting the fans pick the songs was a cool process. It kind of took out the guess work for us and the arrangements they came, you know, with Denial and Crucified there is a real lot of departure from the original. I mean, obviously the melody and the lyrics are similar and there is a similar arrangement to it but the vibe, the tempo, the feel and the way the song is played is a lot different.
RM: The six new songs that appear on this album, were they newly written song or songs you had been working on previously?
CL: John (Connelly) and I brought a fair amount of acoustic material in, I think each of us had 4/5 really solid ideas, you know. John had Bonfires, the music for Bonfires, the music for The Wait and I had a few other songs and I actually wrote one of the tracks Under It All, musically. We were just getting the basic arrangements, the basic format of the song and then I present it to the band and then we kind of arrange it as a band and then while Lajon (Witherspoon) was singing vocals for the older songs I was writing newer ones.
RM: On the surface it would appear this was an easy album to make; walk in, sit down, play, record, done. Was that the case or were there challenges?
CL: No, I mean there is always challenges, there is always small obstacles you have when you are trying to put together a song and orchestrate how you are going to layer it, and especially when it comes to the new songs there is always the challenge of really making it Sevendust, but exploring new territory. With all of the songs there is a challenge with us in the studio but we have such a good formula, we have such a good team that architect it. We really muscle through those sort of things, you know, I really enjoy the process of it.
RM: I have long considered Lajon Witherspoon as one of the great modern metal singers. This acoustic record really seems to suit his style and approach, is this the best you have heard him?
CL: I think as far as a comfort zone for Lajon, this is definitely what he likes and what he enjoys singing the most. I write a lot of vocal parts with the band and Lajon is like the perfect vessel for that, for me. I write songs for a lot for different artists but I know him better than I know any other singer that I have worked with and I really enjoy collaborating with him and the things he brings to the table. With this we knew going in that it was going to be a special moment for him to kind of shine and do what he does, I was really apprehensive about it, I sing a lot of the backup stuff but I really want him to handle the majority of the vocals and to shine and to show people what he can do. He has got soul for days and I really enjoy that side of him because sometimes he has to come out of his comfort zone for the heavier stuff and we are all kind of pushing him to do it [laughs] but this album was very easy for him.
RM: As one of the primary songwriters in the band, what sort of issues or topics inspire you to write?
CL: Oh man, I think that out of all the writing process that becomes the most challenging to me because you never, it is like you, you know, topics, I am a very observational writer I write about what I see and what I experience. A lot of people ask me, those songs are always in a sad situation or a volatile relationship or whatever and I am in a pretty happy place but I still watch these things unfold around me in different people. So I mean it is usually a present day, like the lyrics and the topics are basically where I am at like recently, like the present situation I am in, where I am at in life, what I observe in life, that kind of thing. It is very current, each record has, I could listen to the records and go "I remember that" - that was about so and so or I remember feeling this anxiety around a bunch of people. I write songs about different situations I encounter.
RM: I am yet to hear a bad album from you guys. What is it about this group that keeps producing consistently good album after album?
CL: Man that is a very nice thing to say. I do not know. I would like to think that there is something about us that with the contrast, like you were talking about before with the contrast of Lajon's vocals and the fact that there are a good amount of other contributors to the song writing process, the fact that there is, if I am having a dry spell someone else can come in and step up. I think collectively we support each other so the unit is strong, the infrastructure of our band is strong, we are the first people to say "This isn't good enough", "This is not what the fans deserve, let's dig in". And we are the fans of music that were always critical on bands that would start slacking up and start doing these weird half effort kind of records. I am very defensive when it comes to that, I never want someone to say "Oh they are starting to slip", "Their songs are starting to get weird", you know. I do not want to lose the integrity of the band and it is a challenge and there are some records I will listen to and be like "I am not so happy about that", but I am very proud of the body of work that we have done and the records when I was not there.
RM: So when you look back at all the albums you have recorded, is there one or two that stand out to you as a favourite?
CL: I think right now, Animosity was a very good record, sonically for me. I think the band was really finding itself at that point, that stage of the game, but they all have a special place. I really liked Black Out The Sun, it was a really fun record it was self-produced, and it was my second record back with the band after a 4/5 year departure and I was very comfortable with the band again. They all have a special place but Animosity was probably my overall.
RM: So speaking of Black Out The Sun, let me say what an outstanding album that is. Has that album raised the bar for the band in terms of the quality that is expected every time you go in to record?
CL: I hope so. I mean I invite that sort of pressure, I think that is the whole point of the game, you make a record and you do not want to plateau and that is the cool thing with our band, we never got to that stratosphere success plate. We never had this multi-million record selling; we never had any kind of Beatlemania whatsoever. So we have always had this mild success and I think that kind of releases the pressure for us, so I think that has helped us maintain that we still have room to climb. I think we have a really solid fan base, I do not think we are ever going to become one of those bands that sell millions of records, I do not think anyone does anymore but I think that it kind of enables us to hit theses plateaus and excel a little bit. I hope the last record, every time I go into the studio I want to beat that last record and I definitely feel like we are going to destroy Black Out The Sun, we are going to dig in deep on the next record.
RM: What advice can you give to anyone looking to make a career out of music?
CL: Don't play music! No, I'm joking [laughs]. I think ultimately if you are not willing to do every single thing it takes, sacrifice pretty much everything, you know, family, birthdays, relationships, if you are not willing to sacrifice and put all that on the backburner then it is really not happening. Unless you have a lot of money in the bank and you are just doing it for fun, it takes a lot, you sacrifice a lot of time, we have missed a lot of time with our families and that is the only way to get out there in a real way to build and establish yourself. Be original, do not think about what people are doing now think about where you want music to go, do not go where music is already sitting, continue to figure out the next turn, people always travel the same road you have to veer off a little bit that is where all the pioneers come from.
RM: Where do you see the band in the next 5/10 years?
CL: In a retirement home, just joking [laughs]. I think we are still going to be doing what we are doing just less the touring aspect of it. Because we all have kids, we all have other lives now and so ultimately I think we are going to be smarter about how much we tour. But as long as there is a demand we will try to feed that demand for music, we work very hard on this and we would like to retire doing this, maybe we will be only doing acoustic music in 5/10 years, I do not know. But right now we are just going to keep on doing what we do.
RM: Again, congratulations on an outstanding career and the release of the new album Time Travelers & Bonfires. On behalf of everyone here at Full Throttle Rock I would like to wish you and the band many years of continued success.
CL: Same to you, thank you so much for the time.
For more information about Sevendust visit the official website at www.sevendust.com
Sevendust – Time Travelers & Bonfires is available on Asylum/7 Bros. Records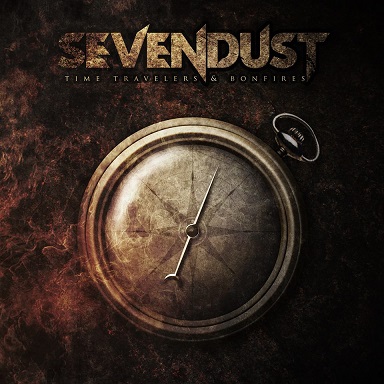 Categories: Interviews