| | |
| --- | --- |
| Posted on April 29, 2014 at 11:50 PM | |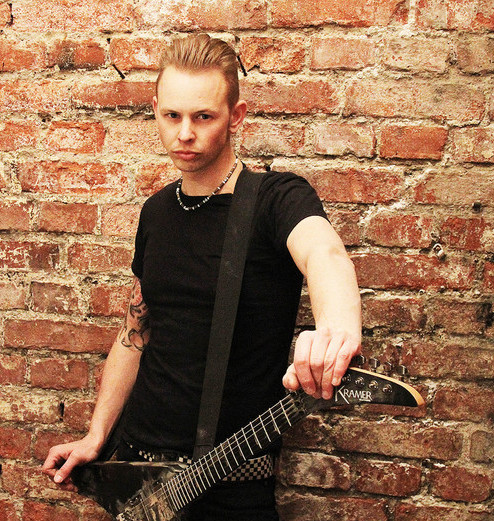 Back in early 2009 I had the pleasure of speaking with legendary rock vocalist Jeff Scott Soto. During our conversation he spoke to me, with great excitement, about a new project he was working on called W.E.T. This was going to be A collaboration between Robert Sall from Work of Art, Eric Martensson from Eclipse, and himself. Once I had heard their 2009 self titled debut album I could see why he was so excited. In short, this is melodic rock at its finest. In 2013 the band would release the follow up album Rise Up which would take the band to another level. This would then lead to the release of a live CD/DVD package in 2014 titled One Live In Stockholm. To get the inside story of the band's formation, the state of the music industry and the band's new live CD/DVD I caught up with bassist, keyboardist and rhythm guitarist Eric Martensson.
Rock Man: Congratulations on the success you have had with W.E.T. and also Eclipse, are you happy with what both bands have been able to achieve?
Erik Martensson: Yeah I am really happy with both bands. With Eclipse we have been working really hard but with W.E.T., of course we have been working hard with W.E.T. as well, but we had no idea the amount of success or how much people would love the band. When we did the first album it sold a lot of albums, it is just fantastic.
RM: Can you tell me about how W.E.T. initially came together?
EM: It started off with Frontiers (Records), they asked me to write six songs for a band or project with Jeff Scott Soto and of course I said yes. Jeff is a big old hero, he has been singing with Yngwie Malmsteen and everything so of course I wanted to write songs for Jeff. A friend of mine, Robert Sall from Work of Art, he also got requested to write six songs but then we delivered the previous Eclipse album Are You Ready To Rock and the day after we delivered it they were kind of impressed with the production and they asked if I wanted to produce the whole album with Jeff. And it was Wow! It was a big thing for me, it was the first producer job I got in my life, so it was a big thing. Robert from Work of Art, he came to my studio, I handed him two songs I had, Brothers In Arms and One Love and Robert came and he had these Toto sounding songs and it was "Okay, this won't fit on the same album, it's two different kind of music styles" so we decided to write the whole album together, instead of writing separately. We wanted the whole project to have a band feeling because a lot of these melodic rock projects are projects in general, they sound like they have songs coming from all over the place from different writes and then the producer takes them in and tries and make them sound the same and they are really different from each other, but we wanted this to sound like a band record. But me and Robert wrote the rest of the songs together then Jeff came in and heard the songs and was like "Wow! this is really good stuff", so we kind of changed from a project to a band because everyone felt we had a special sound to these songs, with Jeff's voice on it, it just came together really good, so we wanted to change the name from a project name to something more personal, that is why W.E.T.
RM: The new W.E.T. album is One Live – In Stockholm and this CD/DVD package was recorded in January 2013. I imagine you have tons of live recorded material, so what made this show so special that you would want to release it?
EM: Honestly we didn't have a single note recorded live from the band at all. We had been playing gigs, in 2013 we did several gigs but before this show with W.E.T. in Stockholm we had done only one show at Firefest in the U.K. So we only had one live show in our back pocket actually before we did the live DVD recording, so we decided to do this live DVD we arranged the whole concert, I booked the camera team, we had 18 songs, we had two days of rehearsals and it was our second live gig ever. We had no idea who was going to show up, how many people or anything, so we booked out a small club but the place was packed and there was a big line outside that could not get in, we even had to delay the concert an hour because there was so many people coming, the whole show was really fun doing it. It was a special night for us, it was 2 or 3 weeks before the release of the previous album Rise Up so half of the songs the audience had no idea what kind of songs we were playing, it was new to them and kind of new to us as well.
RM: How difficult was the process of song selection for this set, because you include W.E.T. material but also material from your other individual bands?
EM: Yeah, we wanted to have something special. So of course we picked out our favourite songs or songs that work well in a live situation from W.E.T. and then we wanted to have something special, we wanted to do something from, you know, the name (W.E.T.). So we were in Stockholm, we could have the Work of Art singer coming up on stage doing a song (for the W) and Eclipse we wanted to do one song with our band (for the E) and then we did a couple of Talisman songs (for the T).
RM: This package also features two tracks Poison (Numbing The Pain) and Bigger Than Both Of Us, can you tell me why those two songs weren't included on the studio album but made it on this live release?
EM: We had too many songs. We had 15/16 songs I think when we recorded the Rise Up album and I felt strongly we can't have an album with 15 or 16 songs, it was too much music to take in for a new album, even if it is good music it is too much to take in. So I wanted to pull out a couple of songs, one was Victorious which ended up a Japanese bonus track and the two on the live CD/DVD, but everyone chose different songs to take out. We had three ballads but you can't have three ballads on a rock record, so one had to be taken out. We could not agree on which but we ended up like, we had to pull one of them, it was not that these songs were not good enough, because both of them could have easily fit on the album, some songs had to be pulled.
RM: Some time has passed since the release of both your studio records, W.E.T. and Rise Up, looking back on those albums are you still happy with the way they turned out?
EM: Absolutely. The first one was kind of a trial and error record and the second one we kind of focused on writing songs in the style of the songs that we kind of felt sounded most like W.E.T. They had our distinct sound. On the first album we had this more pink and fluffy stuff, the kind of softer rock and this more heavier sound with One Love, Brothers In Arms, Comes Down Like Rain and we wanted to focus more on those heavy songs because we felt we sounded more unique on those songs, that is kind of where we had our strength.
RM: What is your favourite part of the writing and recording process?
EM: I like every part of it, but I think it is song writing. It is hard work to write a whole album and I write a lot of albums, I write a lot of stuff for people, it is kind of pressure to write songs that are good because you want to write a great song every time, you know, you do not want to write a filler track. So when all the songs are finally written and you start doing the basic foundation of them, recording guitars, they start to sound like proper real songs I think that is the best part. When you are kind of in the middle process of recording the album, that is the best part.
RM: Can you tell me where you are in terms of Eclipse? The last studio record was Bleed & Scream back in 2012, when do you think you might start work on a new studio record?
EM: We have already started working on a new one and we have started writing for it. I have been working with a Norwegian artist at the moment, I have been writing his whole studio album and producing it, so as soon as I am finished with that I am going to move over 100% focus to Eclipse. For a new album we have a release date for February next year (2015). In a year we will have a new Eclipse album out in stores.
RM: Do you have any thoughts on the state of the music industry at the moment?
EM: It is a tough industry to be in at the moment. The tough part is getting people to pay for music and I think the situation has to change somehow. We have Spotify, a Swedish company that started the whole thing out, it made it so easy for people to listen to music so they do not have to download it at least anymore, they can stream it legally, but still it pays so bad it is almost like legal stealing. As a song writer you get almost nothing if fans listen to the album on Spotify, it almost pays close to zero in what you get paid for. So it is hard to put a lot of time on albums because the record labels they do not make as much money so they cannot pay that much money for production, it is a hard situation to get paid for it. But it has never been better for fans because they are able to listen to music anywhere, anytime, as a music fan it is a great situation to be in. But as a musician, producer, it is not as great [laughs].
RM: Is there any advice you can give to up and coming musicians looking to make a career out of music?
EM: Write good songs. I think good songs is the key to anything. You can be the best guitar player but the only thing that matters is good songs. Everyone knows the reason you listen to a band is because they have good songs, if they are a great guitarist you cannot listen to a whole album because of the guitar solo, it is going to be 30 seconds long, good songs is the key to having success in the music business. I think that is the advice and if you have good songs people will listen.
RM: Once again, congratulations on the release of the W.E.T. One Live – In Stockholm CD/DVD. On behalf of everyone here at Full Throttle Rock I'd like to wish you and the band many years of continued success.
EM: Thank you.
For more information about W.E.T. go to the Facebook page at www.facebook.com/wet.
W.E.T. – One Live In Stockholm is available on Frontiers Records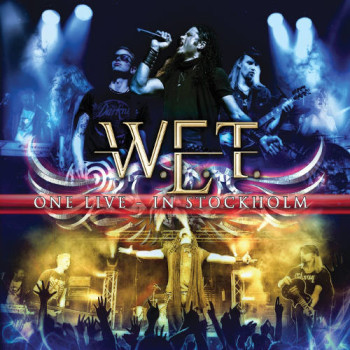 Categories: Interviews