| | |
| --- | --- |
| Posted on April 16, 2014 at 1:00 AM | |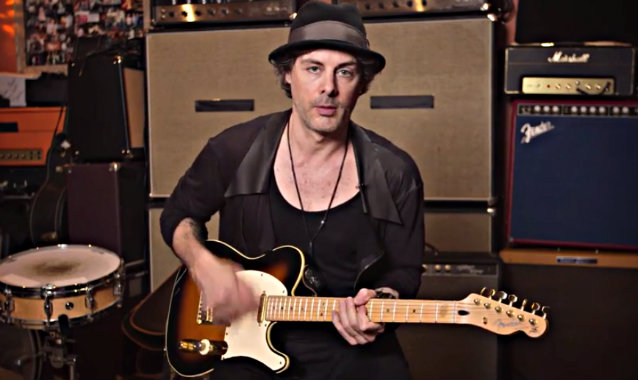 These days the word "Supergroup" tends to get thrown around with relative ease. Any time you get a bunch of well known musicians together in one room, there it is … Supergroup. The term should only be used for those that truly are, like in my opinion, someone like Damn Yankees for example, bands that combine the most exceptional talent to create something out of this world. Now that you see where I'm coming from it will come as no surprise when I use the word supergroup to describe one of the most exciting collaborations I have heard in years, The Winery Dogs. This band is pure rock royalty, featuring Mike Portnoy (Dream Theater) on drums, Billy Sheehan (Mr. Big/David Lee Roth) on bass and Ritchie Kotzen (Solo/Mr. Big/Poison) on guitar and vocals. Their debut self titled album is a master stroke of genius and raises the bar for all other superstar collaborations to be judged on. I had the opportunity to speak to guitarist/vocalist Richie Kotzen about the band's self titled album, changes in the music industry, the induction of Kiss into the Rock and Roll Hall of Fame and the "S" word.
Rock Man: Congratulations on the success you have had with The Winery Dogs debut album and the continuing success of the band. You must be very happy with where you are at the moment?
Richie Kotzen: Yeah I really am, you know? We got together innocently just to write some music and record it and ultimately share it with people but we did not have any sort of expectations, other than just wanting to make something that we really felt good about. And yes we have done that and we figured okay that is enough, that is success, we have done it and it is just a great feeling to see the excitement surrounding the band and how many people have responded favourably to the record, it really feels great.
RM: The release of this Winery Dogs album has really blown me away, it is such an outstanding piece of work, during the recording was the band aware just how special this album was going to turn out?
RK: No, like I said I just really, whenever I make any record my primary focus is just making sure that at the end of the day what I hear coming out of the speakers is equal to or exceeds what I imagined in my mind. Once I am at that point then I know that we have got, that we have reached our goal. So with The Winery Dogs record we worked real hard on it and it got us to the point where all three of us were thrilled with it and we figured lets share this, but at no point did we predict or try to calculate a response. The only thing you can control is to make sure that the work that you are doing is pure and honest and as long as you have that then that is all you can hope for.
RM: You have played with a lot of exceptional musicians over the course of you career, can you tell me about your current bandmates Billy Sheehan and Mike Portnoy and how they measure up to some of the past players you have been involved with?
RK: Well, actually I need to point out I have been very, very lucky. I have played with a lot of great musicians from even from my first record with Stuart Hamm and Steve Smith and obviously I did this thing with Lenny White, and there are a lot of other guys that are amazing as well. What you have to realize is, with all these guys and especially Mike and Billy, these people become famous for who they are and how they play. Billy Sheehan is an innovator with the bass, Mike Portnoy has won so many drum awards and polls I do not know if it is legal for him to win any more [laughs]. So I am playing with, what I would call "stylists", and that is when someone has a unique sound and you are able to say "Do something along the lines of what Portnoy would do here" or "Do a Sheehan type of run here" and that to me is where you want to be as a musician. You want to make sure that you are representing yourself and your personality is coming out of your instrument and that is what I always strive to achieve in my development and I try to play with guys that have the same theory and belief.
RM: When I think of this band the only way I can describe it is "Supergroup". Is that a term that sits well with you guys?
RK: You know, we do not by nature really need to describe ourselves. Our position is that if anyone wants to know what we are you can hear it and see it, so that kind of takes away the need for us to define in words who and what we are. Speaking about our music it is almost an impossible thing to do, to say what it is, what sort of style or whatever, if you say it is rock, well that is so broad and you use the term "Supergroup" that comes into play because I think we are guys that have all had careers outside of this band. I have been making my solo records since 1989, Billy's had international number ones with Mr. Big and Mike Portnoy with Dream Theater. So when you have three guys with a track record you want to call it something when they come together and that is the term that is used. It is not something we have to use, we do not have to say any of that, it makes it easier for you guys to reference, you know? [laughs].
RM: Outside of your own solo work, is this the most fun you have had in the studio recording an album in a band environment?
RK: Well, I do not know if fun is the word. It was definitely rewarding, I'll say that. We recorded this record in my house, I have a studio in my home and we recorded here, actually we did years ago. 12 years ago when I was in Mr.Big, we did the Mr. Big record here as well and I have done most of my solo records here. So it is convenient. I like having a studio here, it is great being able to roll out of bed and pop into the studio and start working whenever I feel like it, but seriously it was an easy record to make, very easy. We really got along great and the biggest controversy we had was trying to find a band name.
RM: Did the song writing and recording of this album come together easy or was there a period where you were finding you feet?
RK: No, it is interesting how this worked out because when you hear this Winery Dogs record it definitely sounds like something, you do not listen to this and say this sounds like … and then name 10 other bands. Winery Dogs sound like Winery Dogs and I think that is a great thing. But on top of that, what makes it sound unique is no one lost their identity in that process, it sounds like a brand new band, a new thing, you can still hear that is Mike Portnoy playing the drums, the minute the record starts that is Billy Sheehan on bass and anyone who has listened to the work I have released can immediately tell it is me playing and singing. So I think that is a pretty cool thing to have a band that sounds like its own thing and on top of it none of us had to lose our identity or sacrifice any personal taste.
RM: Where are The Winery Dogs in terms of the next studio album, will there be another one?
RK: Definitely. That is the question we are getting asked a lot and it is a nice question to be asked because people want another record and we are thrilled to have the opportunity to make another record. As a matter of fact, we have just started playing together after a short break and one of the things we did was write a new song, so in the set is a new song that we are playing and that is fun, it shows we are moving forward in that direction. In my opinion, by the time this upcoming two month run is finished we might have the whole record written and ready to be recorded, so that would be a personal goal of mine.
RM: I read with interest the other day that at the age of seven you were inspired by Kiss to learn the guitar. Given their influence on so many musicians over the decades and their legacy, do you have any thoughts on their induction to The Rock and Roll Hall of Fame?
RK: I think that is fantastic, you know? I know those guys, I worked with Gene on his solo record and I just think it is amazing to even get to know those guys. They are the guys that made me want to play rock and roll, but it really is an awesome thing and they have actually been very supportive publically of our band The Winery Dogs, so I am very appreciative of that and I am very happy for them.
RM: In the early 1990s you joined Poison for a period of time, how do you view that experience and looking back what are your thoughts on the album Native Tongue you recorded with them?
RK: Well I was talking about this earlier today in another interview, I say this all the time, I really love the record that we made. The thing that was great about my participation in the band is they really brought me in as someone that could kind of change their direction, they wanted to go more of a, what they were calling a one musical direction and less of a kind of party vibe. So they allowed me to be creative and we also found a way to maintain what made the band special in the first place and I think we made a great record.
RM: You spent a number of years in Mr. Big from 1999 to 2004, what did you take away from that experience?
RK: That was another fun experience. That was a little bit different than the Poison thing, because Mr. Big at the time I joined them was primarily active only in Japan, we really did not do a whole lot outside that territory. But it was good as well, I remember hearing that first Mr. Big record and hearing that crazy interaction between Billy and Paul Gilbert and just being blown away by that, and then of course when Eric Martin started singing, I mean, he was the exact style of singer that I love, you know? That kind of early Rod Stewart/Steve Marriott kind of soul/rock thing I just love that. And so when I heard the band for the first time I was blown away and I was so excited for Paul and I knew Billy for so long. It is funny, there is a picture floating around on the internet of me, Billy and Paul and I must have been 19, it was right around the time I did my second record I think. But it is crazy to think of the time that has gone by but you know, they are great guys and I am happy to be playing with Billy again.
RM: You have been in the industry for a very long time now, can you pin point one thing that has had the most effect on the music business, for better or worse?
RK: Yeah, I'll talk from my perspective and I might have a different spin than other people. Obviously the internet. With the digital downloading of stuff it has changed radically and for a lot of people I know it has messed them up, people are not buying records anymore and I know that, I know the sad song. But the fact of the matter is for somebody like me, my career was held hostage until this happened, I was like in this continual purgatory in the mid-90s, because when I lost my deal with Geffen (Records) in order to keep going making records I needed another record deal, and because of what was happening in the industry with grunge taking over and the negative connotations I had from being in Poison, it was impossible for me to get a record deal. It had nothing to with my music, my talent, and everything to do with trends and perceptions and what people decide what is cool. And unfortunately the people who are deciding what is cool are the (record) executives that are sitting in offices, not the people in the street. So it was a very rough time for me and then suddenly the internet appears and I had a direct conduit to people who wanted to hear my music and I started making my own records and releasing them on my own, and all of a sudden I started getting offers from places like Italy and Germany to come and do tours. So over the years I have been able to build a real fan base and I am touring the world and selling out shows that I never used to, and on top of it you can buy my record at the gig or download it anywhere in the world. So for someone like me it saved my life for the better, for someone who had a job at Warner Brothers maybe not so good.
RM: What advice can you give for anyone looking to make a career out of music?
RK: Well I think your motivation has to be clear and realistic. I never thought in terms of "career" and every time I would think in terms of career I would get in trouble, it would not work, I would find myself depressed and miserable because I was not getting what I wanted. If you think differently in terms of your art form and 'okay I am doing this because I like to be creative, I do not need anyone else to confirm whether or not I am valid and once I do what I feel good about, at least if I like it, that is the beginning and that is the end'. Anything that happens after that, any kind of monetary/commercial/success/fame, any of that kind of stuff can only be an after thought. When you start chasing that you must compromise your art, there is no way around it because in order to get that kind of fame you need to fit into a mould of what is happening. Unless you are someone who invents something, you know, you are at the right time. If you are Kurt Cobain and you literally invent a genre and that is a whole different ball game. But in general, when that happened to him it was because he was being true to himself and did not give a fuck about being famous, so that is where you have to have your mindset to be an artist. If you just want to be famous, you just need to go audition for American Idol.
RM: Again congratulations on the Winery Dogs album and everything you have achieved over your career. On behalf of everyone here at Full Throttle Rock I would like to wish you and the band many years of continued success.
RK: Awesome, thank you.
For more information about The Winery Dogs visit the official website at www.thewinerydogs.com
The Winery Dogs – The Winery Dogs is available on Sony Music.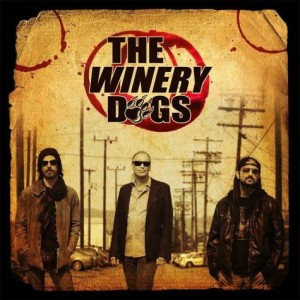 Categories: Interviews