| | |
| --- | --- |
| Posted on April 16, 2014 at 12:35 AM | |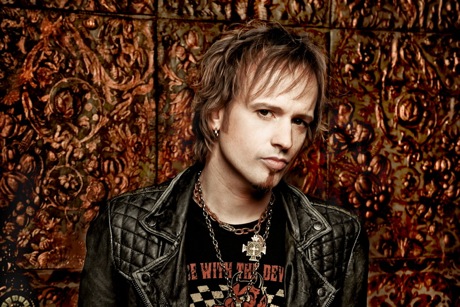 Interview with Tobias Sammet
By Dave Smiles
2014 will see the release of the tenth studio album from German band Edguy. Even before its release it's getting a LOT of good publicity. Space Police – Defenders of the Crown is as good as the hype suggests. In the twenty third year of their career, Edguy have created what may just be their defining album.
Having started in 1992 by Tobias Sammet, Jens Ludwig and Dirk Sauer, at the young age of fourteen, Edguy have always gone against the trends and what's expected instead focusing on what was true and honest, making the music that pleased them and in doing so have sold over two million albums worldwide.
I was lucky enough to be able to chat with Tobias about the new album, the career of Edguy so far and the upcoming tour. It was nice to hear such a positive attitude from a rock star at the top of his career, but as you'll read from the transcript of the conversation – what has he got to complain about?
So how you doing?
I'm perfect, you know, I'm doing promotion for an album that literally sells itself. All though it's not out yet. It's a great pleasure. The album promotes itself. There's a lot of word of mouth going on. Obviously a lot people really like it, and that's always better than promoting a stinker, which I've never actually done. Of course. (Laughs) But you know, I just image how poor those thousands of musicians feel that have to promote a stinking album.
Yeah, it must suck. Well I've heard the album mate, and I think it's fantastic.
Thank you very much. Here we go, the album did its job on its own. You know?
Makes the promotion a lot easier.
Of course, definitely. But seriously, I'm really happy with the album and it's been put together very spontaneously, I'm really excited to have come up with such a strong album. And, um, you know especially the fact that's it's been only done in two months; I mean the song writing. We forced a very tight schedule upon us because we wanted to do something very spontaneous. We wanted to see how it'd go. We wanted to try see what we could come up with, with such an extreme time pressure upon us. We knew we could postpone production at any time if needed.
So just a two month period? That's pretty impressive.
It was two months to write and two more months to record. The good thing was you don't have time to second guess. You don't have time to question things that should not be questioned, but would eventually be questioned it you had more time. And that's a good thing, it's why the album is so spontaneous, it's got a lot of testosterone in there. It's a very, very instinctive, ballsy, album. And there's a lot of bravado in that album. I think that's also because we put it together in such a short time. It was always instinctive situations and instinctive decisions that were made. I really like the album, I'm really happy and never thought before we did that album, um… well I wouldn't have bet on not on coming up with such a great album in such a short time, but as I said we would have taken all the time we needed if there would have been more time needed. It was just, we said 'okay, two months, let's go, let's work' and then we entered the studio and recorded what we had.
That's awesome. It's definitely a very powerful, inspired and fresh sounding. It's a great album.
Thank you, thank you.
Having started in the early nineties when metal wasn't exactly the biggest thing around anymore, did you ever think you'd become such a big well known band?
Well, you can always hope it but you can't grasp it when you're not in the middle of it, you know. It's the 'Promised Land' that you have in front of you, you want to get a record deal. That's the first thing you want to do cause as a young musician you think that's the key to success. One record deal and I'm gonna have the house right next to the house of Gene Simmons. And then you get that record deal and you realise you're far from having the house next to Gene Simmons. (Laughs) You just plough your way into the future without thinking too much about it. It was always out of the question that we would want to make a living from anything other than playing music and playing the music that we love but of course we were naive enough to believe that it would work, but we could not have really expected what happened to us eventually. I mean we played 600 shows and we're in our twenty third year into our career and that's something you can not take for granted and you can not expect. We've done so many shows, we've sold more than I think two million records actually, or CDs. It's really amazing and it's a blessing and we're really thankful and we don't take that for granted I have to say.
Are there any songs on the album that you're particularly proud of that you're looking forward to performing live?
I think Defenders of the Crown, Love Tyger, I think those songs will work well live. Space Police is a great track. I think pretty much a lot of songs on the album will work live. And I have the feeling - which is very very good for a musician; I hope that I'm right - I think a lot of people will want to hear songs off the new album live. I don't want to blow my own trumpet but it's a really great album and I think a lot of people will agree. And a lot of people will want to hear new material live and I'm very confident about it. And that's what I'm looking forward to, to finally tour again. We've had a break of one year with Edguy. The last show was in December 2012. Now when we go on stage this summer it will have been eighteen months not being on a stage for Edguy and that's a great, great, great, great thing to be back and be performing, be it old material, be it new material. But I think the new material will work well in a live situation.
I think the whole album could be performed, it's such a strong set of songs.
Thank you very much and that's very nice to hear. And that's what I think, but of course when you haven't played for one and a half years and in some territories three, four, five years, if you show up for the first time in five years in a territory people want to hear Vain Glory Opera, they want to hear King of Fools, they want to hear Superheroes, and Lavatory Love Machine. We will always have to play those songs. Cause otherwise people will go home not completely happy. And that's why it's gonna be a very sticky task to put the set list together but we've always managed to do it no matter how difficult it was. For this album in particular it will be very difficult because it's not choosing five songs from the album we've got to play it's rather choosing five songs we can not play unfortunately because of the stage time. So that's going to be a tough one to scratch out some songs. But, you know, that's the way it's always been. I think we're going to come up with a good set list.
You've got a great body of work to choose from over the course of ten albums. Did you feel any pressure going in to recording your tenth album, apart from the pressure you set upon yourself for the two month period?
No, not really. I mean what's the worst thing that can happen? You create a shit album and we will realise we can not release it. (Laughs) That's the worst thing that can happen. I mean we enjoy what we do. We don't do it because there is someone standing behind us with a whip forcing us to go back into a studio to work on an album. We do it really because we want to do it. And if it's not good when we leave the studio we would have to do the same thing from scratch again. We would do it. But once it comes out and you're so happy with the album as we are you're rather looking forward to unleashing it to the audience. There was never really pressure at all or fear of failure, or something. Never. If you're afraid then you couldn't write. Like a formula one race driver, if you're afraid you shouldn't get into that cockpit behind the steering wheel and race drive. It's that thing that you're doing in the first place because you have that urge to be doing what you're do, and not feel of the consequences if you fail. You don't think about failure, you don't allow that thought. There is no such thing as failure. If you're convinced about what you do and you're happy with it, then everything's perfect. And if somebody else doesn't like the album, you know, that happens every time. Every time someone doesn't like the album I respect that, but if you're happy with it. Mission accomplished. If you as an artist are happy with it then mission accomplished.
You can't please everyone all the time but if you love what you're doing then the fans are going to hear that in the music.
Yeah, and I'm very old fashion and very romantic about it. I think you may be able to fool the record company but you cannot fool your fans. That's one thing I've heard from Herman Rarebell, the former drummer of the Scorpions. He once told me, you can fool the press, you can fool the journalist, but you can not fool the audience. And that's true, and I think the audience will always hear if you did something for a certain purpose or of you did something because you believe in it and then you're an authentic artist and then you deserve a lot of respect and I think that's the respect we get from our fans. Being honest. Being authentic. Giving them honestly what we believe is right.
That's Awesome. The cover of the song Rock Me Amadeus. When I first heard it I didn't know it was a cover. It wasn't until my wife told me it was written in 1985. What came about with the decision to record that song?
Well I've always been a huge Falco fan. We sometimes play Falco right before we go on stage to pump ourselves up to go on stage. It's kick ass music, it's very self-ironic, flamboyant, tongue in cheek, and especially that song is very tongue in cheek, flamboyant and cocky, and our producer Sasha Paeth said 'You're the only band I can think of that would be allow to do a cover of that and get away with it.' (Laughs) And that's why we tried it. It worked. It became a real great cover version in my opinion. We are fully aware we will get a lot of flak for it from the purist in heavy metal but so what. It doesn't really hurt it's just verbal. You know, it doesn't hurt to get flak. The record label even wanted us to put it aside for a bonus track, you know take it off the regular album. But for us it was like 'no'. No, you signed Edguy, you signed the good and the ugly. You signed it all the way from start to finish. Here is the new Edguy record and it needs that song! Period!
I thought it was an original song actually. It's got that Edguy vibe to it. I was a bit disappointed when I found out it was a cover.
That's good then. That means we left our mark on the song, but we tried to keep it as close as possible to the original version but of course make it our own in a way especially the chorus it's really, really distinct, flamboyant, symphonic chorus in a way and that's what we tried to maintain but make it our own without touching the spirit of the original too much.
I checked out the original on Youtube and I thought wow they've done such a faithful cover but yet made it their own.
Thank you
Welcome, man. With Edguy and Avantasia you've got such a wide creative output, is there anything else you'd like to achieve in your career?
Well besides headlining Madison Square Garden in New York and doing a record with Paul Stanley, Steven Tyler and Bruce Dickenson, apart from that, well maybe a platinum disc in the USA wouldn't be too bad. It wouldn't do harm to our financial situation. But apart from this I'm really happy. I don't know what the future holds but I have experienced so much. I've been given the gift of music and I've been presented with a life that is exactly the way I had imagined it to be. Travelling the world and just doing what I want to do. It's a blessing, we've achieved so much. We've reached a point where we can tour the whole world and I'm thankful for it. I know it sounds very delusional that there are not many visions and dreams unfulfilled but to be honest this in an ongoing dream. It's still a rollercoaster ride and we're in the middle of it. I'm really really glad I'm allowed to do that, and to experience that. That's why I don't want to be too greedy and ask for more. It's great the way it is right now.
That's awesome. It's great to hear a rock star with a positive, motivating outlook.
Well it is still positive, there's not too much to moan about. That's why I've never understood Black Metal. You know, those guys travel the world, make money with selling records then complain about human-kind all the time. They have no positivity and say everything is so crap we should ruin everything. Yeah, of course, ruin everything and see the negative aspects to everything. You fuckers travel the world. That's why I never really understood the whole Black metal attitude, you know people moaning all the time. So miserable; what are they miserable about? (Laughs) Having a record deal? Being able to travel the world?
Having a cool job?
Yeah
Makes no sense. Um, any chance we'll see Edguy down in Australia sometime soon?
I really hope so. I really hope so because it's been quite a while. I think last time was 2009, and it's about time. I think 2009, or 2010, I don't know. It's not going to happen this year. We're going to start the European tour in September, October and then we're going to do the rest of the world pretty much after that. I hope 2015 we're going to be on Australian soil. I'm really positive that it may happen because we all love Australia. It's difficult to tour there because it's so far away and we don't have tens of thousands of fans in Australia. BUT… it's always been great whenever we were there. It was the tiniest places we were playing in the whole world. But it was great and lovely and people liked it and if we get the chance to be back we'll be back. And I think there is a chance.
That'd be awesome. Well mate, thank you for your time and thank you for such a great album. Congratulations on the career of Edguy.
Thank you very much. Thanks for the interest in the band. Hope to see you in Australia when we come over to tour there.
For more information on Edguy visit the official website at www.edguy.net
Edguy – Space Police: Defenders of the Crown is available on Nuclear Blast Records.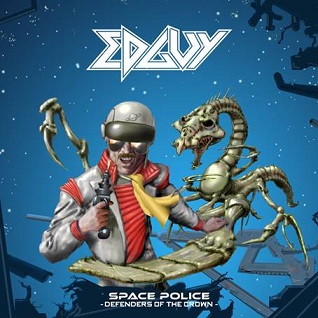 Categories: Interviews