| | |
| --- | --- |
| Posted on February 8, 2014 at 9:55 PM | |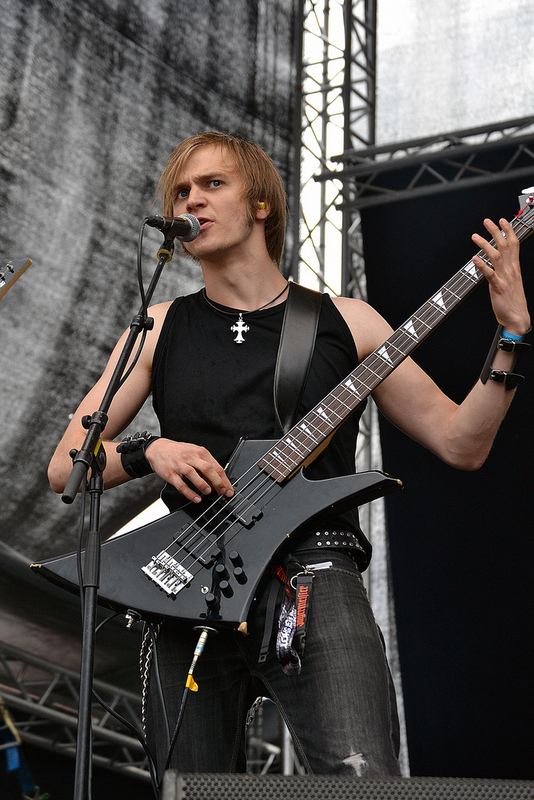 Interview with Eero Sipila of Battle Beast
By Dave Smiles
Battle Beast take what is best from classic metal and give it an injection of modern styles and productions to create an energetic sound that could take metal into the future. After a successful 2013 the band heads into the new year with plans for a follow up to the acclaimed self-titled effort. Eero Sipilä took some time to discuss the bands influences, song writing, touring with Nightwish, surviving life on the road, downloading music, and the Finnish metal scene.
Battle Beast takes a lot from the classic metal sound of the 1980s, but there is also a very fresh, modern feel to the music. Who are some of the bands who have influenced you in your song writing, and in becoming musicians?
We all have our personal favourites, but generally I'd say our biggest influences are the classic metal bands - Priest, Maiden and the like. Of course, as a musician you should be open to new influences, so in our music you can hear influences of much more modern styles of music as well. Techno, pop, movie soundtracks… anything really!
What is the process the band goes through when composing songs?
The song writing is mainly Anton's duty. He's a perfectionist to the last and likes to finish the songs to the smallest detail before performing them to the band.
For the average metal fan who hasn't heard Battle Beast, how would you describe your band?
We present melodic, powerful, straightforward and catchy metal with huge energy. Anyone who likes their metal as fun and exciting is bound to like us. Our live concerts on the other hand are a combination of a metal show and aerobics class.
Performing in a metal band takes a lot of energy and commitment. What things do you do to prepare for a show; and to stay sane while on tour?
We all have our rituals. Before a show Anton likes to play a lot whereas I just like to be quite by myself. I think doing sports is a good way to work your psyche while on touring. So we often go jogging with Pyry whenever there's time.
The band recently toured with Nightwish, what was the crowd reaction like during these shows?
Very nice, I think. We were afraid that the people would only be into symphonic stuff, but luckily that wasn't the case and we got an excellent reception on most nights. It was also interesting to learn the differences in crowd behaviour between the different countries: In Germany people mainly just stand calmly whereas in France everyone is bound to nuts from the first note. You just gotta believe in yourself even if the crowd seems icy at the start.
The recent self-titled album gained some massive heat and attention in 2013. It seemed one day you guys were just 'there.' Obviously that hasn't been the case, so what are some of the trials and tribulations you had to go through to get to where you are now?
Generally, I think we've been pretty lucky so far. Nobody's gotten injured or died or anything like that. The biggest trial, hands down, was when our first singer Nitte left in autumn 2012. For a moment things looked very bleak, but luckily everything turned out for the best in the end.
Are there any plans for a new album in 2014? There's a lot of young bands emerging from Finland like Santa Cruz and Reckless Love, and bands from neighbouring countries like Crashdiet and Hardcore Superstar, all with a strong influence from the 1980's 'glam' metal scene. Not to mention Symphonic and Power metal bands like Nightwish and Sontata Artica. It seems like hard rock and heavy metal is a big deal over there, with bands still getting support from record companies. What are your thoughts on the industry compared to the American market where even some established bands find it hard to get a record company to market a new album?
Heavy music is definitely a big thing over here, especially in Finland, I would say. After all, the only Finnish bands to have made it big outside of Finland have been metal or hard rock. Sweden for comparison has had its Abbas and Roxettes. We only have metal.
Industry wise, it's more difficult. Major labels don't seem to be very much into metal at the moment and small indie labels can't afford to give the albums the promotional push they would need. That's why it's very often you run into an incredibly talented metal band that you've never heard of. Also with so many bands around the competition is very tough, and bands are having hard time booking gigs. So, money is in really short for most newer bands. About our next album, we'll be starting the work shortly but it won't be out until 2015.
With all this talent coming from Finland, do you think that one day soon the world's attention may focus on the scene like the 90s turned to Seattle or the 80s turned to Los Angeles?
I think Finnish metal already has a strong brand. From studying our fans I've learned that there's a lot of people who come here as "metal tourists". They even learn some of the language inspired by the metal bands they've been listening to. I have no idea what they're looking for! After all this is a cold, dark country and expensive as hell!
Of course, the kind of melodic metal Finland is known for is not that big thing globally at the moment. So outside of the metal underground, I don't believe there's any major revelation to come.
What are your thoughts on downloading music, either legally or illegally?
Personally I've always been more into listening physical albums. After all, I believe the ideal format for metal music is a full album, not one separate "hit song". Listening to an album online just does not give me the same feeling. For other types of music, which are more single-oriented I think it's different. Illegal downloading for music you like is just bullshit, no matter how you justify it. It's putting a lot of people out of work.
Thanks for your time in doing this interview and congratulations on the success of the new album, Battle Beast. Best of luck for the future. You're band is awesome.
Thank you! And thank YOU, anyone who might ever read this!
For more information about Battle Beast visit the official website at www.battlebeast.fi
Battle Beast – Battle Beast is available on WEA/Warner Music.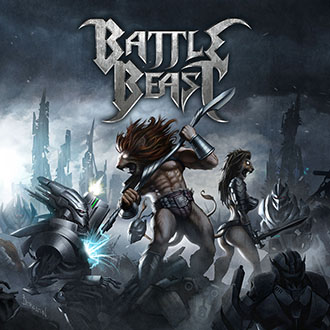 Categories: Interviews