| | |
| --- | --- |
| Posted on December 19, 2013 at 10:15 PM | |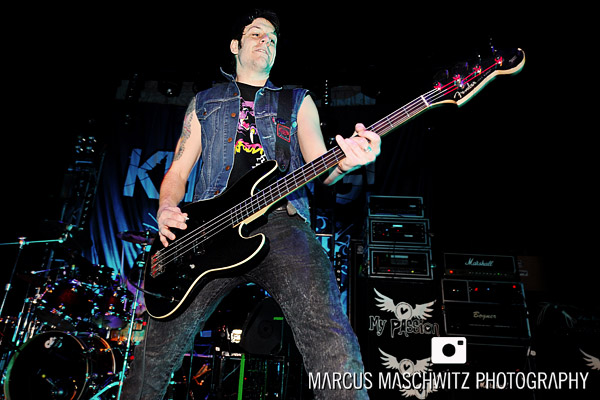 Interview with Jettblack
By Dave Smiles
Jettblack deliver rock n roll the way it used to be - passionate, energetic and full of fun. With their two releases, Get Your Hands Dirty, and Raining Rock, they're grabbing the attention of rock fans world-wide and are set to continue with their forthcoming release scheduled for next year. Jettblack have toured with Aussie band Airbourne and Finnish glam rockers Reckless Love.
Bass player Tom Wright took some time out to talk about his band's desire to constantly improve as musicians and songwriters, the funding of recording new music in the modern world where record companies are almost a thing of the past and how bands trying to make a name for themselves need to the support from you, the fans, through web sites like PledgeMusic.com.
For those unfamiliar with Jettblack, how would you describe your band and what would your mission statement be?
High Energy rock with an old school vibe. Simple as that really.
The albums Get Your Hands Dirty and Raining Rock both have a very classic rock feel, chunky chords, solos, actual singing, who are some of the bands who have inspired you to pursue music as a career?
I think that we all started out by listening to the greats such as Metallica, Megadeth, Pantera, Dio etc and that really showed us how heavy rock/metal is done and those bands had such a huge impact on us when we were growing up. I think they are engrained into us. So I would say the big metal bands of the 80/90's made us want to play music.
How does the band set about writing songs?
Usually Jon or Will turn up to rehearsal with most of the song written and then we thrash it out and complete it all together. It is the way we have always done it and seems to work.
In terms of lyrics, would I be wrong in saying that amongst the tongue in cheek song titles and rock n roll anthems there appears to be some social observations going on?
I think people often think we are just about the tongue in cheek songs and we do love those songs but if you listen to the rest of the albums there are plenty of more serious songs in there. I would never say we are political or get really deep but the albums aren't just party songs start to finish.
Jettblack have a new album scheduled for release in 2014. What can we expect to hear on this next release?
I think there will be a slight change in sound again. Raining Rock was definitely different to Get Your Hands Dirty and we have shifted the sound slightly again for this one. We want to just keep getting better at song writing and we don't want to become stale so we are always trying to better ourselves with the playing and the song writing. It will defiantly be a lot less tongue in cheek but we will still have that Jettblack sound with great solos and choruses.
How did the band become involved with PledgeMusic.com; and do you think these types of independent support systems are the future of the industry?
Well we want to record a new album so we need the money basically and that is why we have done it. Our fans are really loyal to us and we value them so much and although they are giving to us we are going to try and give as much back to those people who pledge as we possibly can. I think that the Industry is changing so quickly the whole time and no one really knows which direction it is going. It's so good having the fans involved and getting their direct input and feedback every step of the way.
A percentage of the proceeds through Pledge Music goes towards War Child International. Can you tell us about this organisation and why the band chose to support it?
It's a classic story of the people and children at the bottom are always the ones to suffer the most in War torn countries so it is great to have the opportunity to give something to the people who are truly suffering in the world and like I said especially the kids who have literally no choice or voice and are born in to a hellish environment.
There's been a lot written about the state of the music industry, the decline of the record companies and bands now using avenues like social media to self-promote. In your experience, what effect has this new system had in young bands like Jettblack trying to make a name for themselves?
I think that there are no rules anymore and bands have to do as much as humanly possible to get their name out there using any tools they can get their hands on. I think it has always been tough but now there is very little revenue to be made from record sales so bands have to find other ways to get money to keep going, We do have the help of social media now though, so we do have the opportunity to reach a wider audience than bands used to at a lower level.
Any chance of seeing Jettblack in Australia in the near future?
We would absolutely love to get down under. It would be incredible, hopefully we can get the next record out and get down there.
You're trapped on an island with Justin Bieber, what do you do?
I would like to say kick the shit out of him but if it was just you and him without the influence of a billion teenage girls and all his entourage he is probably a nice bloke. Let's face it he is a young guy with shit loads of money and shit loads of girls, we would all be arrogant little shits in his position. It will just be tragic if he reaches thirty and hasn't changed, hahahaha.
Jettblack offer various options through Pledgemusic.com. Depending on the amount you pledge, you will receive returns such as a signed copy of the new cd, T-shirts or posters. More generous pledges will receive offers like playing on the cd, having a private gig in your own living room, or spending a weekend with the band.
Hard rock and metal fans have always been loyal to the bands they love. Now through sites like Pledgemusic.com they can have more input into a bands career. In an ever changing industry, perhaps this is the way of the future.
Further information in supporting the financing of the new Jettblack album can be found at the following link. http://www.pledgemusic.com/projects/jettblack
Jettblack - Raining Rock is available on Spinefarm Records.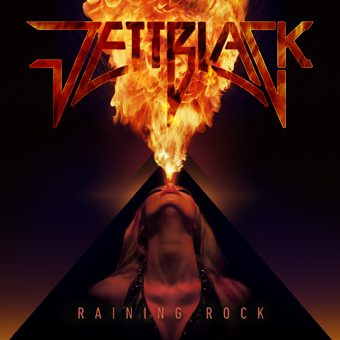 Categories: Interviews