| | |
| --- | --- |
| Posted on November 19, 2013 at 10:45 PM | |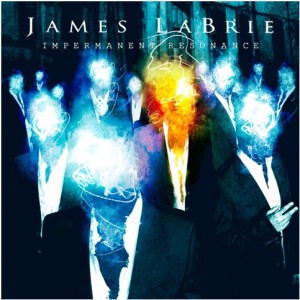 James LaBrie – Impermanent Resonance
Written by Dave Smiles
Impermanent Resonance is James LaBrie's fifth project away from Dream Theater. After dropping the band name Mullmuzzler and using his own, LaBrie's side band has certainly 'progressed' over time. Now cumulating with an album that is a unique blend of light and shade, giving him a chance to showcase the full range of his voice which, while losing some of its range, seems to have gotten stronger in recent years. For those who don't know, LaBrie ruptured his vocal chords in 1994 during a bout of food poisoning. It wasn't until 2002 that he felt his voice had fully recovered. Drummer Peter Wildoer adds to the songs by providing back-up vocals in the style of death metal cries, often emphasizing lyrics and taking the songs to a level LaBrie's range wouldn't allow.
Where the 2005 album Elements of Persuasion saw similarities to Dream Theater, this time around with the lineup intact from the 2010 album Static Impulse, the band appears to be more focused as a unit, knowing what works and heading in that direction. So while the voice on this album is familiar, the only comparisons to Dream Theater can be drawn solely due to the fact it's all metal.
Dream Theater is characteristic of varying textures and dynamics within songs, however, the freedom of a side band gives LaBrie the chance to experiment further with vocal styles and contracting musical styles.
Many of the lyrics on this album are about seeking to find the strength to deal with abuse, being cheated or feeling trapped. (Agony, Undertow) Songs that observe another person losing touch of reality or living in a fantasy world (Back On The Ground, I Got You).The tracks Holding On and Letting Go reflect past mistakes on the part of both parties, and needing to move on from a stalemate situation. Destined To Burn is possibly the most thought provoking track on the album, portraying how the differences between people and can be seen as wrong by some. Say You're Still Mine is another reflective piece, knowing you can't change the past but trying to be a better person from now on, to make it right. The poetic song writing of Amnesia expresses the need to forget an unhealthy relationship. The closing track I Will Not Break takes a stand against the masses when all around seems wrong.
Reading the lyrics to these songs it becomes evident LaBrie has a lot to say at this point in his life, and many of the songs have similar themes, portrayed in different ways. There's a lot of humanity and social awareness, like he's an active participant in life rather than a passive observer. It seems like he's happy with what he's achieved and has the support of some strong people, it also appears like he has some regrets and you're left wondering just who it is he's talking about in these songs.
Categories: Album Reviews