| | |
| --- | --- |
| Posted on November 19, 2013 at 10:25 PM | |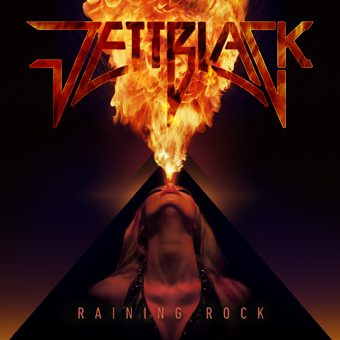 Jettblack - Raining Rock
Written by Dave Smiles
There's recently been an underground revival of the classic rock style of the late eighties and early nineties. It was a time when rock n roll was about fun and partying, before a dark cloud fell in the name of grunge and musicians become advertisements for Ritalin. However, for the past decade bands have been springing up from Sweden, Finland, England, America and Australia all following this style that some claim to be dead. It may be just a matter of time before one strikes the right note and achieves mainstream recognition… hopefully. Perhaps the times of seeing a band grow from regular pub gigs into a headlining stadium rock phenomenon are lost forever.
Enter Jettblack, a four piece band hailing from England and consisting of Will Stapleton (vocals / guitar), Jon Dow (guitar / vocals), Tom Wright (bass), and Matt Oliver (drums). Their second album Raining Rock picks up where their 2010 debut, Get Your Hands Dirty, left off. Opening with a title track, it's clear this band seeks to bring everything that was cool about late eighties hard rock to the masses. Chunky chords, flashy riffs, high energy vocals, pounding drums, shredding solos and hook laden choruses guaranteed to get you singing along.
Throughout the album Stapleton's vocals bring Sebastian Bach to mind, and tongue in cheek song titles like Less Torque, More Thrust and In-Between Lovers tip the hat to the double entendres of AC/ DC. It's easy to draw similarities to other bands, but Jettblack deliver the familiar in a unique way and you can tell they love what they're doing.
Tracks like The Sweet and the Brave slows the pace, while Side of the Road grabs you by the throat, both tracks have some nice guitar work and I must complement the solos.
Something About This Girl is one of the catchiest songs I've heard in a long time; my personal favourite on the album. This time I have to credit the vocals over the solo, not that the solo is poor, it's just Stapleton's performance contains a lot of raw energy. I have to mention the driving drum work as well, it all contributes to making this song truly awesome! Infectious chorus, killer riff and familiar story portrayed in the lyrics.
Never Gonna Give It Up would have been an MTV hit back in the day. It has the mainstream accessibility to it, but it certainly doesn't come as a compromise to the band's integrity. The guitar solo is once more pushed to the foreground, it would be music video gold!
If you miss the days when hard rock / heavy metal ruled the world then this is the album for you. If you're a young kid and heard stories about eighties rock bands, this is a band you could get behind. The days when record companies invested in unknown bands and promoted them has sadly gone, now it's up to the fans to do the job so spread the word!!!
Categories: Album Reviews