| | |
| --- | --- |
| Posted on November 19, 2013 at 10:15 PM | |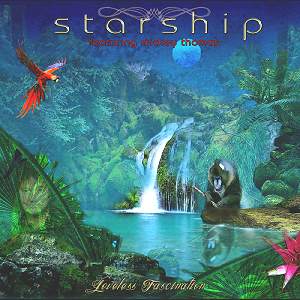 Starship featuring Mickey Thomas – Loveless Fascination
Written by The Rock Man
For some people who spent their youth growing up in the 1980s the name Starship means We Built This City or Sara, for others born much earlier it means something completely different. The story of Starship can be a long and complicated one, so here is the Readers Digest version.
Jefferson Airplane came from San Francisco during the mid 1960s and was the first band from that area to achieve international mainstream success with their unique brand of psychedelic rock, but by the early 1970s several original members formed a new band called Jefferson Starship. This "new" version of the band would score a number of Gold and Platinum selling albums throughout the 1970s including their U.S. No. 1 selling album Red Octopus (1975). During the early 1980s the band continued to release material until guitarist/vocalist Paul Kantner, the last original member, left the band and started court action to stop any future version of the band using the words Jefferson or Airplane, unless it was all members of the original band. From this mess, Starship was born featuring vocalist Mickey Thomas and Grace Slick who, at one point or another, had been in some form of Jefferson Airplane/Jefferson Starship.
From here Starship would go on the have one of the biggest hits of the 80s with We Built This City and released three albums under this moniker, Knee Deep In The Hoopla (1985), No Protection (1987) and Love Among The Cannibals (1989). By this stage Grace Slick had left to join a reformed Jefferson Airplane and during the early 1990s Starship would continue to tour under the name Starship featuring Mickey Thomas, which brings us to 2013 and the release of the new Starship featuring Mickey Thomas album, Loveless Fascination. This is the group's first album of new material in over two decades and is a really interesting body of work.
It's Not The Same As Love kicks off with a slow smooth guitar intro before launching into a serious chugging groove and infectious rock chorus and turns out to be a great opening song, a similar formula is used for the next track How Do You Sleep? which is driven by a nice acoustic/electric guitar riff during the verses and again building to a catchy melodic chorus, it doesn't take long to figure out what the rest of the album has in store. The title song, Loveless Fascination is a classy up beat rocker which will stick with you long after you have finished the record, What Did I Ever Do? Is an acoustic driven ballad, while Technicolor Black And White is one of the real highlights of the album, it kicks off with a very cool bass/drum intro them explodes into a solid pumping track with Mickey Thomas at his vocal best.
The second half of the album begins with a couple of ballads Where Did We Go Wrong? and How Will I Get By?, the latter definitely the stronger of the two, a really top notch power ballad, You Never Know is a mid-tempo rocker with another one of those catchy melodic choruses, following that is You Deny Me, a piano driven ballad and then the album rounds out with Nothin' Can Keep Me From You, which originally was recorded by Kiss and featured on the soundtrack to the film Detroit Rock City. While not as good as the original, it is a nice interpretation and features vocals from Stephanie Calvert and if there is any criticism of the album, it is that she should have featured more often, just as Grace Slick use to.
Overall, Loveless Fascination is a pretty good effort. Think of it as travelling down Styx Road heading towards the intersection of Night Ranger Avenue and Mr. Big Boulevard, that is certainly how I heard it.
Categories: Album Reviews