| | |
| --- | --- |
| Posted on November 18, 2013 at 10:05 PM | |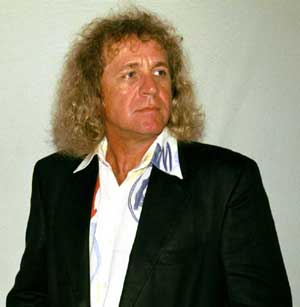 INTERVIEW WITH BILLY GREER
By Juliano Mallon
Billy Greer is, without a doubt, one of the most respected names within the rock universe. With a whole lot of talent to share among bands like Kansas and Seventh Key (to name just two of them), the bassist/vocalist has just surfaced again with Seventh Key, after a 8-year hiatus. And he kindly agreed to talk to me about the new album, the plans for 2014 and, of course, Kansas.
 1. Let's begin with a question to which I've heard many answers through the years: how did the band came to be?
Billy Greer: It started for me out a feeling of frustation and wanting to show case my talent as a lead singer and songwriter. For many years I had performed as a backing singer behind the great voice of Steve Walsh. I was recording the bass tracks for "The Sign" on their self titled CD. I decided at this time that I would record my own solo project. They introduced me to Serafino Perugino , the president of "Frontiers" records and I signed a recording contract with them. The label suggested that I have a band project as opposed to just a "Billy Greer" solo project and so I emlisted the services of my old friend from Street, Mike Slamer. I got my firend, David Manion, who is great keyboardist and we went from there.
 2. It took Seventh Key eight years to record another album. What took you guys so long?
Billy Greer: I looked at the dates on some of the sound files and the dates that are on some of the sound files date back to November of 2008. Honestly, Mike and I live on different coasts of the US. He lives in Los Angeles and I live in Savannah, Georgia, which is on the east coast. In order to write together and record I had to travel out to his house. So, I could only travel when my touring schedule with Kansas would allow. The way Kansas tours these days is that we tour year round. We are much busier in the spring, summer and fall and then really slow down during the winter months. I had to take advantage of downtime with the band to be able to travel the 2500 miles to Los Angeles to work on the record. I probably made 15 trip to L.A. before I could actually do the remaining work in my studio in Savannah. That included redoing vocal part and backing vocals. Also, while we were recording the record, Mike was working on others projects, recording and mixing. I, along with 3 of my band mates in Kansas recording a CD called "NATIVE WINDOW". Everyone except Steve was involved in this record. So, there was a log of distractions that made the process much longer that usual.
3. Terry Brock is no longer a member of the band and it came as a surprise to many people. What happened?
Billy Greer: Terry did participate on the CD. He sang a lot of the backing vocals. Also, I'm sure that If we toured, Terry would most likely be a part of the band. Terry has been very busy playing shows with different bands there constraints that kept him from participating more.
 4. He features as a backing vocalist, though. How did it feel for you having Brock as a guest – so to speak – and not as a full member of the band?
Billy Greer: Unless we were playing a gig or when we did the live DVD, I'ts always been this way. I still consider him a member!
 5. How does the writing process work in the band? Who does what?
Billy Greer: It's actually a number of different processes. Some the tracks were started in November of 2008. When we start writing for a CD. When we finally set down face to face in the studio, we present different ideas to each other that we have. Mike is always updating his instrumental library, which he presents to different media for possible use on TV, Radio, movie soundtracks etc. I usually will listen to those instrumental ideas and will usually pick a few of them and add melody, lyrics and turn those instrumental songs into a Seventh Key song. Another method is; Mike and I will set down together in the studio, maybe start a drum loop and a synth loop and just start jamming and some songs have come out of this process. The key being that each song is a process that is constantly changing and being refined and parts changed.
After we get what we consider a good verse pattern and chorus pattern for a song, we will record a rough of that and then I will start singing and improvising a melody just singing non-sense or phrases that come off the top of my head. Strangely, every now and then a line will come out that evokes a theme for what the song will be written about. After we decide that we have a decent melody, we will then start working on a bridge or middle, a different chord pattern for a solo and so on. Eventually we agree that we have a good rough for the song. I then take the song home and start writing lyrics. I will come back to Mike's studio, lay down the idea and Mike will then give his input, taking out words, changing melodies, suggesting lyrics. Again, constantly changing and refining, some songs are even changed during the mixing process when something doesn't quite work for Mike's ear. It may be a 2 note melody change or a harmony part that clashes with the track, a chord change. The song is done when it's done! The opening piano figure for the song, "WHAT LOVE'S SUPPOSED TO BE", has been been around for about 25 years. In "SEA OF DREAMS," the basic idea for the song I wrote several years ago. In general, I can say that mike writes most of the music and I write most of the lyrics, with collaboration on both by the two of us
 6. All Seventh Key albums have a touch of prog, but on "I Will Survive" it seems this quality was given more room, and the title track is a good example. Do you think this prog sound will become more evident on future Seventh Key albums?
Billy Greer: Mike and I realize the market we are writing for is basically a melodic rock audience. However, I have been playing with a progressive rock band,"Kansas" for the past 30 years. So the progressive element is bound to rear itself and influence me and the way music is written. Please don't forget that Mike's old band "City boy" was a pretty progressive band. Ws still try and put just the right mix of melodic rock jewels and power ballads. I think balance is the key.
 7. The overall sound of the new album seems a little different to me, I might say, when compared to the previous efforts. In your opinion, is the sound really "different" or it just evolved?
Billy Greer: If you mean Sonically it sounds differnet, I guess we are using different equipment now that were were on earlier Cds. Different mixer and processors have different sounds and can make a difference in the sound. Also, vocally, I'm older and I guess my voice has different qualities than in years past. If you mean stylistically, I think that it's just a matter of both Mike and evolving as musicians and vocally. Either way, I don't think that it's a bad thing.
 8. Songs like "I See You There", "It's Just A State Of Mind", "When Love Sets You Free" and "The Only One" caught my attention the very first time I listened to the album. What are your favorite tracks?
Billy Greer: My favorite tracks are the title track,"I will survive", "I see you there" and "I want it all.
 9. In 2005, the band recorded the excellent "Live In Atlanta" and even played in Germany as part of the United Forces Of Rock that same year. Are there any plans for Seventh Key play any concerts in support of the new album?
Billy Greer: Never say never! I've already got a couple of inquiries from people in Europe about Seventh Key playing over there. How much we would charge, etc. We have a pretty good arsenal of material. The main problem is that is that as long as I am with Kansas, it's had to commit to doing a "SEVENTH KEY" tour when I have to be available for Kansas shows. Unless I decide to quit Kansas or they break up, the only way we could tour with "SEVENTH KEY" is in the winter months when Kansas has downtime. Again, I would "never say never".
 10. And apart from Seventh Key, what are you up to? Any news on Kansas? New projects coming up? Any surprises we should expect from you?
 Billy Greer: This is "Kansas" 40th anniversary. Sony has had a couple of people out shadowing the band filming and interviewing. A documentary is been released sometime in the spring. I'm writing the answers to this interview froma hotel room in Philadelphia. I have a lobby call in one hour to go and play a concert this evening.
Billy, it's been a pleasure talking to you. I wish you all success with the new Seventh Key album.
Billy Greer: First of all, thank you for the interview! To the people who read this interview. Thanks for your interest. For all who are fans of Seventh Key and who have heard the music. Thank you form the bottom of my heart for all your lover and support. I hope we will play a Seventh Key concert in you country in the near future!!!
Categories: Interviews