| | |
| --- | --- |
| Posted on November 14, 2013 at 3:50 AM | |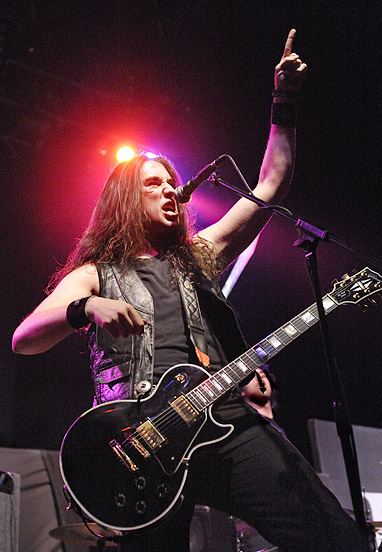 Interview with Chris Babbitt
By Dave Smiles
Back in 2010 Taking Dawn unleashed their debut album on the world through Roadrunner Records. Time to Burn quickly gained the band a cult following; hell, I heard about it by reading a review in my local newspaper! After touring with the likes of Kiss, Slash and Trivium, fans eagerly awaited a follow up album, but instead heard the news Taking Dawn had disbanded. From the ashes of this band Chris Babbitt and Andrew Cushing rebranded as Devils Run. The debut digital EP is set to be released in December, a physical copy may follow depending on sales and finances. Chris recently took some time out after a busy day at work to answer some questions for Full Throttle Rock. It was interesting to hear his reasoning for rebranding the band, musical influences, self-financing a band and his opinions of the music industry in 2013.
The music world heard earlier this year that Taking Dawn had broken up, which was soon followed by the news you and co-founding member Andrew Cushing were rebranding as Devils Run. Many bands have gone through various line ups with founding members remaining. With all the heat your debut album gained, isn't a name change a bit of a risk? Could you tell us about the motivation behind this decision?
I don't think the music world was particularly impacted by a personal Facebook post from a former member that I, myself, didn't even know about until months later. Andrew and I intended to continue on as Taking Dawn, but long story short: legal bull****. We don't want anybody to hate on Roadrunner, because Roadrunner didn't give us any grief and was in fact very accommodating to us following our separation from the label, and we're very thankful for that. So many of our fans are from different parts of the world and it seemed like half of them thought we were actually called "Taking Down" because of accents, hahaha. Devils Run has a bit of a secret meaning that we only share with the fans who manage to connect the dots, but ultimately it was a universally phonetic name that came to embody the unabashed direction of the new material and how fed up we'd become with people trying to dictate our own fate to us. If you look closely, you'll see Devils Run is actually spelled, "F-*-*-*-Y-O-U". Plus, it was an opportunity to distance ourselves from all the Twilight confusion with that godforsaken Breaking Dawn movie...let's just hope that broad's next book isn't called "Devil's Sun", or we're f***ed, hahaha.
The new Devils Run EP is set to be released soon, what can fans of Taking Dawn expect to hear?
Fans should expect everything that has become our signature sound, but NO HOLDS BARRED. The guitar harmonies are bigger than ever, the riffs are meaner, the vocals are edgier (and more natural), and the hooks are catchier than that new strain of super herpes (seriously, Google that, it's scary ****). We upped the ante on the drums with the addition of Dee Puente's aggressive style to keep pace with the all-cylinders-firing attitude of the new songs. And to top it all off, the solos are shrednastier than ever with our new co-lead axe Steven Anderson giving me a run for my money at every bend, pick, and tap. Unabridged and unabashed, we're not toning it down anymore. We're writing what we want, how we want. I won't water down my music any more in the infinitesimal hope that some fantasy radio campaign will magically make us one-hit wankers who sound like EVERY OTHER A**HOLE writing watered down Nickelback knock-offs. F***. THAT.
You appear to be big on social media and networking, do you feel this is the future for bands wanting to build a name for themselves? Do you think it's possible for a band to be able to achieve the same level of success that say Guns N Roses did, without support from record companies and doing it solely via social networking?
Maybe? Skrillex is kinda like the GnR of this generation (for those of you who get what I'm saying and didn't just s*** your pants in a full retard tantrum...thank you), and it seems like he smashed through on the internet and in defiance of traditional mainstream methods of exposure like the radio. It's a wonderful tool, but there are so very many facets to successful promotion.
What does it take to finance a band in 2013? Do you guys have day jobs, if so how much of this income would go into the band?
I have worked a full time job since I was 15. Every time we get home from tour, I go right back to work, because bills don't pay themselves and unfortunately a music career doesn't pay the bills unless you are one of a fortunate few. On top of label funding, we have always invested nearly all our personal monies into the progress of the band in hopes to one day make an actual living from the music we pour our blood, sweat, and tears into. So all you internet pirates can choke on a dirty d***, hahaha. At least have the balls to steal it from an actual record store) Despite your bull**** arguments, you are absolutely hurting the artists directly (NOT THE LABELS) on so many levels. But bitching about it doesn't help either, so enough of that.
What are your opinions on the music industry in 2013? Has digital downloading had a positive or negative impact on the industry?
As I've said, illegal downloading has forever altered the industry of recorded music, and overwhelmingly in the negative. But the concept of downloading in general, has made it possible for ANYONE to get their musical product to their audience completely independently if they so desire. The quality of that product and capacity of that audience varies vastly. Instead of prolonging our hiatus while we shop a new label, we are taking full advantage of the perks of downloadable content and self-releasing the new music that our fans have been waiting to hear since our Roadrunner Records debut album Time to Burn.
You've toured with some big name bands, Kiss, Slash, Trivium, Airbourne, any other bands you'd like to tour with?
ALL OF EM! The list of bands I would NOT want to tour with is way shorter. As far as bands we've never road-dogged with, obvious behemoths like Sabbath, Metallica, Megadeth, Maiden (because Soundwave wasn't enough) would give me the kind of memories to guarantee I'll never need Viagra in my golden years (...Wasted Years reference, anyone?) Hell, how about the ACTUAL Behemoth, THAT shit would be interesting! Contemporary bands we haven't been out on the road with before like Avenged Sevenfold, Alter Bridge, Coheed & Cambria, Machine Head, Shinedown, Volbeat, or Five Finger Death Punch would be just amazing. Guilty pleasure festival: Slash, Trivium, Adelitas Way, Holy Grail, Foxy Shazam, Havok, Halestorm, Black Tide, Dommin, Coheed & Cambria, Rise to Remain, Hell or Highwater, and All That Remains because they are all the most amazing people EVER and that monster of a gig would incinerate brainstems on a global scale, we're talking extinction level event.
What got you into music and inspired you to pick up a guitar?
BLACK F***ING SABBATH. All I wanted to do was play Tony Iommi riffs all the time. Ritchie Blackmore too. Then Dave Mustaine, Marty Friedman, Randy Rhoads, The Amott Brothers and John Donais ruined my life by making me want to make music as a career...there was no turning back.
Taking Dawn and now Devils Run has a very old school influence in its sounds. Do any new bands inspire you, or do you stick closer to the classics?
As a fan and impressionable youngster, I was on the ground floor of the Swedish melodic death metal movement, as well as the NWAHM that followed, and that was the sound of MY generation. In Flames, Arch Enemy, and Shadows Fall created new and captivating music that bridged generations of guitar-based rock/metal and made me realize that I didn't just love music, but that my life needed to be spent making it. I feel a kinship with groups like Trivium and Avenged Sevenfold because from our music you can hear that we're all ridiculous Maiden/Megadeth/Metallica /In Flames fans. But I fucked up because I can't seem to shake my Def Leppard/Foreigner/Deep Purple/Rainbow roots. Thankfully they tend to come out sounding more like Skid Row once they run through the G'n'R and Pantera filter of my fandom. Satan save us if my Wu-Tang side ever meets my Emperor side in the studio.
You're trapped on an island with Justin Bieber, what do you do?
Are we talking Desert Island like Cacophony or Tropical Paradise like Lost? Either way same answer: bludgeon him with coconuts until his trendy haircut is matted with brain fragments, skin him and fashion the pelt into a Ted Nugent style loincloth, smear the blood across my face into literal corpse-paint (I'm thinking a-la King Diamond), shape rudimentary hunting instruments from his bones (maybe a nice bowl or a decorative lamp), and form a crude Fleshlight from his femurs and actual vagina...then use his satellite phone to call for the coastguard and wait on the beach until the rescue vessel arrives with my medal. You're welcome world. Anybody else find it ironic that an actual Fleshlight is neither flesh nor a light?
Thanks for taking the time to do this interview. Much appreciated.
Fans familiar with Taking Dawn wanting to check out some of the new Devils Run material can check out some tracks at the following link https://soundcloud.com/devils-run
Categories: Interviews