| | |
| --- | --- |
| Posted on November 5, 2013 at 9:30 PM | |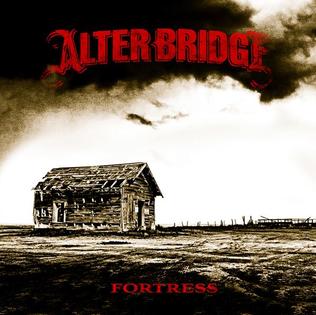 Alter Bridge – Fortress
Written by Elle Haus
 With 53 million albums sold worldwide, Grammy and American Music Award winning band Creed became one of the most commercially successful bands of the late 1990s / early 2000s. But in 2004 tension within the band came to breaking point and the band dissolved. Guitarist Mark Tremonti, drummer Scott Phillips and bassist Brian Marshall joined forces with vocalist Myles Kennedy of The Mayfair Four to work on a new band, Alter Bridge.
 Alter Bridge released its first studio album One Day Remains in 2004 to mixed reviews but that did not stop the record going Gold. Their 2007 follow-up, Blackbird, fared much better and received glowing reviews. A third album, simply titled ABIII was released in 2010 and received critical acclaim, giving the band its most successful single to date, Isolation.
 It would be easy for the uninitiated to assume Alter Bridge is simply a Creed clone, however there is a unmistakable difference between Creed and Alter Bridge. Creed is polished radio friendly hard rock with mass appeal. Alter Bridge on the other hand, is more raw and edgy in its approach and borders on metal in style. And as a result appeals to a specific kind of music fan, at the end of the day both bands are brilliant in their own right.
 The boys took a short break with Tremonti, Phillips and Marshal re-joining Scott Stapp for a new Creed album and tour, while Myles Kennedy worked with Slash. The boys from Alter Bridge have returned in 2013 with a brand new collection of songs on Fortress. Upon its release Fortress has met with positive reviews from the world's press and after just one listen you will see why. The musicianship is off the chart, the vocals are of the highest quality and the song writing is first class.
 The album kicks off with Cry Of Achilles which begins with a nice 30 second acoustic intro before launching into Tremonti's heavy signature guitar sound and Kennedy's unmistakable vocals. In short, it's a solid six and a half minute opener. The first single from the album, Addicted To Pain follows, fast paced with a great chorus hook and drum groove. From there we move on to Bleed It Dry. This has a real interesting opening, similar to something you may find on Metallica's St. Anger album, in the middle of the track it changes to a slower pace with a great guitar solo before cranking up the volume again. Lover is a bluesy ballad track with a really powerful heavy chorus. The Uninvited, offers shades of Evanescence, a nice heavy riff that at times is a bit kooky. The rockers continue with tracks like Peace Is Broken, Farther Than The Sun and Cry A River. One of the absolute highlights on this album is Waters Rising which features an outstanding vocal duet performance from Tremonti and Kennedy. Towards the back end of the record we have All Ends Well which has traces of Creed about it and the seven minute epic title track Fortress.
 From the beginning Alter Bridge has been going from strength to strength with each album release. Fortress has raised the bar for the band and set a new benchmark. If you have never bought an Alter Bridge album in your life and you are considering checking them out, here is your starting point. If you only own one album of theirs …. make it this one.
Categories: Album Reviews