| | |
| --- | --- |
| Posted on November 5, 2013 at 8:55 PM | |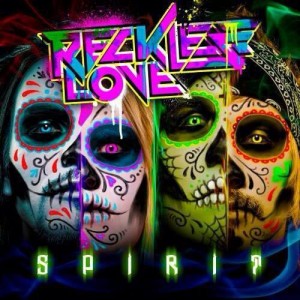 Reckless Love – Spirit
Written by The Rock Man
Over the past decade or so, there has been a number of bands to come out of Europe that have embraced the sound and attitude of the American glam/hard rock scene of the 1980s. Bands such as Crashdiet, Crazy Lixx, H.E.A.T., Wigwam and The Poodles are all doing their bit to keep the music of the era alive and breathing, another addition to this growing list of 80s enthusiasts is Finland's Reckless Love.
The band was born back in 2001 starting out as a Guns N' Roses cover band but eventually started to write their own material. After many years of pursuing a record deal, Universal Music made the band an offer in 2009 and in 2010 Reckless Love released their debut Self Titled album. The album would contain the popular singles One More Time, Beautiful Bomb and Romance which had had radio success in Europe, a second album, Animal Attraction would follow in 2011 and continue to raise the bands stock with the singles Hot and Animal Attraction.
In 2013 the band return with a third offering title Spirit. It is fair to say that Reckless Love have taken the approach 'if it ain't broke, don't fix it' as Spirit picks up where the previous albums finished. The album kicks off with the first single and video Night Of Fire, which has a interesting voodoo/jungle intro to it before launching into the hallmark Reckless Love sound of big melodic guitars, big standard drum grooves and of course, big catchy vocal arrangements. The fun does not stop there as we head into the next track Bad Lovin', this is raw, 80s inspired glam at its best. I Love Heavy Metal is the bands Twisted Sister – I Wanna Rock moment, where Reckless Love pays homage to all the 70s/80s bands that have inspired them from Kiss to Bon Jovi to Judas Priest. The party atmosphere continues with Favorite Flavour, then a slight change of pace with the mid-tempo ballad Edge Of Our Dreams. Sex, Drugs & Reckless Love is one of the albums highlights and kicks off a bunch of rockers that also include the balls to the wall, Metal Ass and the second single So Happy I Could Die. The album comes to a close with the second ballad Hot Rain, while this is not a bad song, it is not their strongest effort either, but having said that it does not take away from the strength of this record.
If Reckless Love had have been around back in the day I have no doubt they would have been more than able to become a household name and share the same success as their American counterparts. Reckless Love is for the Motley Crue/L.A. Guns/Poison/Warrant crowd, pure and simple. If this genre of metal was never your cup of tea you will not find any value in this band, but if like me, you grew up on the stuff, you will want to immerse yourself in all their retro glory.
Categories: Album Reviews