| | |
| --- | --- |
| Posted on October 20, 2013 at 10:45 PM | |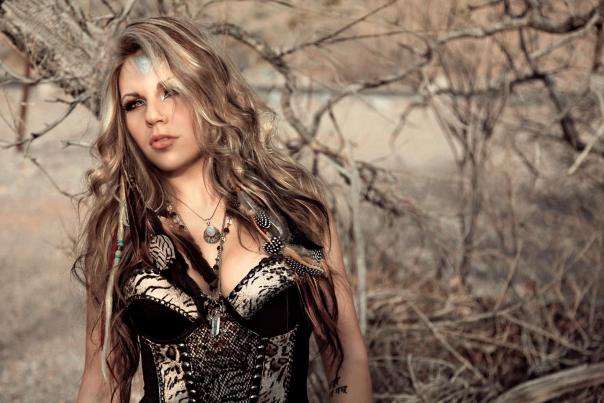 For many years I have considered Doro Pesch as the Queen Of Metal, and why not? She has a proven track record that stacks up against anyone, but at some point, hopefully a long way away, she'll have to retire which poses the question – who will take over her reign as the Metal Queen? A very strong case can be made for Canadian singer Kobra Paige, frontwoman of Kobra And The Lotus. Paige has everything you could want in a lead singer of a metal band, a powerhouse voice full of fire and passion that would make the likes of Rob Halford and Bruce Dickenson proud, a commanding stage presence and a determination to succeed, oh yeah, she's pretty easy on the eyes also. But as I discovered in a recent phone conversation, Paige is almost the complete opposite away from the spotlight, very humble and quietly spoken. The band is currently putting the final touches to a new album so I spoke to her about that, the 2012 self titled album and creepy music videos.
Rock Man: Congratulations on the success you have had so far in your short career, you must be pleased with where the band is currently and the response to the band by the public and media?
Kobra Paige: Thank you very much, yeah it has really been quite a wild and fast trip and it is quite surreal sometimes to hear what we have been up to for the last couple of years.
RM: Can you tell me about the early days of the band and how it came together?
KP: Sure, when I was 17 actually, I was looking for a group of people to play heavy metal with and I found some guys on a classified ad who had similar influences and I went down to the house and auditioned with these guys, to start a group with them and we just kind of clicked after that we started writing music together from that day forward. Those were the first guys that I really had written songs with and then it just kind of blossomed from there and I realised that I really wanted to go for this full on. Then it became about getting the right group of musicians together and pursuing how to get a metal band out there and touring.
RM: You have been compared by some quarters of the media to the likes of Iron Maiden, Dio and Iced Earth. That is some pretty good company, but how would you describe Kobra And The Lotus?
KP: Oh man, we are definitely a kind of metal that is traditional, I would say. We do have that vibe and some off that nostalgic sound with the riffs and the vocal style but we also bring our own twist. I would not say it is a rebirth of that kind of music but rather just turning the music forward that was of that style where it included people from all different types of genres who could enjoy this kind of metal, know matter what kind of metal or rock they listen too, just like the bands you listed, like Iron Maiden is a really wide umbrella for people in the metal world, it really brings everyone together.
RM: I understand that you were a classical singer, how does the musical road take you from classical to metal?
KP: [Laughs] Actually it is not a very big jump. When I was 15 I saw Judas Priest play and I had stopped being classical by then because it was not for me anymore and when I saw Judas Priest and I saw Halford I knew there was a place for me, but it did not have to be completely operatic or classical to be in metal. I think that is the two genres of music, classical and metal, that are actually pretty strongly correlated more than we know.
RM: In terms of vocal techniques, how different is singing metal to classical or are there similarities?
KP: There is definitely similarities and there are a lot of things that have helped me be a stronger singer. Like the utilisation of your breath, knowing breath techniques I think is very important so you can get the notes better, especially when you are holding a note forever but you want there to be power behind it and know how to not strain your voice, you know. You do not want to strain it because you have only got one voice and if you blow that you are dead in the water, so I think those things really help around the technique of protecting your voice and getting the most out of it.
RM: It must almost be surreal to hear your manager say "Gene Simmons wants to sign us to his record label", I mean, what an opportunity, can you tell me about how that came about?
KP: Sure, we were seeking some mentorship from the Universal and our representative at the time and he told us some constructive criticism at the time, 'get back to me when you have written another album and you have way more touring experience under your belt' and so we did. We toured every single place we could find, like every hole basically in the wall across Canada and we played for a couple of months to see how people would respond to certain things and I learned a lot more about my voice, actually, and our stage performances started taking shape because we were coming into ourselves more once we had more experience on stage and feeling more comfortable. So we came back to Mark Spicoluk (Universal Music Group) and brought him the album and he said 'I think this is the kind of thing you would like' and he saw that we had made a good enough product to bring to him, so he took a CD to Gene and I guess Gene jumped on board because we heard from him two days later. It was pretty wild, I will never that, we were all touring in the U.K. at the time and we were all sitting on the tour bus after playing a show and I opened this email of a voice recording that was on our managers phone and it was Gene saying "Hey, this is Gene Simmons, I'm sitting here with Universal Canada and we want Kobra And The Lotus" [laughs]. Of course we were very careful with the whole situation, what does this really mean, we thought it was a joke at first, yeah it was quite an incredible thing, an amazing opportunity.
RM: The 2012 self titled album is an absolute firecracker of a record, you must be very pleased with how it turned out?
KP: Thank you very much. Yeah I am very pleased with how it turned out, when you work so hard and long for this one thing and when it finally happens and it is out there it is a good feeling and I think everyone is happy.
RM: Was it an easy album to make or were there any challenges?
KP: Oh there are definite challenges, we actually had some things changed on the album when we signed to the major label, they suggested, strongly suggested that we take some of the songs out on the album and write different ones to keep the album upbeat and more in your face and I think it was a very smart strategy. I think some of those are going to be featured on the next album, the ones that were pulled off, like the ballad that we had written, yeah it was for the better, for sure and it also challenged us because we were used to having a year to work on this album and details and all that and when you have some pressure put on you and it is like, 'well you are going back into the studio, but you only have two months and one month is only for writing' then you really have the pressure on you, you cannot be procrastinating or not focusing, you have to use your brain, at least that is what it felt like for me. We were very tired, you know, you focus so many hours of the day, but it was great, it was an awesome experience and I think it made us stronger writer all together.
RM: Can you take me through the writing process, what sort of topics, issues or interests inspire a song?
KP: Oh man, there is a lot of different things that that go through the songs, they all have a common theme, they all have to do with some kind of darkness or demons of the world, the inner demons, the things that pull us down, the things that can weight inside people sometimes, yeah there is all different topics. On that album there was a song about addiction, there was a song about, you know, Sanctuary is about how our life feels a lot of the time, it is the sanctuary of the beauty of everything you love, you live for what you are doing and you love it so much but you feel, most of us are very lonely a lot of the time because we are gone most of the year and, you know, it is a very interesting concept because it really is like a lonely sanctuary [laughs]. There are songs about defending the past, how generations will be brought up knowing the hatred of only what happened to their culture or within their family and they do not let go of this history and it just turns forward and there are feelings tied in warfare and all kinds of things, you know, it is so deep rooted, it is about taking control of you own life and stepping back from it all and looking at the present, what happens here in this life time and how can you change it. So there is triumph in a lot of the songs, but the main story lines are about the dark, lots of storytelling.
RM: Tell me about the new album, what can we expect and when will it be released?
KP: Oh I am so excited, the end of January (2014) is what the plan is and I do not see any reason why it won't be because we have almost fully wrapped it. We are back in the studio, there are just final little clean ups now, so in the new year there is going to be a new album. The new album is really interesting because it is absolutely eclectic but there is still consistency, but you almost cannot figure it out all the time why it is inconsistent because there are that many different things. I mean, there are a lot of different expressions on this album, you have a lot of really traditional in your face metal, you know, just straight up heavy metal songs, but then we have some things that steer more towards Nordic sounding and maybe even Canadian, which I do not even know what that means but it just sounds different [laughs], it is different from our last album. Which is crazy, because you try not to be different, you do not want to change you sound or anything, but every time you write new music it all has to do with what is just pouring out of you at that time. There is even some more rock metal thing that goes back to more close to the roots of Kobra And The Lotus, when we first started which was in between rock and metal, there is a little bit of that in there too. So it is interesting, it is very heavy still, but it is eclectic and I cannot wait, there are some songs that I am not sure what to tell you it is because I do not know what the label would be for it, it is still metal, I do not know what kind of metal [laughs].
RM: What are your thoughts on making music videos, some artists really don't enjoy the process. What has been your experience?
KP: I think that we enjoy it for the first 2 hours and then after that the rest of the day is not very fun. But it is just getting through it, I am a really big advocate for videos being out there because I think that songs are so full of expression and colours and if you can extend that even more by putting a video to it some people are going to think that is great. I love getting visuals and seeing really cool things on videos or even movies, believing that you are seeing a little into that person, so I think music videos are great [laughs].
RM: At this point can I just reference 50 Shades Of Evil and Welcome To My Funeral and say to you, in the nicest possible way, they are really creepy.
KP: [Laughs] Thank you. They are, they are a little disturbing, I agree. That is good, I am glad you picked that up [laughs]. The Welcome To My Funeral clip was crazy because we wanted the windows in the church to be dark, so we waited until p.m. at night and then we actually filmed from 5pm to 5am in the morning and so we did it backwards, we did the whole video shoot in the night and it made it extra creepy, oh it was so much fun, it was great.
RM: You have had the opportunity to be involved with some of the world's biggest music festivals such as Download Festival, Wacken Open Air Festival and Gods of Metal, to mention a few, is there one that stands out as a highlight for you?
KP: Oh man, well, they were amazing experiences. Definitely Sonisphere stands out because it was our very first festival we ever did, so you cannot forget that one. It was the first time we had been on that kind of stage with that many people, yeah there are so many different memories. The other one I can remember well is Bloodstock, a little smaller than Download, but a really cool atmosphere, it just had such a good vibe, it was just a really great gig. I will never forget the last festival either, because it was great, but we were right in the sun, when the sun was facing the stage directly, because we were playing at 11 in the morning, and it was so hot outside we all got heat stroke and I was panting while performing, that has never happened before and when we got off the stage I was ill for 3 hours after, like nauseous and just really sick from being in the sun, I was wearing a head to toe leather outfit too so that did not help me much, you know [laughs].
RM: You have also opened for some legends of the industry such as Judas Priest, Black Label Society, Primal Fear and Slash, what was the most important thing you learnt from doing those tours?
KP: Well first of all, you learn what it takes to see the level you can see so much that you need to learn stuff and how far you have to go, when you look at that you can learn so much from just seeing the calibre of the performances. Also I think, how personally we think most of the people have been so humble and that is really humbling for us, because I think that is how it should be, a lot of the bands that have made it big are still very happy to be there and I think it is important, other wise you look like a band that does not want to be there on stage and we have had experiences like that too and it has been very disappointing for us because we see these people as our mentors and when the bad attitude sets off we really learn what we also do not want to be like and we do not want to be in the band if that is what it is going to become like.
RM: Once again, congratulations on your success so far. From all of us here at Full Throttle Rock I would like to wish you all the best for the forthcoming album and the future.
KP: Thank you very much.
For more information on the band visit the official web site at kobraandthelotus.com
Categories: Interviews