| | |
| --- | --- |
| Posted on October 17, 2013 at 11:10 PM | |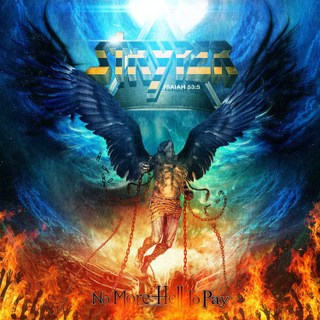 Stryper – No More Hell To Pay
Written by The Rock Man
Heavy Metal isn't for everyone … and that's fine, some sub-genres like Christian Metal, for example, are for even less. I love metal music and I am a Christian, so for me it makes sense to combine the two. When I tell people I listen to heavy metal music, this uneasy look of disgust/horror comes over peoples faces without fail, it's as though people think I'm going to eat their children or something, of course this comes from decades of stigma about metal being "The Devils" music, seriously have you heard a Pink record, then you can talk to me about "Devils" music.
Whilst it is true that there are those who like to sing an ode to the horned one, for the most part metal bands are too busy gloating in song about there sexual conquests, and then on the other hand there are those that like to pay tribute and praise to a higher power. One such band that has been unapologetic about their faith is Californian metallers Stryper.
While bands such as Motley Crue, Ratt, Van Halen, Quiet Riot, W.A.S.P and others were trying to make a name for themselves on the L.A. circuit in the early 1980s selling their message of sex, drugs and rock n' roll, Stryper were out there also, but they were selling a different message, one of faith and praise to God. For three decades now that message has stayed the same and along the way the band has developed a strong loyal following inspired by gospel masterpieces such as Soldiers Under Command, To Hell With The Devil, In God We Trust and Murder By Pride. Their latest offering, No More Hell To Pay could possibly be the best of the lot.
In terms of sound, No More Hell To Pay takes the band back to its early days recreating the vibe of classics like The Yellow And Black Attack (1984) and Soldiers Under Command (1985). Guitarist Oz Fox is on fire, his playing on this record is simply amazing, bassist Timothy Gains also puts in a top class performance. Then there are the brothers Sweet, Michael on vocals and lead/rhythm guitar and Robert on drums. Robert has been among my favourite drummers since I first heard him in the early 1980s, his style is like a battering ram, solid, commanding and a perfect execution of time keeping. At the risk of sounding corny, Michael's vocals can only be described as 'Angelic', but unlike some in the industry that rely on pro-tools in the studio to make themselves sound better than they are and then fall flat live, Michael can deliver in the studio and then back it up on stage, I know I've witnessed it for myself, in addition his lead guitar playing and soloing is out of this world.
No More Hell To Pay is a heavy piece of work. The band have resisted the temptation to put on the record a couple of commercial or radio friendly style tracks in the vein of Calling On You or Always There For You, instead opting for a much more harder, edgy approach. Pound for pound, Stryper are every decibel as heavy as their more commercially successful counterparts. The opening track is Revelation which features a catchy guitar hook, thunderous drum groove and a strong melodic vocal arrangement, this sets the pace for the rest of the album. The title track continues down this route and is very reminiscent of their early beginnings, while Saved By Love is a full on pedal to the floor rocker. Jesus Is Just Alright, originally recorded in 1966 by The Art Reynolds Singers, gets a Stryper-ized make over and is a seriously fan track, the only track on the record that comes close to being labelled a ballad is The One, and this is a nice addition. However it isn't too long before the full on headbanging recommences with Legacy and Marching Into Battle, the latter seriously could've been a throw away from the Soldiers Under Command recording sessions. Further down the track listing we come to Sticks And Stones and Water Into Wine which are two definite highlights, the album rounds out with Renewed and I couldn't wait to press play again.
 I'm not going to try and convince everyone that No More Hell To Pay is a must have album because like a said before, this sort of thing isn't for everyone. However, if you've been a long time supporter of Stryper then you'll know the quality of this band and the quality of their work and it goes without saying that you'll want to add this gem of an album to your collection.
Categories: Album Reviews