| | |
| --- | --- |
| Posted on October 17, 2013 at 11:05 PM | |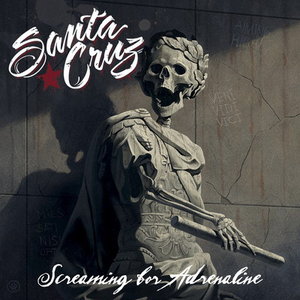 Santa Cruz – Screaming For Adrenaline
Written by Dave Smiles
In Sam Dunn's documentary series, Metal Evolution, he stated that Glam Metal never progressed into sub genres, like most other styles do, or had a major revival. When nineties grunge hammered the final nail in the coffin being crafted by the genre itself getting more and more ridiculous with bigger and bigger hair, and one clone of Guns N Roses and Motley Crue after another.
The early 2000s saw a bunch of bands emerge from Sweden and Finland - Vains of Jenna, Crashdiet, Hardcore Superstar, and Reckless Love. Not to mention infamous party band Steel Panther. The resurgence of glam metal has arrived.
Santa Cruz formed in 2007 by vocalist and guitarist Archie Kuosmanen, guitarist and backing vocals Johnny Pallone soon recruiting bassist Middy Toivonen and drummer Taz Fagerström. They're inspired by – you guessed it – Guns N Roses, Motley Crue, Poison, and Skid Row. They've gained some heavy attention through a self-produced EP and by taking the old school work ethic of gaining a following through heavy gigging. In 2012 they signed a deal with Spinefarm Records.
Decked out in tatted jeans, denim jackets, tattoos, low slung guitars, all members are in their early twenties, therefore born in hair metal's wake. If you've been missing the big riffs, catchy choruses, punchy drums, and flashy dexterous solos to rip you from one end of the room to the other, then this is the album for you. It's the old attitude of if you're good at something, shove it in people's faces, play your heart out and take what's yours. Songs quick and to the point, rarely exceeding four minutes but packing a lot into the run time.
The opening seconds of Screaming for Adrenaline brought back the same excitement and expectations I had when I first heard Dr Feelgood and Open Up And Say… Ah. The build-up intro quickly breaks out into a killer riff ripe with attitude. Follow up track Anthem For The Young 'N' Restless once again grabs the listener by the throat as if to say, 'This is how it used to be done, we're gonna do it better!' And just when you might be expecting a laid back track, Relentless Renegades cements the mission statement that this is a band that's come to conquer.
Sweet Sensation and Nothing Compares To You lighten the pace a little, providing room for some killer guitar solos. The latter reminiscent of early Warrant, and has a nice breakdown section that could one day get an arena full of fans singing. Let's Get The Party Started does just that with a riff right out of metal's hey-day. The title of the second video - Aiming High – speaks for itself.
Overall the playing on this album is full of the energy and fun that made eighties metal so addictive. With skills this good at such a young age, it's awesome to think what this band could grow into.
Categories: Album Reviews