| | |
| --- | --- |
| Posted on October 3, 2013 at 4:45 AM | |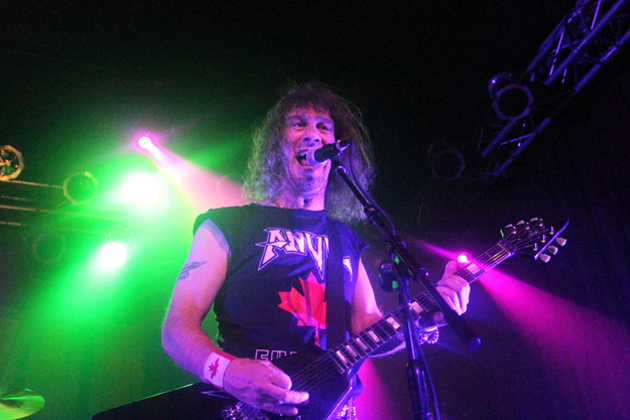 Interview with Steve 'Lips' Kudlow
By Dave Smiles
In 2013 you can ask your average metal fan who Anvil are and they'll no doubt say something along the lines of, 'they're that band that never gave up on their dreams.' But it wasn't always like that. Prior to gaining world-wide attention with the 2008 documentary, Anvil – The Story of Anvil, they were a band unknown to many outside of Germany, or a diehard metal devote.
These days Anvil regularly plays festivals such as Download, Wacken, Bloodstock and Soundwave, as well as touring as support band for such bands as Metallica, Motorhead and AC/DC.
With the release of their fifteenth studio album, Hope In Hell, Anvil show no signs of settling for the level they're at and plan to further their success. Steve 'Lips' Kudlow took time out from Anvil's busy schedule to answer some questions for Full Throttle Rock, and it was clear that passion for music, and love of life, is what keeps this man motivated to keep moving forward.
The story of Anvil is certainly inspirational; following your passion and sticking to what you believe in. Now you've finally achieved the attention you deserve. What's next for Anvil?
Life is about moving forward continuing to find fulfilment and that is precisely what we intend to do. As success gets closer the farther it seems away, we are still hungry and filled with desire.
What effect has your recent success, and all the extra attention, had on your life?
The largest effect is that we no longer work regular jobs. Anvil has become our main source of income.
The new album, Hope In Hell, shines with youthful spirit and enjoyment of life. Where do you draw your inspiration from when writing your songs?
They come naturally...no premeditation...simply plug in and play what comes to you. You make things up spontaneously without thinking about what you are technically doing. This is a magical process in a way. In a matter of a few minutes where there was nothing suddenly there's a new song. It's not something that can be explained, it just is!!
Could you tell us about recording sessions for the new album? Was it a difficult album to create?
In actual fact the new cd Hope in Hell was one of the smoothest recordings we have ever done. I was completely prepared and knew exactly what needed to happen. Bob's influences from the last cd were an enormous help to me in writing and arranging the songs properly for the best results. It should never be difficult...if it is then you probably over wrote your abilities and this tends to create weakness in the overall result. Performances should be natural fluid and consistent anything less is not worth keeping...
Do you have any favourite pieces of gear? Any secret effects that help you get your sound?
The Tokai DS-1 distortion pedal through any clean amplifier.
A lot has been written about David Krebs and how he got Anvil out of its contract with Attic records and then quickly lost interest. How do you feel about those events today?
Grateful....and I even said it to his face!! Everything happens for a reason....it just made the story much more credible. If things were different there probably wouldn't have been a movie or 12 cd releases!!
If the documentary had never been made, would Anvil still be around today?
Absolutely...that's the whole point....we didn't stop before or until so I would say that in all likelihood we would continue one way or the other.
What do you think about the state of the music industry? Has downloading had a positive or negative effect on music?
It hasn't really impacted the music as much as the business. Music has become the advertisement for fans to come to the shows and buy T shirts. There is no money in making music anymore as most acquire it free off the internet or just stream it off the many websites that share the music.
Are there any new bands you like, or would like to tour with?
I don't know!!! I don't like most new metal...and in many cases I can't read their names because the logos are purposely created to be impossible to read. Their vocals if you can call it that are impossible to sing along with or understand. I'm into old school metal and hard rock when musician excellence was a priority.
You're trapped on an island with Justin Bieber. What do you do?
Live on the opposite side of the island!!!
Categories: Interviews