| | |
| --- | --- |
| Posted on September 15, 2013 at 7:40 PM | |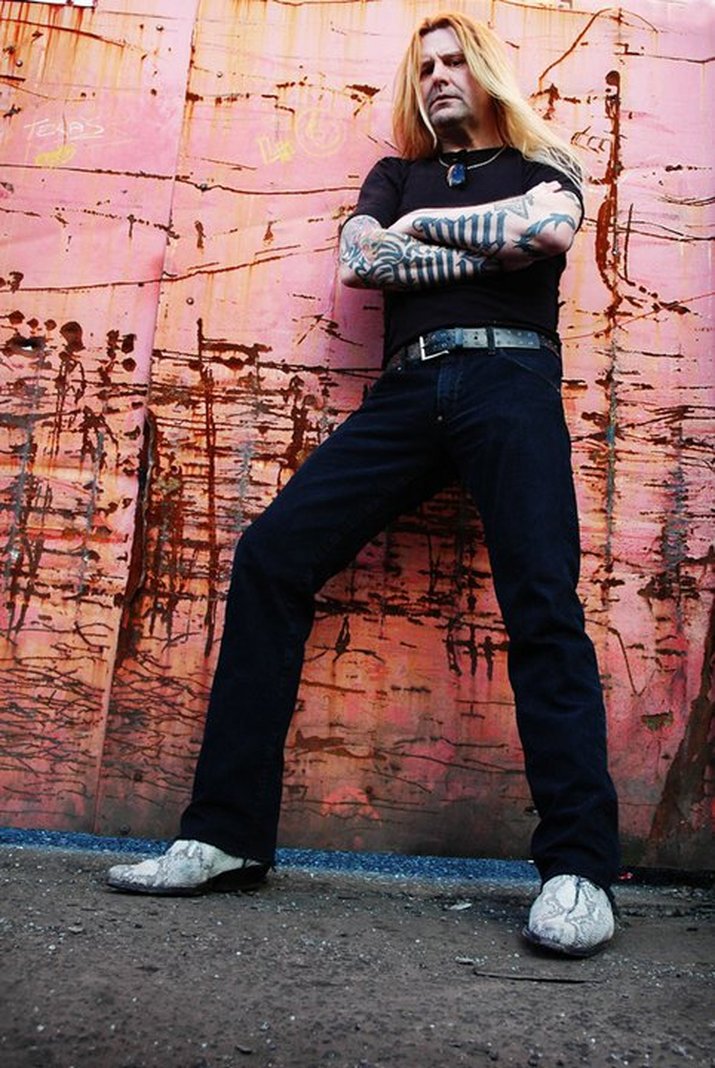 For 30 years British born melodic rock singer/songwriter Tony Mills has forged a solid career from performing with critically acclaimed hair metal acts Shy and TNT. Along the way Mills would also establish himself as a capable solo artist and has had involvement in several other projects such as Siam, Serpentine and State Of Rock. With such a wealth of experience I caught up with Tony to get his views on the digital revolution, his days in Shy and TNT and his future solo projects.
Elle Haus: You were born in Solihull near Birmingham where the likes of Black Sabbath and Judas Priest earned their stripes. What influence, if any, did growing up there have on you?
Tony Mills: Priest were an important influence in the early 80s for me, as I particularly idolised Halfords vocal style and his ability to shift across many octaves effortlessly and leave you with your mouth wide open wondering how on earth he managed it. I focussed a lot on rehearsing early Priest material to expand my range and it was in a rehearsal studio that this was picked up by another band and shifted me into live performances in rock for the first time in 1980 in Birmingham, so it was directly effective as an influence. I was approached by Priest in '92 for an audition, but due to a premature press release in the UK, the band withdrew from the conversations and it was never to be.
Sabbath never really left much of an impression on me, because Ozzy was never really a singer's singer, but I lived with his ex-wife Thelma for a while and it drove home to me what a small important circle I was in, within the Birmingham area and I guess it has been referred to a lot in the passing years.
EH: You started out singing at the age of fourteen in a punk band, The Rip-Offs, before joining another punk band, Cracked Actors, as bass guitarist. What was the catalyst that inspired a move to the world of rock?
TM: I really made the transition by taking bass lessons in my teenage years and growing out of the punk era; I saw that it had a short life-span, but I still wanted to be in guitar driven music that had influenced me from the early 70s. Hanging around rehearsal complexes in Birmingham as punk faded, led me into singing with friends bands that were much more in Rush, Priest and Lizzy, so it was inevitable that the shift would come and by 1980 I was on the live circuit in and around Birmingham as a front man for three different bands; Overdrive, Orion and Enigma. Session work with a band called Trojan led me into a contract with Shy in '83 and it really took off from there.
EH: You've previously stated that you are currently working on two projects – the AOR set with Robert Sall, Tommy Denander, Vic Rivera and hopefully a third and final Siam album. Can you give us an update on the progress of these?
TM: Both albums are underway; the AOR project with Denander and Sall is a strong album and has picked up speed this month. I should be in a position to settle the contract in Japan by the end of the month and look at a New Year release.
The metal album is more complex and will take longer although I have support from Battlegod Productions in Sydney. This will undoubtedly come out as a solo album and not a SIAM product, as time has passed there has been no input from the original members and I've since involved other people, although the format and the style is indicative of what Siam were in the mid 90s. The album, Over My Dead Body, brings to the fore, the experiences of dying and being brought back to life again in a foreign country and all that surrounded that for me, three years ago.
EH: You've referred to Robert Sall as the "James Bond"of AOR, what is it like collaborating with him?
TM: Well, wow, what a guy, an effortless writer and a sweetheart of a guy. So easy to work with and with such strong results. I'm writing a second track with Robert currently and he has been very supportive over my parting with TNT.
EH: Your single Girls of Norway (which I can't stop singing by the way) has a very bluesy undertone – is this going to be a common theme throughout your forthcoming record?
TM: No, it has nothing to do with the records at all. It was purely some fun for the summer and we had a great time filming that. It also reconnected me with producer Neil Kernon, which was important for the forthcoming mixes ahead.
I have no doubt it will end up as a Japanese bonus track or something like that.
EH: If I can take you back to your days with Shy, what are your recollections of that time? Especially the albums Brave The Storm and Excess All Areas?
TM: Brave The Storm, was Shy's first high financed and corporate experience with RCA Records in 1985. There was a lot of money flying around and everything was covered, even the excessive bar and telephone bills we left everywhere. High cost records and video shoots were my memories and mainly UK touring supporting major names. RCA stuck to their guns for the second album and spent even more on the band, landing us in LA for a long time and then Europe to record and tour the continent. I don't think our debit sheet was any higher than any other artist at the time on RCA, but when we were riding high back out of Europe into Reading Festival with Alice Cooper, RCA's accountants cleared the books and dropped all the bands under development. That was a disaster. Our manager was in jail and we were handled by a lawyer. It was a difficult time. It took a whole year for us to get picked up by MCA and to be launched back into the States touring for the next year. Tour bus living and excess killed the band for me in 1990 and MCA dropped the band and picked me up as a solo artist which helped create the direction of where I would go in the following years. But it was a memorable time that taught me much regarding touring and vocal development, working with other famous writers and singers, both in Europe and the US.
EH: You've had a long, fruitful career with TNT – do you look back on that time with fondness and accomplishment for the work you created?
TM: Not really for the work I created to be honest, although the third and final album, A Farewell To Arms was the best of the three without a doubt.
But this time really belongs to seven years on stage and not a lot else.
Maybe we did 500 shows or something like that, but not many out of Norway. It has been the most prolific live period in my career and when I felt the stagnancy and the lack of desire to grow and develop any further, I knew my time was done with the band. I don't think it's sensible to expect new art from the band after thirty years, just a lot of re-living the past and reconstructions of old albums and performances. None of us are getting any younger, but I have a great desire to not stop creativity in my life. I hate wasting days and singing songs from the past to satisfy old fans nostalgia wasn't doing it for me. We were never close as friends or anything like that, so there is no great loss and I have no doubt they will reform the original line up and just do the whole thing all over again. I wish them good luck on that. I have other releases to come that excite me much more than that.
EH: What's your favourite part of the whole writing/recording process?
TM: There's a moment when I write and record at the same time, when the song comes to life in the headphones and almost displays its own personality.
It's manifestation in its greatest understanding for me. If it makes me smile, I get a great feeling from it, if it makes me laugh, I know I've done the right thing.
It's a feeling that lasts only so long as you are working on the song really, then it passes and is gone. But that moment is worth a million bucks. That's what I live for.
EH: You've publically stated that in today's world long gone are the days of going to a shop to buy your favourite artist's new record, with the whole digital revolution of music and downloads what is your opinion of the state of the music industry at the moment?
TM: The young musicians of today, will get different kicks, I guess, but there was nothing like getting a letter back through the post from a record company with a positive response to a demo that you had sent weeks before. Or recording in big studios where you stayed for months; a lot like being on holiday, but creating great music with big name producers. Record advances have all but disappeared and the market is evolving in many different ways. I often hear engineers saying that they miss the roll of the tape machine in the background. I can empathise with that, although the technology is so much better now. I feel sorry that the traditional record company and its releases have all but disappeared, but on reflection, they also made a mess of a lot of things and they can't do that anymore either. Corporate record companies had many of their own ideas that didn't agree with the artists' ideas at all, but nevertheless were enforced regarding releases and artistic direction. They had no real place in that, but they waved the cheque book and you had your arm twisted in their direction one way or another.
I kind of soldiered on regardless through all the changes of the last thirty years, because they were so inevitable. I don't see a whole lot of money in making records anymore, the profit has lay in the performance and the merchandise for quite a while now, so we write and record to support that ethic and do the best we can.
It will evolve some more, I have no doubt, but whether I will live to witness any more major changes in the industry, I don't know.
EH: Last month you completed the farewell shows with TNT – what does the rest of 2013 have in store for Tony Mills?
TM: I'm pretty resolved to writing and recording until next year. I'm not in much of a rush really.
I'll also look for another band to perform with next year in Europe, as I've always gone through cycles of wanting to stay in studio and then needing the release of performance on stage again, but I'll take it as it comes.
EH: From all of us here at Full Throttle Rock, I'd like to thank you for taking the time to talk to us. We wish you every continued success in the future and look forward to joining you through your next 7 year cycle.
TM: Great to hear from you, all the best.
Categories: Interviews