| | |
| --- | --- |
| Posted on September 15, 2013 at 7:35 PM | |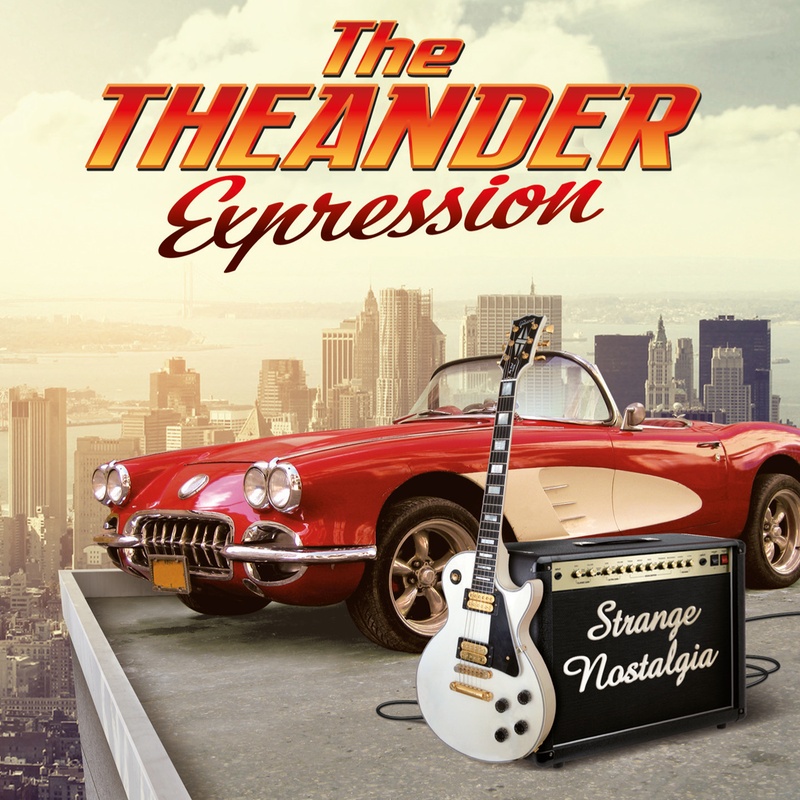 INTERVIEW WITH ANDRÉE THEANDER
By Juliano Mallon
There's no doubt in my mind that "Strange Nostalgia", the debut album by The Theander Expression, is one of the best surprises of the year. The album will hit stores on September 20 (via Avenue Of Allies) and mastermind Andrée Theander agreed to talk to me about the album, its creation, influences and then some. Enjoy…
01. First off Andrée, congratulations on an incredible album. "Strange Nostalgia" brings a well-balanced AOR radio friendly pack of tunes with some thrilling Westcoast songs. Is it safe to say those are your favourite musical styles?
ANDRÉE THEANDER: Thanks a lot! Yes, of course I love AOR and Westcoast but I also listen a lot to other styles of music. It depends on what mood I'm in. But I believe, for me, my sound is simply a result of me blending everything that I like the most. I listen to different kinds of rock, pop, jazz and blues and I love to use all those influences and put them into one.
02. The album has a very radio friendly approach in its majority, with loads of guitars and keyboards all over. And obviously, this is the sound that puts a smile on most people's faces. What are your influences regarding this radio friendly AOR we like so much?
ANDRÉE THEANDER: Is it really that radio friendly? Unfortunately I don't hear a lot of AOR on the radio… However, I love old Toto and Journey but also new acts like Work of Art and Lionville.
03. The Westcoast songs on the album are also note worthy, with intimate arrangements and evolving melodies. Who are your favourite artists within that style?
ANDRÉE THEANDER: I'm not completely sure of what songs that you hear as "Westcoast" and what's "AOR". To me, it's pretty much the same. But… Chicago, Steely Dan and State Cows, if that is Westcoast?
04. The track list is comprised of 10 songs, but how many were actually recorded during the sessions? How much material ended off the album?
ANDRÉE THEANDER: Ten. Of course I have more material than that left over, but not that was recorded during these sessions. Maybe a little risky, but I personally think it ended up great. I also don't think that an album should be too long actually. About 45 minutes is perfect.
05. The choice of vocalists for all that material was right on the spot, and I was impressed with Christian Hedger's voice. He absolutely shines on his songs and came as a huge surprise. Where did you find the guy?
ANDRÉE THEANDER: I'm very happy that you like Christian. I mean, he's in good company with Göran, but it's also very hard to share the lead vocals with someone like him! But I was never worried, I knew from the start that he was the right guy for this. The first time I heard was actually on that "The Voice Sweden" TV-show. I believe that the YouTube video of his audition has reached about one million views at this point.
06. And Göran Edman is a well known name in the AOR universe. How did you get him to participate in your album?
ANDRÉE THEANDER: He's actually one of my favourite singers of all time and I've always been very curious about how my songs would sound with his incredible voice. It was actually Lars Hallbäck from "Crossfade" that put me in contact with Göran at first. I had plans to record the entire album at Hallbäck's studio, which is really an incredible studio, but it turned out to be too hard to realize on account of all the musicians that was a little too busy at that point to gather them all in there. But I live pretty close to that studio now so maybe the next album…
07. When you wrote the songs you already had Edman and Hedger in mind?
ANDRÉE THEANDER: No, but I had that kind of a nice, high pitch AOR-voice in mind.
08. With so many artists out there, it may not be that easy getting a record deal. How did you landed one with Avenue Of Allies?
ANDRÉE THEANDER: You're right, and it's also not easy when people don't buy records like before. But labels like Avenue Of Allies seems to be interested as long as you make quality music that they really enjoy themselves. I got a few offers from different labels but Avenue Of Allies felt like the right one for us.
09. A question that I've been getting since I posted the first news on your album is this: is The Theander Expression a band or a project? Please Andrée, talk a little about this matter...
ANDRÉE THEANDER: I'd say it's primarily a band, but as you know all the other musicians have a lot of other stuff going on too so I can't promise that it will always look the same. But this album is only the beginning.
10. How will you promote the album? Are there plans for concerts in the near future?
ANDRÉE THEANDER: We are talking about it. I definitely think that a band should play live!
11. And what have you been listening lately? Anything from Sweden? There are a whole lot of bands/artists coming out of there...
ANDRÉE THEANDER: Yes, Sweden is great when it comes to music! I've been listening a lot to the latest State Cows-record and I'm really looking forward to the next Work of Art-album! But right now the Winery Dogs-album is on repeat! It's actually ridiculously good.
Andrée, thanks a lot for your attention, mate. I wish you a lot of success with the Theander Expression and may "Strange Nostalgia" be just the first of many albums to come.
ANDRÉE THEANDER: Thanks a lot, I appreciate it! Like I said, this is just the beginning. There will be more.
Categories: Interviews