| | |
| --- | --- |
| Posted on September 15, 2013 at 5:00 PM | |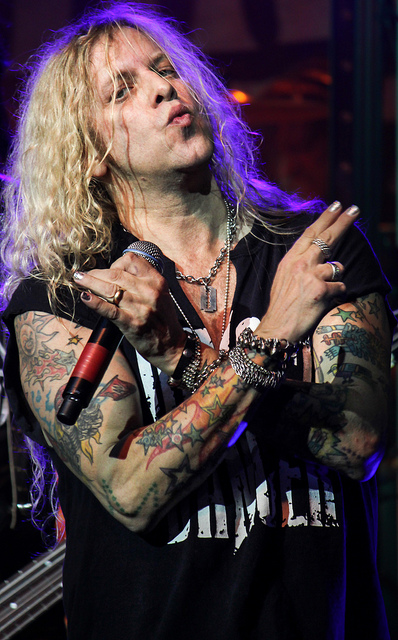 During the late 1980s hard rock/hair metal was experiencing its most popular phase. KISS, Motley Crue and others had lead the way for a new breed of artist to take the spotlight, bands such as Enuff Z'Nuff, Extreme, Slaughter, Skid Row and Mr. Big. Leading the charge of this new class of rockers were New Yorkers Danger Danger. The band was led by singer Ted Poley, with his soaring vocal range and pretty boy good looks the future seemed very bright. Then in 1993 he was fired from the band and went on to pursue other projects including Bone Machine and Melodica. Ted Poley has also released a number of well crafted solo albums and then in 2004 came full circle when he rejoined Danger Danger. I recently spoke to him about his career, the state of the industry and his future recording plans.
Elle Haus: Congratulations on all the success you have had over the past three decades. When you started out, could you have possibly imagined your career would take you on this amazing ride?
Ted Poley: Thank you. And yes, it's been a great ride. I am still having fun. I am 51 years old now [laughs].
EH: Can you tell me about your early musical education, you play drums and sing, what was the deciding factor in choosing to become a lead vocalist and who were your early influences?
TP: I started on classical piano at age 5, went on to play drums, and became a singer specifically to join Danger Danger. I always sang lead and backing vox from behind the drums in all of my other bands but never came out front until D2.
EH: Looking back to the late 1980s, early 1990s you had enormous success in Danger Danger with your self-titled album and the follow up record Screw It! - what do you recall about recording those albums?
TP: I don't have too much fun in the studio, its hard work. I prefer playing live which is also hard work but it's also fun. It was a special time back then and we always joked around and had as much fun as possible but there was a lot of pressure to get good tracks, this stuff was on the biggest label in the world and it had to be great so we couldn't fuck around too much.
EH: In 1993 you released a third album, Cockroach, but shortly after you were fired from the band, what happened there?
TP: No comment, it's all good now.
EH: You rejoined the band back in 2004 and by 2009 the band had a new album out, Revolve. What is the status of Danger Danger now, are there any plans to record a new album?
TP: Danger Danger is the same as ever, we are fine. No new plans to record as far as I know, but that could change any time with one big check… otherwise, we still play live, I am still in the band and we have been playing only the higher profile shows but next year we have some special plans for our 25th Anniversary. You will have to wait and see.
EH: A lot of artists I speak to vent their frustration with the digital revolution of music and how it's killing the industry. Back in 2011 when you released your single Breathe you had a problem with people downloading it illegally, can you tell us about that and share your thoughts on the state of the industry today from an artist's perspective?
TP: It's all stealing and it costs me 95% of my income. I don't mind still photos at my live shows. I don't like people videotaping my live shows for YouTube. It's not theirs to upload, they pay to hear me sing, not to buy the rights to film and publish it. When I want to release a show it will be in HD and it will be great and they can pay me for it and then we can all enjoy it, that is my feeling about YouTube. And I think fans should pay for the music that costs me money to make. I can't go to their job and take things for free. I could go on for hours so I will stop here.
EH: You have had an outstanding solo career as well releasing Collateral Damage in 2006, Smile in 2007 and the Poley Rivera album Only Human in 2008. Of these three do you have a favourite and when will we see another solo album?
TP: Thank you again. I currently have no plans to ever record another full length CD. It's not worth the time and effort it takes to do it. I will do some studio work with other artists here and there but am concentrating on playing live shows. I just came off my biggest tour ever in August! 25 shows in a row with no days off across the USA and Canada on the 80s Invasion Tour, with Bang Tango and Enuff Z'Nuff. It was hard work and my throat still hurts but it was awesome! I spent the whole month of August in a beautiful tour bus traveling and singing. I miss it!
I have done about 30 CDs over the years, my favourite stuff was my Bonemachine stuff that was the best. I have a greatest hits 2 CD set out now, which contains some Bonemachine and also over 30 songs from a lot of my work outside Danger Danger. Look for it on ebay. I am sold out now because of the recent tour, but am re-printing and will have more in a few weeks. I do have tour shirts and other goodies listed, look for seller ID tedpoley1
EH: You are always touring, can you tell me about your touring plans as a solo artist and with Danger Danger?
TP: I always tour. When Danger Danger is off the road, I keep flying to shows and playing with my awesome solo band, Maz Mazza, Doug Odell and Hal Aponte.
EH: From all of us here at Full Throttle Rock, I'd like to thank you for taking the time to talk to us. We wish you every continued success in the future and look forward to another three decades of Ted Poley magic.
TP: Thanks for the interview and thanks to everyone out there for enabling me to still live my dream. Please go on ebay and buy some of my new world tour t shirts, dogtags and other stuff (seller id is tedpoley1) so I can keep touring and also a portion of my profits go to support animal shelters. Rock on.
You can check out Ted Poley's new shirts for sale on ebay here:
http://www.ebay.com/itm/NEW-TED-POLEY-WORLD-TOUR-T-SHIRT-BRAND-NEW-w-Free-Guitar-Pick-DANGER-DANGER-/130983866178?pt=LH_DefaultDomain_0&hash=item1e7f3f2f42
http://www.ebay.com/itm/NEW-TED-POLEY-WORLD-TOUR-WOMENS-TANK-TOP-T-SHIRT-w-Guitar-Pick-DANGER-DANGER-/151116197888?pt=LH_DefaultDomain_0&hash=item232f3a3000
http://www.ebay.com/itm/130983869412?ssPageName=STRK:MESELX:IT&_trksid=p3984.m1555.l2649
Categories: Interviews