| | |
| --- | --- |
| Posted on September 8, 2013 at 9:30 PM | |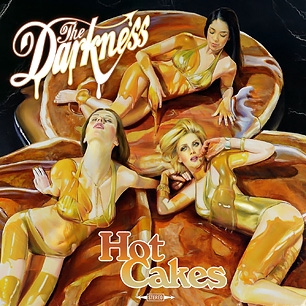 The Darkness – Hot Cakes
Written by Jim Sky
Recently I was handed The Darkness' most recent offering "Hot Cakes" and told to take a listen. The third studio album from a band who made their way to fame on the back of c**k rock, falsetto and a little bit of tongue in cheek shouldn't have anyone salivating prior to the first listen; and to be honest I wasn't expecting too much. Much as I, along with half the planet, scream my party heart out to all the tracks from "Permission to Land", KISS-reminisent rock and roll from the turn of the century isn't something you expect to age well. Especially not after singer Justin Hawkins went through hell and the band virtually disappeared from the musical map.
Pressing play, I expect either a rehash of their too-recent heyday, or some attempt to completely reinvent themselves. Instead what I hear is "Every Inch of You", a heavy twelve bar rock blues intro that quickly aquires Hawkins' trademark high end with a little added vocal flavour. I'm suprised by the personal flavour of the lyrics - "An English man with a very high voice doing rock n roll....I'm in a band with my brother and my two best mates". You can hear the influence of AC/DC and KISS in the guitar tone and the harmonies. Hawkins swiftly lets the listener know the glam and arrogance we love from The Darkness isn't lost to time with lyrics like "every man woman and child wants to suck my c**k".
The record moves up tempo and up a notch as "Nothing's Gonna Stop Us" kicks in, and like all classic-sounding rock, it just makes you want to rock out; or cringe if glam rock isn't really your thing. For me, bridges that build with kick and high hats into a fat crunchy chorus with super high vocals, following on from heavy lick laden lead passages, are just the ticket to a great drive or a great night out. You can almost hear the band talking about turning it up to 11 (wink) before track 3 ("With A Woman") takes the stage. Again there's that fantastic 70s-inspired kick and guitar build up into fat riffage, before the song drops out into a bass-driven verse. It's largely a middle of the road rock song but for lovers of the style it's bound to get repeat plays and have you singing along (not to mention another load of fantastic lead and piercing falsetto).
Track 4 "Keep Me Hangin On" sounds like the love child of Queen, T-Rex and The Rasmus. While that might sound like something horrendous to some, it's a fun little love tune sung to big, happy rock sounds. Blues standards make up the lead section and it's a super catchy track. "Living Each Day Blind" makes up the expected acoustic intro and can best be described as an 80s inspired power ballad. The use of keys under big drums, distorted guitars and fat bass is a welcome difference and rounds the sound of the track nicely. One of Hawkins' best screams features in this song. The obvious attempt to inject depth of meaning into the album on this track is somewhat lost despite the injection of train sounds at the end of the song.
"Everybody Have A Good Time" brings the mood back up in both music and theme; the fusion of KISS, Queen and AC/DC in this track rather obvious, but the band nonetheless make it their own. It's a track to raise or glass or seven to and jump around the dance floor and no mistake. "She Just A Girl Eddie" pushes the tempo envelope a little further, fuelled with raucous rock energy and the will waste no time in thrashing out more fun melodies. Starting out with a major signature that might have been written by The Who's Pete Townshend, the song sharply jumps into straight out rock. There's no meaning lost on this track as Hawkins belts out "I Want to Make Love to You" with another shower of lead before heading into a very big ending.
Tracks "Forbidden Love" and "Concrete" comprise the first hint of filler for this record, and for me warrant the least repeat play time. "Forbidden Love" felt too much like that big rock track featuring some extra instrumentation but little else that differs from the rest of the album, while "Concrete" showed its influences a little too much in comparison to other tracks. In its defence, "Concrete" also featured a well-crafted breakdown, flawless 'dog bark' licks and some powerful drum fills not found in other, potentially catchier early tracks. With that said, each track was an entertaining an enjoyable power rock piece in its own right, featuring all the same elements (big drums, fat bass, scorching lead riffage and insane falsetto).
A big surprise on this album was a cover of Radiohead's "Street Spirit (Fade Out)", a transposition I expected to be woeful when reading the liner notes. However this track rocked so hard I had trouble staying in my seat. Iron Maiden would have been very proud, and so too many hardcore guitarists of today. Showing off the extent of their musicianship by dropping out to a very close rendition of the original guitar sound before returning to a supersonic stadium rock finish, The Darkness not only made "Street Spirit" their own, but managed a fantastic tribute at the same time. Had some of the earlier tracks been less enjoyable, this song would definitely have been the standout of the record.
The album finishes with "Love Is Not The Answer", a slightly lighter song that carries the same distinct flavour of every other track on the entire "Hot Cakes" recording. It's a fitting end to an album that pulls no punches, never gets too deep, and doesn't pretend to be what it isn't. With "Hot Cakes", I was pleasantly surprised and went back for more than a few listens. Every song features a big rock sound, catchy hooks and sing-along chorus lines. And while just about every song also features a somewhat predictable lead section, falsetto and glam harmonies, as well as many glam standards. The musicianship is flawless and the only critique any rock fan could make would be the ongoing use of multiple cliches. Having said that, The Darkness are famous for using cliches in an original and highly entertaining manner. Much as you might want to cringe just a little, it's almost impossible not to put on your tightest pants, grab some friends and starting rocking out.
"Hot Cakes" is, in short, eleven hot tracks you could turn up to eleven and be well satisfied.
Categories: Album Reviews