| | |
| --- | --- |
| Posted on September 2, 2013 at 7:55 PM | |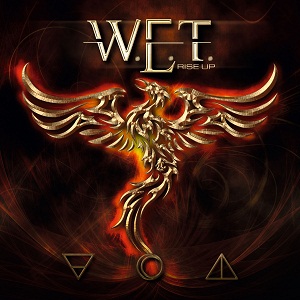 W.E.T. - Rise Up
Written by The Rock Man
In 2009 one of the albums of the year came from a band called W.E.T. This was a collaboration between legendary vocalist Jeff Scott Soto (Solo/Yngwie Malmsteen/Talisman), lead guitarist Robert Sall (Work of Art) and bassist/keyboardist Erik Martensson (Eclipse). The band name itself is an acronym for the three bands they play in, Work of Art/Eclipse/Talisman – W.E.T. At one point Soto described the project as a glimpse at what a Journey album would have sounded like if he recorded with the band, and indeed it did. Any time you put a group of talented musicians from various bands together to form a super group expectations are naturally high, when W.E.T. delivered their debut album in November 09 it didn't disappoint.
Since then each of the boys have been busy with their respective careers, but 2013 see the band come together to release their second album titled Rise Up. This time around the band has expanded its ranks to include Robban Back on drums and Magnus Henriksson (Eclipse) on guitar, and the result is simply A-Class. I have been a fan of Jeff Scott Soto forever, in my opinion he is one of the premier hard rock vocalists in the business and this album does nothing to change my mind, his delivery is silky smooth, passionate and powerful.
Rise Up is a twelve track album that kicks off with the very radio friendly Walk Away, again, we can reference Journey of recent years here, the difference is the guitars are slightly heavier in tone. The next track is Learn To Live Again, which is the first single from the album and you can see why, great keyboard melodies, solid grooves and a very catchy chorus. From here we move to the title track, Rise Up, now I think the title track of any album should come out swinging and knock you on your butt, and this track does exactly that. Love Heals is your standard garden variety power ballad as is Still Believe In Us, however the albums strength lays in tracks such as What You Want, The Moment, On The Run and Shot which are all solid, punchy rockers.
What W.E.T. do very well is remind us what good music is about, it's simple escapism. They are not trying to redefine the genre, but simply play to their strengths which include good song writing, solid musicianship and a simplistic approach. The signs are clear that with each album this outfit is growing in strength and I certainly cannot wait to see what future releases this classy band has in store for us.
Categories: Album Reviews