| | |
| --- | --- |
| Posted on September 2, 2013 at 7:50 PM | |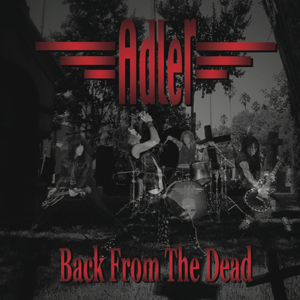 Adler – Back From The Dead
Written by Dave Smiles
There are a few bands that become household names. Without question Guns N Roses is one of those bands, and for both the right and the wrong reasons. This band ruled the world in the early nineties but before taking the step from stars to mega stardom, drummer Steven Adler was fired in 1990 due to his drug addiction. Anyone familiar with the lives of debauchery the original five members of Guns N Roses lived will appreciate the irony of this. It's an indication of just how destructive his problems were.
After a decade lost in a drug haze, Steven formed Adler's Appetite which gave him a new focus on music and a second chance at his career. When the band dissolved, a new band formed in 2011, simply going by the name Adler.
The opening title track from their debut album, Back from The Dead kicks off bluesy and haunting, with musings from a singer seasoned in rock n roll, before kicking into full force with a pace noticeably set by the drummer's enthusiasm. I'll go as far as to say Adler's skills on the skins have gotten better since Appetite For Destruction.
Own Worst Enemy, Another Version of the Truth, and The One You Hated are ripe with reflections of the rock n roll life, the mistakes and the triumphs. Lonny Paul, Adler's bandmate from Adler's Appetite days, brings some classic rock inspired riffs to the song writing. His solos never outstay their welcome and, to use an old cliché, are the icing on the cake.
Jacob Bunton's vocals seem to take the best from the eighties and nineties. At times similar to Axl Rose, at other times more like Layne Stanley. His singing is impassioned and bad-ass, everything a rock front man needs to be. He can also carry a melody as shown in the intro the The One That You Hated.
John 5's contribution to Good To Be Bad is instantly recognisable and doesn't get too 'processed' to take away from the overall sweat drenched blues rock. Just Don't Ask, features some just as recognisable playing from Steven's old band mate, Slash. It also contains some great lyrics that just wouldn't be possible if the bad times hadn't been there and been beaten.
Waterfall brings the power ballads of the eighties to this album. Dead Wrong gives former L.A Guns bassist, Johnny Martin a chance to show his skills.
The subject matter of Habit would come as no surprise to fans, though it takes Steven's problems to the finality that he's managed to avoid. This track is no doubt personal and therapeutic for him. With what his achieved these past few years being clean and sober, it's disappointing to hear he's recently checked himself into rehab, delaying a scheduled tour to support this album. With an album this strong let's hope he can get himself healthy. Opportunities like this usually don't come twice. It would be a tragic waste for him to mess it up again.
Categories: Album Reviews