| | |
| --- | --- |
| Posted on September 2, 2013 at 1:05 AM | |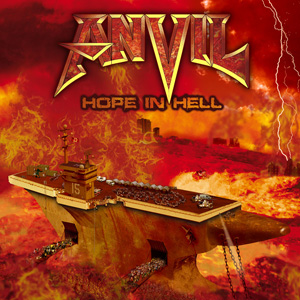 Anvil - Hope In Hell
Written by Dave Smiles
It's hard not to like Anvil. Their youthful passion for music and perseverance against innumerable setbacks is nothing short of inspiring. After receiving global attention in 2008 with the documentary The Story of Anvil (If you haven't seen it I'd urge you to check it out) these Canadian heavy metal pioneers have been happily riding their long overdue success, appearing at Download Festival and supporting bands they inspired.
Anvil was formed in 1978 by school friends Steve 'Lips' Kudlow (guitar) and Robb Reiner (drums). After achieving positive response from fans and critics for early albums released through Attic Records - Metal on Metal and Forged in Fire, things took an unexpected downfall. In 1983 Aerosmith manager David Krebs promised to get them signed to a major label, and convinced Attic to release them from their contract. His promises went unfulfilled and Anvil were left to pick up the pieces, resulting in a four year hiatus until their next album. With the 1987 release of Strength of Steel they found the only place that still had interest was Germany. Throughout the rest of the eighties, the nineties and the early 2000s, Anvil maintained a moderate career, seeking money to finance albums and tours during holidays from their day jobs. Never giving up on their dream of one day making it.
While other bands took the style Anvil created and become superstars and household names, Anvil faded into obscurity.
Anvil have never been short on passion and now they've grown their audience significantly, it's only gotten stronger. Regardless of how much you love playing music, knowing you have people willing to listen goes a long way towards super-charging your enthusiasm.
With Hope in Hell, the band's fifteenth album, they stick to the tried and tested formula of crunching, melodic riffs and sing along choruses that made Metal on Metal such a great album. There's no political statements, or social commentary, there's no ballads or flashy solos, just a bunch of rock songs intended to get the crowd going, or to fuel a Friday night party.
At times Kudlow's singing brings Lemmy Kilmister to mind, as does the guitar riffing. You can see why the metal legend once asked Kudlow to join Motorhead (he turned it down.)
With songs like Eat Your Words, Pay The Toll and Badass Rock N Roll, you'll get the pulse pounding, old school metal best enjoyed with a cold beer. Hope in Hell and Time Shows No Mercy shows that Anvil passion that was evident throughout the documentary, guaranteed to get you inspired to grab life by the throat and give it a squeeze. While Flying and Through With You may be a little juvenile in overall feel, its best to remember it's only rock n roll, an escape from the day to day drudgery and not meant to be taken too seriously.
Categories: Album Reviews