| | |
| --- | --- |
| Posted on September 1, 2013 at 8:20 PM | |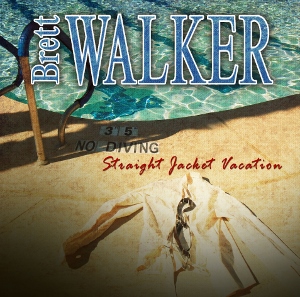 Brett Walker – Straight Jacket Vacation
Written by Juliano Mallon
The untimely passing of Brett Walker was one of the most tragic news for AOR enthusiasts in 2013, and what makes it all even more tragic is the fact that there's a new album on the way. Record label AOR Heaven kept the original release date of August 30th and that is when "Straight Jacket Vacation" will hit stores.
This album brings back the sound Walker introduced us to back in '94 with the classic "Nevertheless", and you immediately feel it when listenting to the thrilling rockers "Reaching For The Stars", "Better Than Goodbye" (originally recorded by Matti Alfonzetti in 2000), "More Than I" and "Unlucky At Love".
The poignant "What About You?", "Good Enough" and "Someday I'm Gonna Be Your Famous" are heart-thrilling ballads that keep guitars in evidence, but in a more delicate way, creating intimate moments withing a rock centered album tracklist.
Still, "I'll Bet It Hurts" and "So Happy" are beautiful mid-pacers that show Walker's versatility not only as a performer, but also as a songwriter. But the biggest surprise of this album is Walker's rendition of "Waiting For Love", a classic hit for Alias in 1990 and written by Walker and Jeff Paris. This versions sounds a lot like the original recording, but it's wonderful having the opportunity of listening Brett Walker performing it. An absolute bliss...
Summing up, dearest ones, "Straight Jacket Vacation" is the only Brett Walker album I dare to compare to "Nevertheless". With a superb collection of great songs and impecable performances, this posthumous album gives closure to a brief – but brilliant – career in a high note. It's too bad we won't be able to listen whatever Brett Walker would Grace us in the future, but his legacy Will live on forever as a remidner of the great artist he was.
"Straight Jacket Vacation" is a mandatory purchase.
Categories: Album Reviews