| | |
| --- | --- |
| Posted on September 1, 2013 at 8:20 PM | |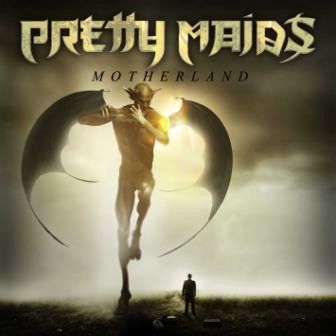 Pretty Maids - Motherland
Written by Dave Smiles
I've never heard of Pretty Maids until discovering this album so when I gave it a listen I thought they were an awesome new band. Such youthful energy, inspired energetic playing and a modern production. I wanted to know more about this new band so I did some research. Imagine my surprise when I discovered they formed in 1981! Turns out they've sold millions of albums but have only achieved mainstream success in Japan for a brief period in the early 90s. I listened to some of the tracks off their 1987 album Future World and realised just how much they've grown over their three decade career. It's going to be fun listening to the ten albums they've released in between to hear how the band's developed.
Singer Ronnie Atkins has such a powerful raspy rock voice, comparing it to his performances on Future World it's only gotten better with age. Their use of heavily melodic guitar rock blends well with the strong use of keyboards that create the underlying mood. They take a lot from the pages of classic rock and fuse a modern aggression into the mix. Hook laden choruses, memorable riffs and melodies and an overall sense that this is a band that writes and plays together as a unit.
The big hair and songs about rock warriors have been replaced by songs of social observations, global concerns and corruption - Mother Of All Lies, To Fool A Nation and Who What Where When Why. The Iceman takes you on a trip into the mind of a deranged and unremorseful killer, while Hooligan observes the insanity from a distance.
The stand out track on the album, Why So Serious, continues the life of the outsider theme, this time from someone who's proud to be what he is. There's some powerful, honest singing on display here and some great song writing too. – The guitar tone and melody being nothing short of haunting.
In perfect contrast to the heavy rock songs, the track Infinity reflects the other side of what Pretty Maids are capable of. This is what rock has been missing for far too long - a true power-ballad. This would have been an MTV classic in the late 80s. Other slower, tender tracks on the album are Sad To See You Suffer and Bullet For You. The former starting out with taking a page out of U2's book before adding the Pretty Maids' flavour to the mix.
Motherland achieves various moods ranging from the deranged and psychotic to the tender and caring finely crafted together as only seasoned rock veterans can do. Apart from Ronnie Atkins the only remaining original member is guitarist Ken Hammer. Allan Tschicaia on drums and Morten Sandager on keyboards are both a decade younger than Atkin's and Hammer, breathing some youthful energy into the band, and perhaps re-inspiring Atkins and Hammer into achieving all they're capable of. Maybe Pretty Maids will achieve that breakthrough success that's eluded them throughout their career.
Categories: Album Reviews