| | |
| --- | --- |
| Posted on August 6, 2013 at 1:30 AM | |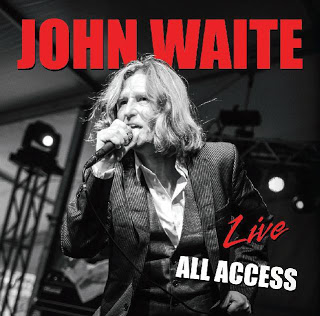 John Waite – Live: All Access
Written by Elle Haus
Former Bad English and The Babys frontman John Waite has released an eight track live album, self-produced from his own "No Brakes?" label and available on CD exclusively at his shows and digitally online from iTunes.
Waite is joined by Keri Kelli (Alice Cooper, Jani Lane, Stephen Pearcy) on guitars, Rhondo on drums and Tim Hogan on bass. The band delivers tight performances all round and Waite's crystal clear, powerful vocals are stunning.
Live: All Access is not your average live album; this is truly live. The recordings are raw, there are no overdubs and the end result is a true, live sound. You can listen along; eyes closed, and pretend you are at the actual concert.
The album kicks off with the energetic Change from Waite's debut solo album, Ignition, from way back in 1982. Fans are also treated to Mr. Wonderful, another solid performance from Waite and the boys.  In Dreams from the True Romance Soundtrack is a bluesy ballad, and a surprise (and nice) addition is The Babys' track Head First which rocks the house.
Waite's 2011 release, Rough & Tumble (for which he teamed up with Matchbox 20 lead guitarist and songwriter Kyle Cook), makes three appearances on this album. The gritty Better Off Gone is followed by the beautiful, classic John Waite ballad, If You Ever Get Lonely, and the lively and rocking Evil takes its place as the penultimate track on this album.
1984's release No Brakes only features once, but it is with the killer closing track Saturday Night which rocks so hard you can't help but be left wanting more.
Categories: Album Reviews