| | |
| --- | --- |
| Posted on July 30, 2013 at 10:25 PM | |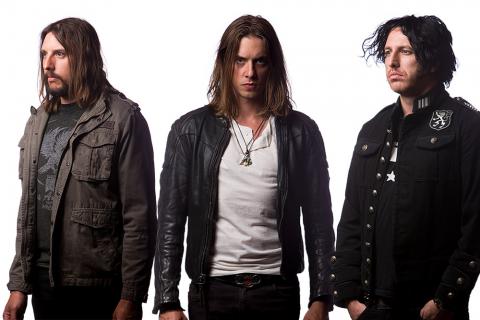 Tracer is a three-piece stoner rock outfit from Adelaide, South Australia. They're pulling massive crowds at sweaty, beer-soaked rock gigs in the UK and Europe, but are still somewhat unknown outside of the city of churches. To put things right the trio are hitting the desert roads of their homeland this month for a nationwide tour.
Ben Hope caught up with Mike Brown (Lead guitar, vocals).
Let's start with some history.
Tracer is from Adelaide, South Australia. The band started with me and my brother playing blues songs in a band called the Brown Brothers. We ripped it up around Australia for a while until we got into rock music in high school and started getting a bit heavier. We also started jamming with our friend and drummer Dre at that stage and we decided that the dramatic change in style dictated a name change. Dre had been a close friend throughout high school and apart from his love of Metallica and my indifference to them, we had a lot of the same musical influences. Plus we really wanted to play loud music together.
Hence, Tracer was born! My brother left the band last year and now we have another old mate and ripper bass player Jett laying down the thunder! Jett used to play in another Adelaide band called Mayfield who were touring quite a bit in Europe and the US. He was actually one of the first people we talked to when we wanted to start doing the same thing about six years ago. It's kind of ironic that he's in the band now.
Tracer emerged from the ashes of blues band The Brown Brothers? What's the story behind the transition to stoner rock?
I think we kind of grew out of blues music. I know that I felt I couldn't go much further with blues and I started taking jazz lessons to expand on what I'd been doing in the blues realm for the last seven or eight years. When I got to high school my friends weren't listening to Stevie Ray Vaughan or Albert King. They were listening to Tool, Audioslave, Foo Fighters, Pearl Jam and Rage Against The Machine. I remember that music spoke to me immediately. Maybe it was the teenage angst that I had or just that it sounded so full on! I'd been used to people playing in blues clubs, where if you went off like that people were blown away.
Then I hear a band like Audioslave and it's full on all the time! They were doing things to their guitars and amps that I'd only dreamt of. Turning everything up loud and screaming and pelting the kit. It was awesome. I got drawn to Kyuss a while after this first awakening and I loved the sonics of it. I was always a fan of bottom heavy, fat sounding tones and Kyuss, with their down-tuned guitars and bass amps just called to me. I think the rolling, bluesy feel that they had made it easier for me to get into it. It was just like what we were doing in the blues band, but cranked and oozing with booze and sex.
Who are your big influences?
That's a long, long list! I tend to be influenced by everything and anything. I love finding a new band or even hearing a good pop song influences my song writing. If I had to pick my personal favourite three, I would say Queens Of The Stone Age, Soundgarden and Stevie Ray Vaughan. I've always loved the quirkiness of QOTSA and the great guitar tone Homme has in the first four albums. Soundgarden has managed to create a sound that is so thick and to me is the epitomy of a rock band. Cornell's vocals and lyrics are just out of this world and Superunkown is an all time classic. Vaughan is and probably always will be my favourite guitarist. He never stutters, never falters in his confidence and his tone is magnificent. I still think that if music could be hung up in an art museum, his totally improvised instrumental version of Little Wing should be in the Louvre.
Is there room for any blues in your sound these days? Who does the writing and what's the process for you?
Yeah sure, I don't think it will ever leave me. It's in every guitar solo I do and I never forgot the most important lesson I learnt from playing blues; whatever it is, give it as much soul as you can. That's why good music can make you feel, because it's got feeling in it. I think sonically we've moved away from the blues but there are still some elements in there.
We try not to have too much of a process when we write because we don't want the songs to become sterile. Most of the writing for the new album was done by me, but Dre was always part of the writing process at some stage. We like to jam on ideas and see where things go musically before we start to add vocal lines. I'll write all of the lyrics and melodies and then we'll collaborate ideas on how to improve the song in a sort of pre-production jam. We spend a lot of time here cutting out parts that might fall flat or making a bigger deal of the hook or me trying to convince the guys that I need to have another solo haha!
You have had a lot of success in Europe, particularly a headline tour of UK and Europe last year. You guys have a lot of fans over there, especially Germany?
The UK is by far our best market. We can comfortably pack-out tours thanks to our great team over there. We have been lucky enough to get a lot of radio play and features in great mags, which has boosted our profile exponentially since we started touring. We do a lot of touring in mainland Europe too. We've been trying to crack Germany, Holland and France especially and it's noticeably picking up over there. We can't wait to get back over there in October to build it even more.
What has the reception been like?
Great! I think there is a little bit more interest in us in Europe because we are Aussie's - but there's no doubt that rock music is well and truly alive over there and they eat us up. We have a real broad audience too, from young kids to their parents. All of them rocking out and screaming their guts out. I get the feeling that there aren't as many bands out there celebrating this music and their own musicianship. Hopefully we can bring that back!
What about in Australia?
Well we've only played a handful of shows in the last two years but the reception is great. The latest shows we've been doing with the Angels have been awesome. It's great to play to a room full of people that just want to rock out. We have a great following in our hometown but we can't wait to get out on the road and see what other capital cities think of what we do.
Any stories from the road?
We did share a tour with Black Label Society in Europe which was quite an experience. On our first day on that tour we were totally intimidated by their road crew. They're all these huge biker looking dudes and they made sure we knew who was in charge. The band themselves were really great though and we actually struck up a good friendship with Zakk Wylde. He talked to us for quite a bit on the do's and don't's of the music industry and even helped set up some endorsements. He was set up to play on our newest album too but unfortunately that didn't end up happening.
You're about to embark on a nationwide tour, looking forward to it? What can fans expect?
We haven't done too many shows here. I think in last two years we've only played four! We can't wait to get out on the road here though. It's always tough playing these packed out shows overseas but not being able to back it up in your own country. Hopefully this tour gives us that opportunity. What can fans expect? A loud, sweaty and beer soaked rock show, just like they used to make 'em!
You will be playing tracks from both albums? Any new stuff in the works?
We like playing songs from all our albums but there'll mostly be songs off El Pistolero at these shows.
Yeah we've got some new songs happening. We always write riffs and record them onto our phones our recording devices for later. Sometimes songs just pop out. We've been concentrating more on getting the live set down for these shows but I think once this tour is over we'll get stuck into writing some new gear.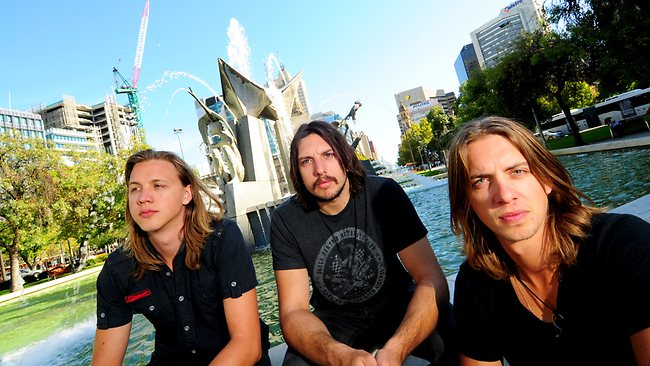 Categories: Interviews