| | |
| --- | --- |
| Posted on July 29, 2013 at 1:25 AM | |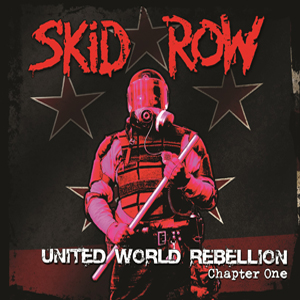 Skid Row - United World Rebellion: Chapter One
Written by Luke Tolhurst
Hair metal has seen somewhat of a resurgence in popularity of late with bands like Steel Panther, Van Halen and Guns and Roses recently packing out venues across the country. Skid Row is another popular hair band that has visited Australia on a number of occasions, always playing to a devoted fan base. It was in February of this year that the band announced that they had signed with legendary record label Megaforce Records, to release a series of EPs over the next year or two; the first of which is United World Rebellion: Chapter One.
After the lacklustre reception to their previous two albums Thickskin and Revolutions per Minute, the group make a stunning return to form with their latest effort. I haven't listened to the band at all since ex-vocalist Sebastian Bach was fired in the mid-nineties so I wasn't really sure what to expect but what I got was just over twenty minutes of surprisingly enjoyable rock/hair metal.
First track and single 'Kings of Demolition' is a fast-paced blistering assault of a rock track and sets the tone effectively for what's to follow. It grabs you by the scruff of the neck and doesn't let go. Singer Johnny Solinger does a more than capable job upfront, backed up nicely by the guitars of 'Snake' Sabo and Scotti Hill with the excellent bass of Rachel Bolan and the thundering drums of Rob Hammersmith. It is a song full of catchy hooks, a sing-a-long chorus and an awesome guitar solo.
'Let's Go' is a continuation of the rock and roll intensity and is another stellar balls-to-the-wall, car-themed rock anthem that you start nodding your head and tapping your foot along to before you even realise.
The band then have a well-deserved breather on the lighter-raising, very GnR hair ballad 'This is Killing Me'. Mr Solinger pulls out his best Bon Jovi impression on this one, it's almost hard to tell the difference at times. It has everything you'd expect from a killer power ballad and is bound to get a few arms waving in the audience at their next show.
Then, just in case they hadn't mixed it up enough already, we get the loud and catchy 'Get Up' which is a song very much in the style of Alice In Chains at times and is definitely the heaviest song on the EP.
If this EP gives us any indication of the rock that Skid Row are known and famous for, future releases and world tours are looking very promising. They have really announced themselves to the rock world with the excellent first chapter of United World Rebellion, giving their fans just 5 tracks for now but a very pleasing return to form and the promise of more to come.
Categories: Album Reviews