| | |
| --- | --- |
| Posted on July 29, 2013 at 1:20 AM | |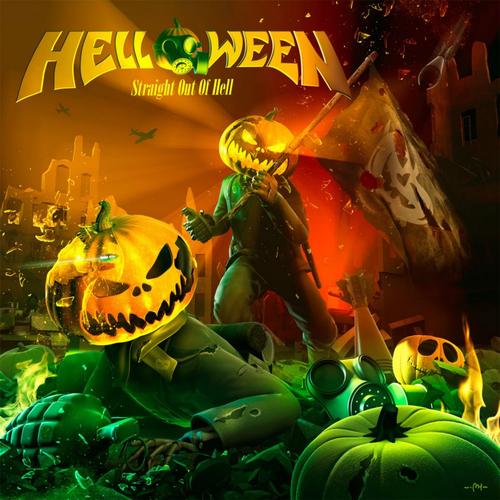 Helloween – Straight Out Of Hell
Written by Dave Smiles
With thirteen previous albums, three EPs, three live albums, four videos/DVDs, and multiple line-up changes; hardworking power metal band, Helloween, are back ready to embrace everything that makes them who they are and come Straight Out Of Hell.
The name Helloween is synonymous with classic melodic riffs and harmonised solos, the creators of power metal. Their career has hit some bumps over the years, but what has remained true is the optimistic feel of the majority of their songs. Setting themselves apart from many of their peers, Helloween lyrics often involve finding the enjoyment of life and reaching your full potential. Recently they ventured into darker territory, but the enjoyment of life, or that tongue-in-cheek evil grin has always shone through.
Straight Out Of Hell is more in the light of Master of Rings that the shade of The Dark Ride. The band sound energised and like they're still having fun. Singer Andi Deris's voice has lost none of its range and the recent additions of Sasha Gerstner and Dani Loble on guitar and drums respectively continue to bring a fresh energy to the band.
The epic opening track, Nabatea, contains a Middle Eastern haunting vibe and takes some classic Helloween vocal melodies from Keeper of the Seven Keys and Halloween and adapts them for this outing. This is interesting since there are only two remaining members in the band from the era when these tracks were recorded, although it is interesting to note that with the addition of Gerstner and Loble, both songs have reappeared in live shows in recent years. Hold Me In Your Arms is a tender ballad in the style of In The Middle Of A Heartbeat. Themes of love are again explored, this time with the addition of rejection, with Make Fire Catch The Fly in a more bombastic approach. Religious and evolutionary themes are explored in Church Breaks Down and personal faith is commended in Far From The Stars. Wanna Be God is dedicated to the late Freddie Mercury of Queen, it does bring We Will Rock You to mind. If anyone is hoping for a track like Perfect Gentleman will be amused with the song A**hole.
There's nothing new on offer here and that's okay. Helloween have no need to venture outside of the box. They did that once with 1993's Chameleon to disastrous results. What they do they do well. If it aint broke, don't fix it.
Categories: Album Reviews