| | |
| --- | --- |
| Posted on July 21, 2013 at 11:10 PM | |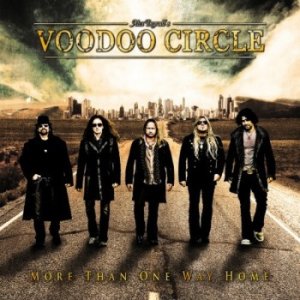 Voodoo Circle – More Than One Way Home
Written by The Rock Man
When I first was told about Voodoo Circle, my first reaction was Voodoo who? So off I went to research them to find out what the deal was. Voodoo Circle is the brainchild of Alex Beyrodt, guitarist with Silent Force, Primal Fear and Sinner. In 2008 he put together a collection of musicians which included David Readman (Pink Cream 69) on vocals, Mat Sinner (Primal Fear) on bass, Jimmy Kresic on keyboards, Mel Gaynor on drums and himself on guitar. The purpose of this band was for Beyrodt to explore his early influences such as Deep Purple, Rainbow, Yngwie Malmsteen and others. So in 2008 the band released their first album titled Alex Beyrodt's Voodoo Circle.
In 2009 Mel Gaynor left the band and was replaced by Markus Kullman on drums, the band would then release their next album Broken Heart Syndrome in 2011. 2013 sees the band return with a new collection of tunes on More Than One Way Home. So not really knowing who I was about to listen to or what I was about to listen to, I popped this CD on, pressed play and waited for the first track to start and then …. Bang!
This amazing guitar intro, ripped right out of the 1980s came out off my speakers and smacked me across the head, but then came the one/two punch of David Readman's vocals which I swear must have been channelling David Coverdale and this was on the first track Graveyard City. As I was about to discover, this track along with many others would dip their hat in salute to Whitesnake circa 1987. The next track is Tears In The Rain, which has a Crying In The Rain feel to it, followed by the heart pumping Heart Of Babylon, check out the vocal high notes on this song. Cry For Love and The Ghost In Your Heart have a Deep Purple feel about them, while Alissa is the acoustic laden ballad. Bane Of My Existence, The Killer In You, and The Saint And The Sinner keep the pace racing, again with that Whitesnake flavour, closing off the record is the Yngwie Malmsteen influenced Open Your Eyes.
I am a massive Whitesnake fan, I am also a fan of Yngwie Malmsteen, and the albums that both artist released during the 1980s are pure hard rock/metal gold in my eyes. Listening to Voodoo Circle on More Than One Way Home took me back to those glory days. It reminded me how great this music was and still can be today. What Voodoo Circle have done here is tapped into a tried and true formula that works, there is no reinventing the wheel here, just great song writing, melody, edgy guitar and passion for the genre. Well done Voodoo Circle.
Categories: Album Reviews