| | |
| --- | --- |
| Posted on July 21, 2013 at 11:05 PM | |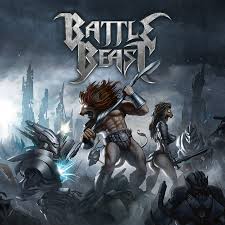 Battle Beast – Self Titled
Written by Dave Smiles
Fans already familiar with this six piece band may have been saddened to learn about the departure of vocalist, Nitte Valo; who left to focus on her family. Her replacement Noora Louhimo brings one of the most powerful voices in metal to the band. She fits perfectly into their style and will no doubt prove to be the key element to take them to a new level.
If, Canadian band, Kobra and the Lotus are compared to Iron Maiden, then Battle Beast would be compared to Judas Priest. Check out Louhimo's opening scream in the track, Fight, Kill, Die, and then compare it to Halford's opening wail at the start of the classic Priest song, Ram It Down. You'd swear it had been sampled.
Forming in 2008 from Helsinki Finland's, Battle Beast take the 'no nonsense' approach to their song writing. Their music contain everything that was loved about eighties metal - powerful riffs, memorable choruses, screaming vocals and shredding solos – and add a certain something that may see metal well into the future. The presence of keyboards, while nothing new to Power, Prog and Symphony Metal bands, seems to create a whole new sonic texture to a familiar form of metal. The interplay between the two guitarist, Anton Kabanen and Juuso Soinio, with keyboard player, Janne Björkroth is dexterous and thought-out - duelling solos that are both complementing and challenging to each member without overstaying their welcome.
The production of the album is polished, recorded and mixed by the band themselves, and lets each instrument have a chance to breathe while maintaining a focus on Louhimo's vocals. The guitar tone on the solos is unique form this melodic shredding. The skill here is in having control of the guitar and not letting the need for many notes dictate what is to be played. The sound of the drums is also of note. Pyry Vikki tight playing provides the backdrop to the punchy chorus and verses, the rhythm section completed by bassist Eero Sipilä.
With two killer opening tracks, Let It Roar and Out Of Control, guaranteed to get you fired up, the third track, Out On The Streets, hits you with a unique style. It would be hard to pick even a few stand out tracks, it's more of a stand out album. There are various tempos which allows them to showcase their abilities.
With already having the credits to their name of winning Wacken Open Air Metal Battle 2008 and Finland's Radio Rock Starb, as well as tours with fellow Finnish metal bands Nightwish and Sonata Arctica the future certainly looks bright for this band. I think we can expect big things from Battle Beast; especially with the quality of bands coming out of Finland as of late.
Categories: Album Reviews