| | |
| --- | --- |
| Posted on July 21, 2013 at 10:55 PM | |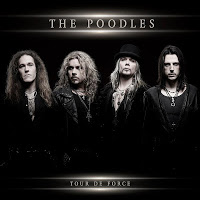 The Poodles – Tour De Force
Written by The Rock Man
I must admit that when this CD slid across my desk I really had no idea what to expect. I had heard of The Poodles, a four piece band from Sweden, but had never heard any of their albums. The band was formed in 2006 and entered the Melodifestivalen of that year. The Melodifestivalen is Sweden's annual music competition that determines which acts will represent the country in the Eurovision Song Contest. On this occasion The Poodles would finish in fourth place, however this was enough to attract the attention of German record label AFM and in May of 2006 the band released their first album Metal Will Stand Tall.
The band, that features Jakob Samuel on vocals, Christian Lundqvist on drums, Pontus Egberg on bass and Henrik Bergqvist would go on to release Sweet Trade (2007), Clash Of The Elements (2009) and Performocracy (2011). In 2013 the band unleash their next audio assault, appropriately titled Tour De Force. This is the band's fifth album and is a firecracker of a listen.
The album kicks off with Misery Loves Company which has a killer opening riff and is a high energy track. Up next is Shut Up! with its very catchy and commercial sounding chorus, this song is a very early 1990s style track, Viva Democracy, Going Down, Kings & Fools and 40 Days And 40 Nights have some serious attitude that can more than match it with their American counterparts. Leaving The Past To Pass is a beautifully sung ballad with violin undertones that blend nicely with Henrik Bergqvist's guitar playing. Miracle sounds very much like Europe, of recent years, while Godspell, Now Is The Time and Only Just Begun bring home the album very strongly.
Everything on this record just works - the singing, the musicianship, the song writing and the production are all very well balanced and mixed to make a great album. After listening to Tour De Force I am now very keen to check out their back catalogue. I guess I never took them as a serious band because of the band name, The Poodles, it doesn't sound very rock and roll, does it? Well boys and girls that was my mistake - a mistake I will never make again.
Categories: Album Reviews