| | |
| --- | --- |
| Posted on July 15, 2013 at 1:35 AM | |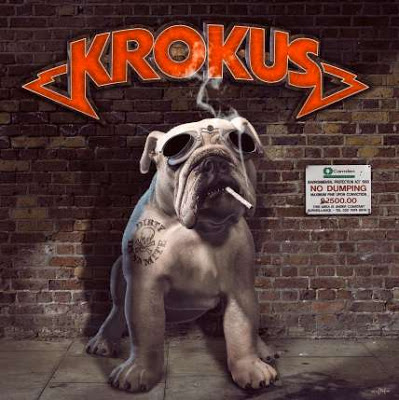 Krokus - Dirty Dynamite
Written by Dave Smiles
Krokus have been around since 1975, making them older than I am, and while I've been familiar with the name I've never actually heard any of their music until I gave their newest album, Dirty Dynamite a listen. My first thought upon hearing the opening track Halleluja Rock N Roll was, 'Is this an unreleased Bon Scott era AC / DC track?' Singer Marc Storace sounds almost identical to the classic rock icon. Not to mention the song structures take every page out of AC / DC's book, right down to Go Baby Go seeming very close to Dirty Deeds.
With song titles like Let The Good Times Roll, Bailout Blues and Hardrocking Man, it should come as no shock that these guys are dishing out basic blues based rock n roll. What sets them apart from just being a bad imitation is the honesty that is evident within their playing and singing. It's evident that they couldn't be doing anything else and they love what they're doing.
On tracks like Yellow Mary and Better Than Sex, they take a slight step away from the established AC / DC formula and to their benefit these tracks stand out more for doing so.
A cover of The Beatles' classic track Help! is included on the album, though it's takes more from the John Farnhan cover in the 1980s, than from the original. I can't help thinking these guys from Switzerland are seeking to be honorary Australians. If that's the case I think we'd be honoured to have these old school rockers.
While Krokus had achieved some success during the eighties, they never achieved superstardom. Perhaps that's not a bad thing, they've maintained a career that's lasted almost forty years, creating music they're certainly passionate about. In regards to the AC / DC comparisons there's an old saying, 'imitation is the best form of flattery.'
If you're after a dose of old school rock then this album could be just what you're after. Tight rhythms, killer guitar tones, party lyrics about chicks and hard living. While AC/DC may have done it better, it's been a long time since they've done it in quite this way.
Categories: Album Reviews