| | |
| --- | --- |
| Posted on July 15, 2013 at 1:25 AM | |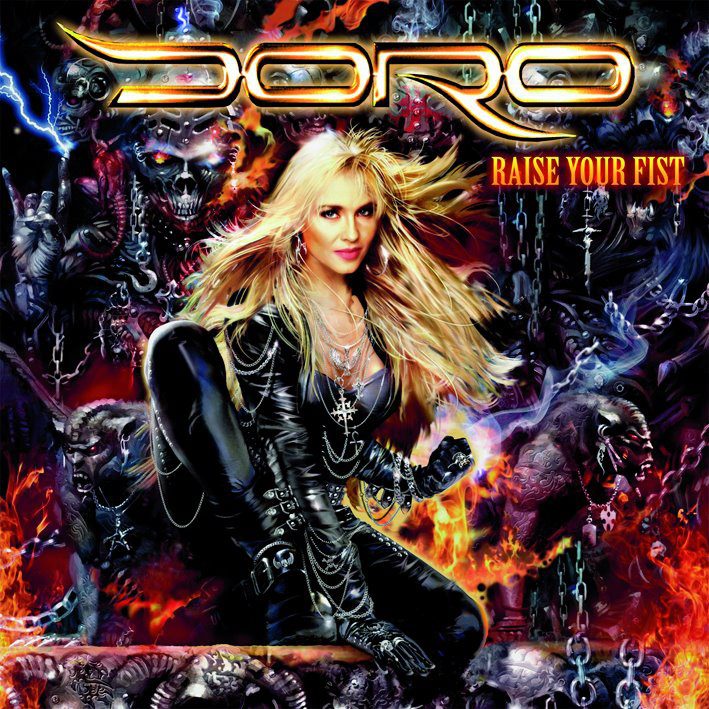 Doro - Raise Your Fist
Written by The Rock Man
For close to thirty years Doro Pesch has held the title of The Metal Queen. Back in 1984 the blonde beauty from Dusseldorf, Germany burst onto the metal scene with her band Warlock and their debut album Burning The Witches. From there the band would record three more studio albums, Hellbound (1985), True As Steel (1986) and Triumph And Agony (1987), the latter two considered classics of that era. Unfortunately in the late 1980s the band would go their separate ways and Doro would begin what would become a long solo career.
Since that time, Doro has been writing and recording music that is true to her heart and while most bands felt the impact of the grunge movement during the 1990s, by experimenting with their sound, Doro stayed the course and flew the flag for metal. Albums such as Force Majeure (1989), Unholy (1990) and Angels Never Die (1993) have become identifiable as the Doro sound.
Her latest offering is an unashamed salute to her Warlock and early solo days. Raise Your Fist is Doro's twelfth solo studio record and is sure to strike a chord with old and new fans alike. Musically, Johnny Dee (drums) and Nick Douglas (bass), who have been long time band members return to once again deliver strong, exhilarating rhythms while new comers Bas Maas (guitar) and Luca Princiotta (guitar/keyboards) provides a freshness to the group.
Raise Your Fist In The Air sets the standard with its fist pumping attitude and takes you back to the mid 1980s followed by Coldhearted Lover with its radio friendly flavour. It Still Hurts is a heavy-ish style ballad featuring her close friend Lemmy from Motorhead. A feature on Doro albums is the traditional track sung in her native German tongue, on this release those tracks are Engel and Freiheit (Human Rights), which later down the track listing is sung in English as Sealed In Blood (Human Rights). Tracks such as Rock Till Death, Grab The Bull (Last Man Standing), Take No Prisoners and Revenge harkens back to her days in Warlock. Little Headbangers is relentless with its full on double bass and aggressive guitar rhythms, while Free My Heart and Hero are two ballads where Doro's vocals shine, the latter a tribute to the late Ronnie James Dio.
When Doro released her Fear No Evil album in 2009, some quarters of the media speculated that Fear No Evil could well be her final studio album and that retirement was on the horizon, Raise Your Fist would certainly indicate that there is a long, long way to go before Doro hangs up the microphone and when the quality of her work is so exceptional, why would she?
Categories: Album Reviews