| | |
| --- | --- |
| Posted on July 11, 2013 at 11:50 PM | |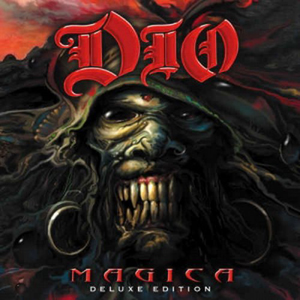 Dio – Magica (Deluxe Edition)
Written by The Rock Man
Until the end of time the debate will rage over the greatest voices in rock and metal. Mercury, Halford, Tate, Dickenson, Coverdale are just a few that get my vote, but the one voice that everyone can agree on is Ronnie James Dio. May 16 2010 will forever be etched in music history as a sad day for the metal community when it lost one of its true champions to stomach cancer. Fortunately Dio left us with some of the most memorable albums in metal history, Holy Diver (1983), The Last In Line (1984) and Sacred Heart (1985).
Another album that was looked upon with much fondness from his loyal fan base is the 2000 release Magica. This album has been rather difficult to get a hold of in recent times but the good folks at Niji Entertainment Group have just re-released the album in a Deluxe Edition.
Try to imagine, if you will, Star Wars got together with Excalibur and the result would be Magica. The story focuses on Eriel, a great and powerful wizard who protects the people of the planet Blessing from an evil invading force know as Evilsyde, led by the terrifying Shadowcast. The enemy launch an assault on Blessing vaporising its people into pure evil energy. It falls upon Eriel and his apprentice Challis to defend the people by reciting spells from the book of Magica. The interesting thing about this story is that it is told from the villain's view point. RJD was always interested in writing material from the anti-perspective and that approach shines on Magica.
From a musical point of view, Magica is classic Dio in sound. Some of his previous albums were seen as venturing into new territory but with the return of Craig Goldby on guitar the 80s sound makes a welcomed return. Bassist Jimmy Bain and drummer Simon Wright also return to the fold and rounding out the group is keyboardist Scott Warren.
It was well know that Magica was a project that Dio was proud of and had plans to expand in the form of Magica II and Magica III, unfortunately he never got the opportunity to record those records before he passed away. On the Deluxe Edition of Magica, disc two features two tracks recorded for the next instalments, Annica and Electra in addition to six live bootleg recordings of tracks from the Magica album and the 18 minute spoken word version of The Magica Story.
I love a good concept record and I love a good Dio album, put them together and you have a very impressive piece of work. And on a personal note, I think it would be brilliant if someone took Dio's vision and adapted it to film, wouldn't that be something?
Categories: Album Reviews