| | |
| --- | --- |
| Posted on July 11, 2013 at 11:40 PM | |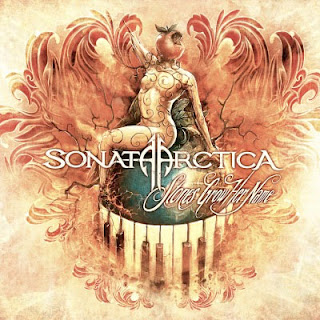 Sontata Arctica – Stones Grow Her Name
Written by Dave Smiles
This time around Sonata Arctica seem happy to get the job done in under five minutes per song. The average run time of tracks from their previous couple of albums was six and a half minutes. Stones Grow Her Name, the seventh album from the Finish progressive - power metal band shows a back to basics approach with a lighter tone to the lyrical themes with topics including growing up, working class struggles and lost love. That doesn't mean topics like lust, greed and impending danger are avoided altogether. Like much of the music on this album, there is as much of a contrast between songs - the aggressive feel of Somewhere Close To You and the tender importance of I Have a Right - as there is within songs - various textures within Wildfire Part 2, Alone In Heaven and Losing My Insanity.
The album is filled with complex interplay between guitar and keyboard creating contrasting and complementing melodies and textures. For the guitar shred fans, Elias Viljanen's dexterous solos take the foreground on tracks like Shitload of Money, Wildfire Parts 2 and 3 and Losing My Insanity. Lyricist and songwriter, Tony Kakko, has a poetic way of writing thought provoking songs which often include clever word play, as in Alone In Heaven.
The first single from the album, I Have A Right covers the importance of being able to grow and learn in a safe, free environment. With its memorable chorus, it could be considered unique in that it's not your average topic for a metal song, or perhaps it's that these themes have never been styled in quite this way.
Cinderblox, the most diverse track on the album, with its main musical motif having been written on a Banjo, could this be the birth of Country Metal? I'd think not, it's just four minutes of good fun. And a very well done merging the twang of a banjo with an upbeat metal riff.
Revisiting a track from the 2004's Reckoning Night album, Wildfire Part 2 – One With The Mountain, kicks off with some old west fiddle, you can feel the town folk dancing and having a good time, but as the fiddle begins to fade you can feel the ominous threat approaching. Wildfire Part 3 – Population 0 is a continuous drive forward. There is as much urgency in the brief moments of rest in between part changes as there is within the playing. These are the two longest tracks on the album, at eight minutes each.
Long term fans of the band will notice another change with the lack of a 'wolf' inspired track. Nevertheless, fans new and old are sure to find something of interest within the diversity offered within this album. The term 'Progressive' must be so liberating for metal musicians who don't want to be stuck in a box for their careers and can safely venture into various musical avenues without being labelled a sell-out.
Categories: Album Reviews