| | |
| --- | --- |
| Posted on July 11, 2013 at 11:30 PM | |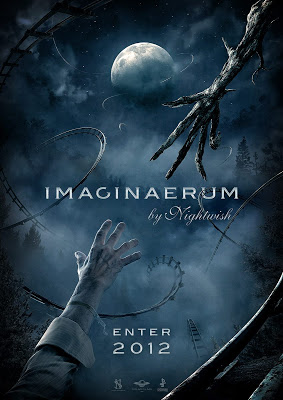 NIGHTWISH - IMAGINAERUM DVD
Written by Dave Smiles
My first viewing of this musical fantasy film caught me off guard as I wasn't quite sure what it would be about. I loved the Nightwish concept album and knew the basic outline of the story, but as far as the plot for the movie went my knowledge was - 'an old dying musician reflects on his childhood… and a bunch of weird stuff will happen.' So it was with much amazement I was taken on a journey into a man's confused thoughts as he relived some of the most important parts of his life.
As a child, Tom Whitman, lived in an orphanage (his father missing in a war) One of his few possessions, his Arabesque (a snow globe containing a dancing figure) is precious to him. He will have this throughout his life. He befriends a snowman called Mr White, who takes him on a magical flight in the sky until the pair are separated and Tom is left to venture alone into the confused memories of his future. In reality, Tom is on his deathbed. His estranged daughter, Gem, is called to his side and informed of his immanent decline. The news of his approaching death is met with indifference on her part.
Spanning over two generations, familiar themes of 'repeating your parent's mistakes' and 'the sins of the father' resonate throughout the film. Passages of time are artfully handled and of course aided by music. An original score, by Petri Alanko, takes familiar motifs from the album and makes them cinematic. It wouldn't be right if the band themselves weren't included within the film, and this is done so as a necessity to the story.
Francis-Xavier McCarthy does a sympathetic job portraying the dying Thomas Whitman. His younger self, played by Quinn Lord, brings a familiar childhood innocence to the role. These performances help to transcend the decades between youth and old age and shows that parts of our childhood innocence will remain with us, regardless of what darkness we're forced to deal with.
It's the first feature film for director Petri Harju, who handled the music video for the single The Islander from Dark Passion Play. He also co-wrote the script with Tuomas Holopainen.
Never before have I seen such a compelling movie that was equally horrifying as it was beautiful. You don't have to be a fan of Nightwish, or heavy metal, you just need to be alive. It's the relationships we have throughout our lives that we'll reflect on when we approach our last rides. As a father I couldn't imagine what it would be like to forget my daughter. In this sense the film certainly struck a chord with me. (Yes, bad pun.)
Containing more story and reality than your average Hollywood drama, Imaginaerum is an unexpectedly heart-warming film. Fans of Nightwish will no doubt love it. Hopefully it'll reach a wider audience.
The DVD is available for purchase through the official Nightwish site:
http://shop.nightwish.com/en/shop/dvd+blu-ray/imaginaerum+by+nightwish+international+version

Categories: Album Reviews