| | |
| --- | --- |
| Posted on July 7, 2013 at 9:30 PM | |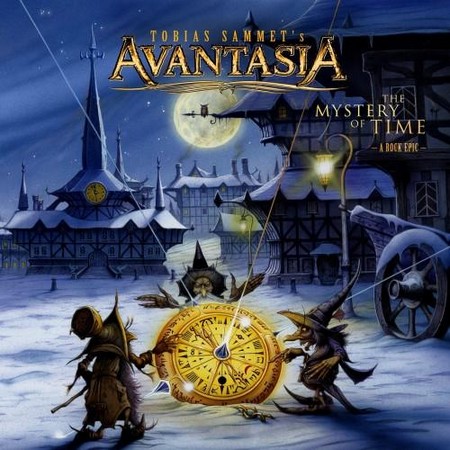 Avantasia – The Mystery Of Time
Written by Elle Haus
For the uninitiated, Avantasia is a heavy metal/hard rock supergroup project that is the brainchild of Edguy vocalist, Tobias Sammet. The Avantasia project is rock opera at its biggest, best and most ambitious. The project consists of three instalments – The Metal Opera (consists of self-titled single, full-length albums The Metal Opera and The Metal Opera Part II ), The Wicked Trilogy (consists of EP's Lost In Space Part 1 and Lost In Space Part II, and the full-length albums The Scarecrow, The Wicked Symphony and Angel Of Babylon) and the third instalment begins with 2013's The Mystery Of Time album.
The Mystery of Time is an epic masterpiece complete with full-piece symphonic orchestra and featuring iconic guest vocalists including Joe Lynn Turner, Biff Byford (Saxon), Eric Martin (Mr. Big), Michael Kiske (Helloween), Ronnie Atkins (Pretty Maids) and Bob Catley (Magnum).
The cast of musicians is equally impressive with Tobias on bass and lead vocals, Sascha Paeth (Heaven's Gate) on guitar, Russell Gilbrook (Uriah Heep) on drums and guest guitarists Bruce Kulick (KISS), Oliver Hartmann (At Vance) and Arjen Anthony Lucassen (Ayreon).
The album booklet describes the story and sets the scene for a fantastic journey where each guest singer plays a certain role in the story. "So take the time to follow me into a small old English town during the Victorian era and join a young agnostic scientist by the name Aaron Blackwell as he is forced to explore the coherencies of time, God and science; torn between belief in his professional conviction, his spiritual intuition, love and a lodge of scientific occultists."
The album opens with the symphonic rockers Spectres and The Watchmaker's Dream. The powerful orchestral introduction on Spectres is truly captivating and the vocals are dominated by Sammet, with a small contribution from Turner who has his turn to shine on The Watchmaker's Dream.
The dramatic Black Orchid showcases the raw, true heavy metal grit of Saxon's Biff Byford while former KISS guitarist Bruce Kulick shines and reminds listeners why he was once a member of "The Hottest Band in the World".
Former Helloween vocalist Michael Kiske displays his amazing vocal ability and soaring presence on tracks Where Clock Hands Freeze and Dweller in a Dream. Mr Big's Eric Martin delivers a powerful and flawless performance on the beautiful ballad, What's Left Of Me.
The grand finale, The Great Mystery, delivers ten minutes of pure splendour taking the listener on an emotional rollercoaster.
The Mystery Of Time is an extravagant theatrical epic masterpiece. Each listen brings a discovery of something different in the exquisite arrangements of all songs combined with the first class production on this album. This album proves music is magic.
Categories: Album Reviews