| | |
| --- | --- |
| Posted on July 7, 2013 at 9:25 PM | |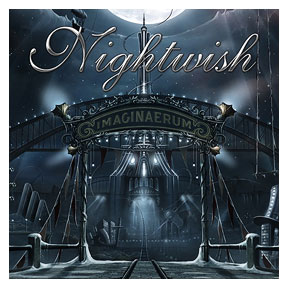 Nightwish – Imaginaerum
Written by Dave Smiles
How many bands consistently release albums that improve upon its predecessor and maintain this achievement seven albums into their career? Finnish Symphonic Metal band, Nightwish, appear to be one of the rare few who continue this upwards arch.
Imaginaerum, the first concept album in their seventeen year career, tells the tale of a dying old musician reliving his life in the enclosing darkness of his dementia stricken mind.
The album opener, Taikatalvi, is soulfully and softly sung in Finnish by bassist Marco Hietala, and introduces a 'snowflake' theme for the album. The lullaby quickly leads into Storytime, the first single from the album. The chunky chords, driving forwards with passionate force and takes the listener into a darkened version of Neverland.
Taking time out from their expected style, Slow Love Slow, is a well-executed venture into what could be described as nightmare jazz. It also shows a seductive side to singer, Annette Olzen. She certainly feels more comfortable this time around. Her vocal range fits better with these songs than those on Dark Passion Play (2007).
With a catchy instrumental Celtic section, including Troy Donockley on pipes, I Want My Tears Back is a certain live favourite for both audience and performers.
Scaretale contains some fantastic psychotic vocals from Annette. There's no way this song, and possibly this album, would have existed if Tarja was still in the band. Like many songs on the album, it contains varying parts. In this case, an introduction to a heartless circus lead by ringmaster Hietala, with an equally psychotic vocal performance.
The instrumental Arabesque propels the album to the next chapter, with haunting choirs and tight percussion. This track really comes into its own during the film, as does Turn Loose the Mermaids a melancholic Celtic ballad. It's as thought provoking as it is emotive and shows just how beautiful Annette's voice is.
It's back to business with Rest Calm, one of the heavier songs on the album. We take time out for a softer composition with The Crow, the Owl and the Dove, written by Marco Hietala. A touching ballad from such a metal guy.
The grand orchestration returns with obvious metaphor of Last Ride of the Day which Serges into the fourteen minute Song of Myself. Containing a complex choir arrangements, heavy riffing, double bass drumming and shifts from 4/4 to 6/4 time signatures. Consisting of 4 parts, it winds down at the end with various poems of loneliness and forgiveness. Perhaps seeking the empathy and humanity within all of us.
The album closes with an instrumental title track, a medley of the album's main musical themes. Holopainen's idea for this was handled with chillingly interesting results by orchestral arranger Pip Williams.
Imaginaerum is a seamless blend of heavy metal and symphony / choir arrangements, with impassioned performances from everyone involved. It tells a human story; easily identifiable, as we head towards our own last rides of the day. Let's hope the last ride for Nightwish is still many years away.
Categories: Album Reviews