| | |
| --- | --- |
| Posted on July 7, 2013 at 9:15 PM | |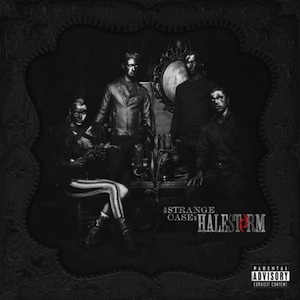 Halestorm – The Strange Case Of...
Written by Elle Haus
Grammy award winning Pennsylvania rockers Halestorm return with their second album, The Strange Case Of... and they do not disappoint. The band's second release delivers nothing but good old fashioned rock 'n' roll – strong, sexy and a whole lotta fun.
Halestorm is made up of siblings Siblings Arejay (drums) and Elizabeth "Lzzy" Hale (vocals and guitar) and guitarist Joe Hottinger and bass player Josh Smith. They released their self-titled debut album in 2009 and now Halestorm are back – bigger, better and louder than ever.
The band comes out swinging on the opening track, the aggressive Love Bites (So Do I) which earned the band a Grammy for Best Hard Rock / Metal Performance earlier this year. Lzzy nails the fist-pumping rock anthems including Freak Like Me and Daughters Of Darkness, but shows her versatility going from powerful, growling rocker to vulnerable and melodic on ballads like Beautiful With You and Break In. The ballads showcase her voice beautifully and prove what an amazing singer she is.
The track Mz. Hyde is about Lzzy's transformation from sweet and alluring to rock 'n' roll vixen. This song, as well as the album title, is a reference to "The Strange Case of Dr. Jekyll and Mr. Hyde".
Rock Show sees Halestorm pay tribute to the arena rock bands that have inspired and influenced them.
The Strange Case Of… is a near-perfect album, each track telling its own well crafted story. Halestorm takes the listener on a rollercoaster ride of in-your-face rock, powerful ballads, raucous rock anthems and melodic song structures.
Categories: Album Reviews