| | |
| --- | --- |
| Posted on July 3, 2013 at 9:20 PM | |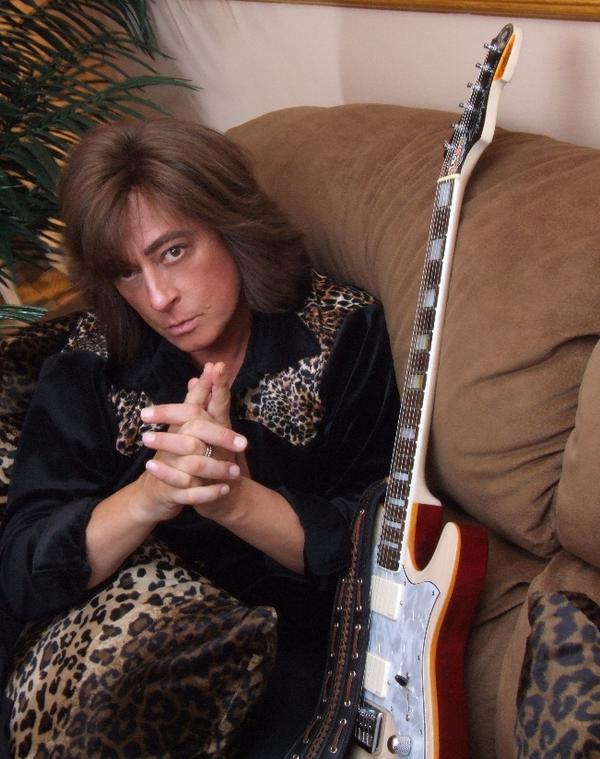 For the better part of the past three decades, melodic hard rock fans the world over have had a strong love affair with Joe Lynn Turner. It is possible that every man, woman and child on the planet owns a record with JLT on it - he has been involved with so many bands and artists over the years, how could you not. His long list of credentials includes Rainbow, Deep Purple, Yngwie J. Malmsteen, Brazen Abbot and Sunstorm. There is also the matter of his impressive solo career, so I picked up the phone and decided to give JLT a call to discuss all he has achieved.
Rock Man: Can you believe you have lasted so long in a cut throat industry where you are top of the charts one minute, yesterday's news the next?
Joe Lynn Turner: Well I am truly blessed, this is how I feel and I mean it sincerely, I am truly thankful and blessed that I have had a thirty plus year career. I mean, I do work hard and all that, but I do think that pays off, it is just astounding. I am just very lucky, I do believe that.
RM: You must be very proud of what you have achieved with the Sunstorm albums?
JLT: I really am, I think the Sunstorm albums are just commercial hit radio rock type stuff, and the production that Dennis Ward gives is just outstanding. I think the collection of songs are a great collection of songs and I think this is something that I have to give Serafino Perugino at Frontiers Records credit for because it is kind of his baby, and he nurtures it, it was his idea, it was his brainstorm and I just think it is a winner.
RM: With the material that is on Sunstorm albums, is it new material at the time or songs that have been lying in the vault for 10 or 15 years?
JLT: Yeah they come from the vault. In fact there were demos going around, bootleg demos going around the world, I even have a copy with a bootleg cover on it and everything with some of these songs on it. But my songs at least came from the vault and I'm sure Jim Peterik's did as well. Yes this is stuff that guys had lying around that never saw the light of day and they finally have and they are damn good songs. I just appreciate that I'm part of this and that they considered me to be the singer on these albums, because these albums, I was listening to them and I go, they are just so cool the production and everything and the song writing is just, you could listen to these records over and over again and never get tired of it.
RM: How does making a Sunstorm record compare to making a solo album?
JLT: Well for me they were a lot easier. I only have to do the vocals, you know, I am involved with Dennis Ward a little bit on what goes where but he is the producer and when you have a talented guy like that, playing and producing and what have you, you can just count on the fact this thing is going to sound great. So all I have to do is sing my heart out on these songs and do the best job I can and then slide the track over to him, via one of these download sites, and he drops them in to the track he is already making. I can't say enough good about Dennis Ward, I mean he is such an easy going guy when you speak to him and all but when you hear these productions they are just massive, they are amazing.
RM: In the early days you were with two bands Ezra and Fandango before moving on to Rainbow with Richie Blackmore. What are your memories of working with Richie Blackmore and what career lessons did you lean working on those three Rainbow albums?
JLT: Well first of all, Rainbow was my introduction to the world stage because Ezra was a very popular local band and it was pretty much heavy music. Then I got in to Fandango because I wanted to expand my horizons musically and get in to more harmonies and double guitar and all that kind of stuff. Part of it was, not country, but part of it we were all over the place actually with the writers and that was our downfall, I think we were too eclectic. But when I got into Rainbow I really learnt focus and, let's put it this way, Richie was a mentor who really taught a lot and to this day I still give him a lot of credit for growing me up and taking me under his wing and there are so many lessons that you were asking me about being in Rainbow, so many lessons that stick with me today as far as professionalism. I was a guitar player singer not a lead singer, so he really guided me through that because I was awkward on stage, you know, cabareting about on stage a little too much in the early days because I did not know what to do, I really did not, I had no clue. So he mentored me and taught me about how to, just stand strong and sing from the heart and that less is more and all this other stuff. So I give him a lot of credit on that.
RM: Your first solo album was Rescue You, what do you remember about making that album and working with legendary producer Roy Thomas Baker?
JLT: Well it was an amazing experience. Roy is just amazing. I think the album still stands up today when you listen to it actually, sound wise, sonically and everything and this was twenty odd years ago. So to his credit he is a genius when it comes to this stuff and I was just so blessed to be working with somebody like that. As far as the album, we put our hearts and souls into the album and the problem with the album is we spent so much damn money on the record that Electra had no money to promote the damn thing and it kind of took the wind out of our sails. So Endlessly was being charted and was being played everywhere and Losing You and all these other songs, but they just died because there wasn't anything to back it up and in those days especially it was always pay to play, you know. Radio stations, you would go there and open up your cheque book and it would always be money to play the songs, and since they claimed we spent about a million dollars on this record, well it was quite lavish and I have learnt not to ever do that again.
RM: You have an enormous back catalogue of material, is there any one album that stands above the rest?
JLT: Ah you know, albums are like children and you kind of have to love them all, even if sometimes they are not so good. I don't think any of them suck, I just think it was a learning process as I was going along and there are some albums that stand out that never got the acclaim that it deserves, I believe if I was to do, recut the Holy Man album, I think that album is a very strong album and I don't understand why and a lot of people feel that way and it never got any critical acclaim. But I think in those days we had a very small budget, productions were not great and it was learn as you go, my last album Second Hand Life was a bit more polished and starting to sound like it is going in the right direction. I love that album because it has some great songs on it and the production is awesome.
RM: You have recorded two covers albums, Under Cover and Under Cover II, how difficult is it to select which songs you want to record and are there any plans for a third instalment?
JLT: Well I will tell you why we did those albums, they really came out of Japan, at least the financing came out of Japan. Japan has a very short rock and roll history, they don't go back very deep and what I wanted to do on the first Under Cover was give them a cross-section of what my influences were, but as well as what was really happening in music before Japan got conscience of rock and roll, it took them quite a while, so like I said that was to educate and to entertain. The second one was definitely more rock oriented, we said okay now that we have covered the first base, let's make more of a rock album covering Fool For Your Loving and all those songs and some of the Bad Company songs, you know. I think that was concentrated on just picking the rock songs that I felt were highlights of the decade.
RM: Two other projects you have been involved with are Brazen Abbot and Hughes Turner Project, do you have any plans to revisit either of those?
JLT: Well you know, Nikolo Kotzev from Brazen Abbot has always got something up his sleeve. The Glenn Hughes thing, I love Glenn Hughes he is a brother of mine, but at the same time he was a bit concerned he wasn't concentrating on his solo efforts enough, and I can understand that so after the second Hughes Turner album he said I just have to get back on track with my solo albums, so I said I understand that, you know, go right ahead I give you my blessing. But I really miss the music we created I think we made two brilliant albums, I wish that we do. I never say never.
RM: Is there any one place that stands out as a favourite place to go playing live?
JLT: For me, working in Russia, I got to tell you they have great fans over there they are just amazing. I used to think Germany had it as far as the metal fans and then Japan or whatever, but the Russian people just come out by the thousands and they love the music, it is like the 80s over there. Not that it is like the 80s in the way that they live because Moscow is becoming one of the most happening and expensive cities in the world, but the fans are just so dedicated.
RM: In this ever changing industry with downloading and what not, I often wonder how musicians can make a dollar and survive?
JLT: Well you can. Live, play live and you can make money really. Because if you make records, making a CD is like having a business card. It is like something you can put out there, okay you might make a bit of dosh on it, but really these record companies don't like to actually give you the correct accounting in my opinion. They always give you a little more than what the advance was, "oh you sold just enough", they tell you that you have recouped a bit more money and that's it. How the hell do you really know? What you have sold, what you haven't sold, I mean, it is impossible it is just the state of the music industry, it is impossible. So when you play live you have got cash in your hand and you know that what you are receiving for these live dates is yours.
RM: When you retire and it is all said and done, what would you like your legacy to be in the music industry?
JLT: Well I don't know anything about retirement I am a workaholic, and a man who retires, my father once said "you become lost, retirement is something for the old and you will never be old as long as you heart is young" and I just keep that philosophy. But I have said what I would love etched on my tombstone is "Here lays a man who tried". That is all I am doing is trying, just trying to give something back to the world, connect with people and hopefully that resonates in their hearts and souls so it can bring some joy and change to their life. And I think that is what music is supposed to be, a great force of change and that is what it was for me. When I grew up in a very depressed economy back in my day, we were very poor in my family, music was my solace and music had helped me, give me a dream and it changed me so I am just trying to pass that on to people.
Categories: Interviews