| | |
| --- | --- |
| Posted on July 3, 2013 at 7:45 PM | |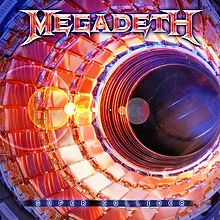 Megadeth – Super Collider
Written by Dave Smiles
Upon first listen to Megadeth's fourteenth studio album, Super Collider, you'll find it's a more commercially friendly, mid tempo, outing than Endgame (2009) and Th1rt3en (2011). The absence of double bass drumming and chugging sixteenth note riffs will no doubt cause some backlash from diehard fans of the Killing Is My Business to Rust In Peace era. Though is Super Collider really that much of a departure from what Megadeth have been known for during their thirty year career? Sure, the aging thrashers explore some different avenues but still maintain the memorable riffs, dextrous solos and dark theme laden songs. It's not like they've suddenly decided against guitar solos. They just slowed things down a bit and not for the first time. Remember Youthanasia (1994)?
So taking the album for what it is, the question 'is it any good?' arises. Memorable songs, inspired playing, dark themes, Mustine's snarl, all packaged with the aim to bring in some commercial exposure. Is it such a crime to seek some mainstream attention? Especially for a band that has already been there. Remember the eighties when bands were driven to take their careers to the next level. In this sense, Megadeth still seem hungry.
The album opener, Kingmaker, contains familiar Mustaine subject matter. In this case painkiller abuse and addiction. The first single, Super Collider is an obvious attempt for a mainstream hit. Critically panned thus far, it's certainly not a bad track, Mustaine even allows himself to show some vulnerability. Don't' Turn Your Back On A Friend features some dexterous solos from Chris Brodericnk and Dave Mustaine. On the surface it appears more reflective and less angry than what we'd expect from Mustaine, who's certainly grown from the angry kid we knew from the early days. While there seems to be a reflective side to his lyrics, seeking and offering trust, friendship and support, tracks like Built For War show Megadeth are still very much a force to be reckoned with. Dance in the Rain, featuring Disturbed vocalist, David Draiman, brings Peace Sells to mind and shows Mustaine is still in touch with the working class. Once again there's great solos from Broderick and Mustaine and the ending of the track is killer. The album closes with a faithful cover of Thin Lizzy's Cold Sweat.
A future classic album? Perhaps not. A decent addition to Megadeth's catalogue? Certainly. If you've been put off by reviews comparing it to Risk then I urge you to give it a listen and make up your own mind. In my opinion it's closer to Countdown To Extinction. If Megadeth were to release Rust In Peace part 2 … part 3 … etc, would anyone still be interested? You can't please everyone all of the time, so it comes down to being true to yourself… and you can't get more metal than that.
Categories: Album Reviews